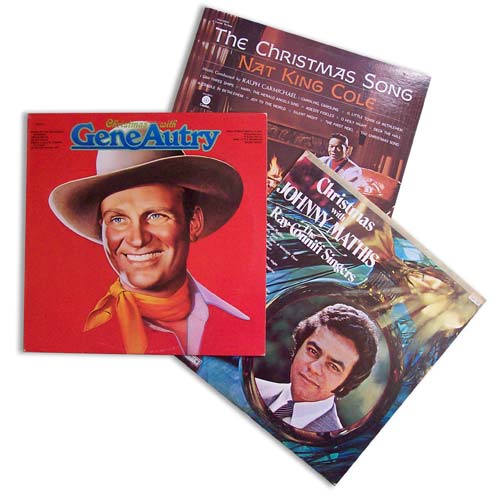 Way back in April when I started this blog I wrote about abundance in a recession. And today, thinking about Christmas, my fave time of year, I'm reminded of abundance. Our Christmases are full of abundance! As I always love to say the world is an abundant place as long as you like second hand.
Just the other day I was again reminded of groups of people taking a pledge not to buy anything new for a year. And I even looked at a few web sites and blogs about it. And although I applaud the enthusiasm, I also noted how difficult they made it for themselves. No bending allowed on the pledge. And it seemed as though the pledge was abandoned after the year was up in a few cases. Everyone tired of the sacrifice, maybe?
This is just not the way we approach it. What started as way to survive tough times as students in the 60's and to get us through other bouts of tough economic times, has now become a way of life. But it's really not difficult for us, it's fun and easy. I really believe that anything we do to be a little greener is helpful. So every effort counts. If we absolutely need to get something new, and after trying to find it used, well ok, buy it. No guilt. But this is so offset with all that we buy used, we feel ok with it. And anyway, part of our plan is to buy new stuff from artists and others who produce hand made and original when we can, as well.
Which brings me to Christmas. The cost of Christmas, the news is full of it, credit cards maxed, too many presents, worry over money and all that that entails. But why not resolve to have some of your Christmas recycled and reused?
So I thought as well as sharing my obviously "abundant" collection of thrift store, garage sale Santas I'd also share some of the other things we have in abundance for the season. And one of the best is music. We have a huge collection of music mostly because we still have our turntable, and our tape deck as well as a couple of used CD players. So we can buy all the good old stuff and now we've amassed a pretty eclectic and funky collection of Christmas music. At the top of this post is a great selection from Johnny Mathis, Nat King Cole and Gene Autry, all actually a gift from our great friend Hart.  Don't you just love that Gene Autry album cover? And as I bake for Christmas I love to play the oldies from my childhood like Perry Como, Bing Crosby which we heard always for Christmas. Would you believe most of these records and tapes we bought for anywhere from 25cents to just over $2?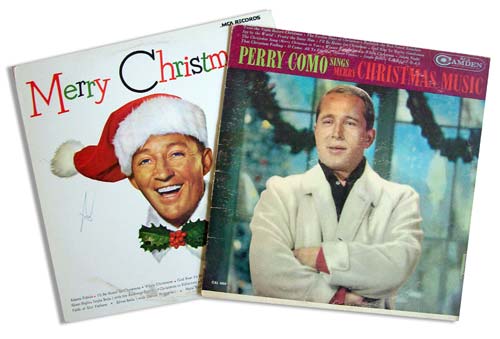 How much more eclectic can you get than this selection of Loreena McKennet  "a Winter Garden", "A Very Special Christmas" which has the most wonderful piece by Sting, "Gabriel's Message",   The Masterworks Dinner Album and even Connie Francis who has "Christmas in My Heart"?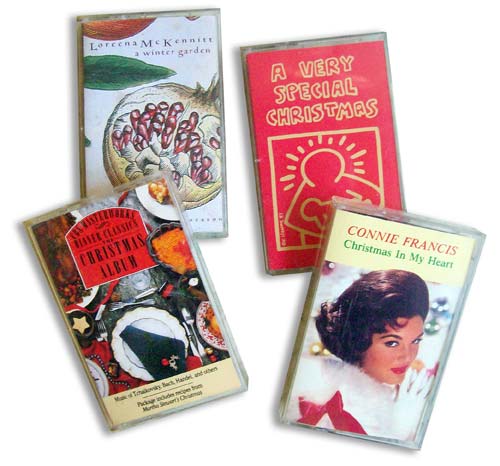 And we've got some odd stuff too that we've found over the years like "A Reggae Christmas". Always good to listen to while baking Christmas goodies.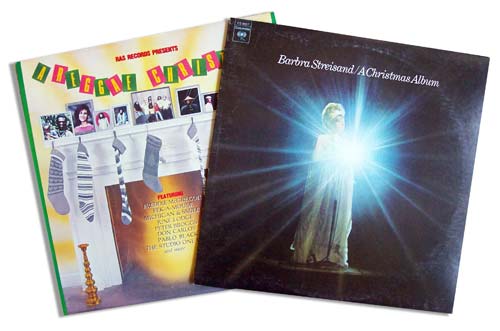 And then for those classical moments we've got Luciano Pavarotti with a boys choir with my favourite Panis Angelicus. A real treasure found at the local second hand store was Christmas in Venice, full of just gorgeous classical favourites.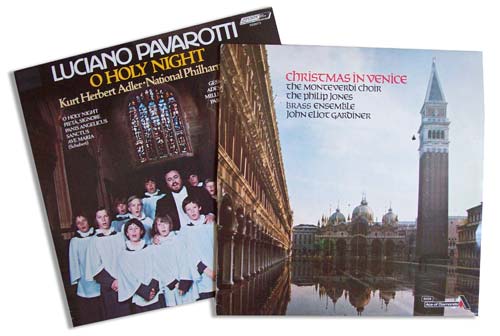 We always find CD's when we're out garage sailing and all of our collection is used. And then there are the ones I've collected just for fun like "Christmas at Liberace's", Or the "Doris Day Christmas Album". Then a real fave is Boney M Christmas Album with Feliz Navidad to really get dancin'. So far my all time fave CD is World Christmas which has not only the Gypsy Kings on it, and Deep Forest but also Papa Wemba and Mono Cinelu.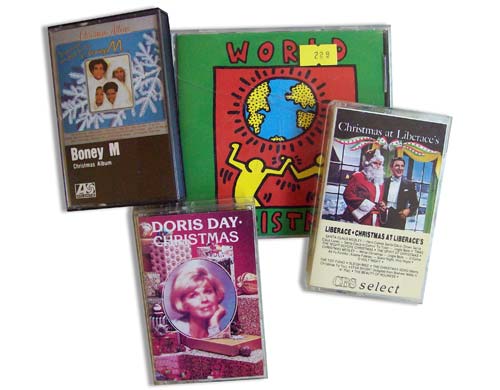 So what am I saying here really? Christmas can be about abundance with out spending lots of money. And boy have we got an abundance of music! And it's all used, recycled and we're feelin' green too.