I think the whole recycling way of life probably led to us getting involved in mosaics. We always found some way to have what we wanted by finding it used or creating it ourselves.
Our very first pique assiette mosaic came about in 1988 or 89, when I decided that I must have birdbath, a really nice birdbath, not just any old birdbath from the garden shop. I'd seen some mosaic made with old dishes in a magazine and the idea clicked. We needed a mosaic birdbath! From that first stab at mosaic we ended up discovering the joys of pique assiette, which in rough translation, means stolen dishes. Well, of course, we didn't steal dishes, but we found a lot of good material at my favourite store, Value Village. That and all the Sally Ann Thrift stores that abound everywhere.
The base of the birdbath was made by pouring cement into a sono tube found at the local building supply store. The top was built by lining a cardboard box with a black plastic bag and pouring in cement. We scooped out the middle to create a hollow in the centre which would become the bath area. By pulling up on the bag we made the sides rounded.
Now this was our very first attempt and we had no clue. We wouldn't do the mosaic the same way now that we know so much more. As soon the cement was cured we just set up the base and the top on a picnic table in the back yard. We'd gone to Value Village and found as many dishes as we could in different colors and spread them out on a picnic table in the backyard. We'd put a dish in a plastic grocery bag and whack it with a hammer. The bag was to keep the pieces from flying around on the grass. Soon we were really good at it.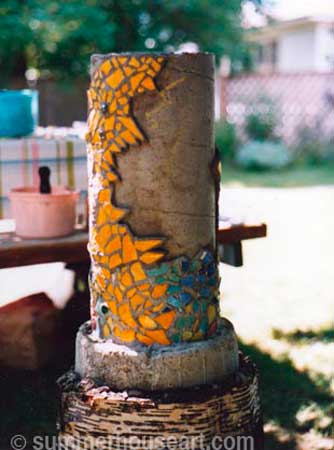 Then we arranged the pieces in a loose pattern on a piece of newspaper. For each section we mixed up a small batch of cement, applied a small area of it on to the surface of the base about a half an inch thick and pushed the pieces of broken dishes into the mortar. As it began to set, we would scrape away the cement around the last section as closely as we could to the dish pieces and then mix up a new batch of cement and carry on with pushing the pieces in.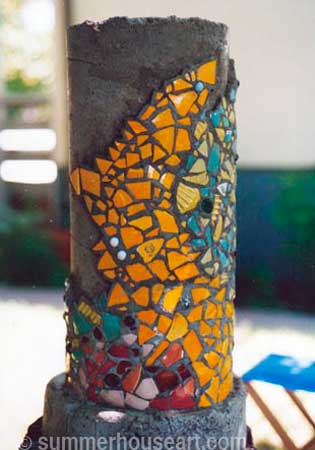 As you can imagine the sound of all these dishes breaking in our backyard soon brought out the neighbours who one by one made their way over to our back yard to find out what the heck we were up to.
All in all, the bird bath was quite successful. We left the bath area bare of mosaic for easier cleanup of it with a garden hose. We also tried to make quite sure that the pieces on the rim didn't have any sharp points poking out, didn't want our feathered friends to get cuts. The bird bath was also very very heavy, and when we moved to Victoria, we gave it to a close artist friend for her front yard where it weathered in beautifully.
I like the look of that birdbath, sort of lumpy and rough. If we were to make the same thing today, we would apply mortar to each piece of dish, apply it to the cement base and when it was all set, we would apply grout. So much easier and better looking.
There is something about the surface of mosaic. Something about the way it glistens and sparks in the sunlight. I was hooked with that first mosaic. Even now when I get a piece done I rush outside with it to see it in the sunlight. All in all, the birdbath was the beginning of a wonderful journey.
Creating art with recycled materials is a triple thrill. You wake up a real sense of creativity, get to see dishes and ornaments in a whole new way and hey, you get to make art-without-guilt, as I love to tell my mosaic students. To see more of our mosaics and what can be done with old dishes, have a boo at our mosaic gallery pages.