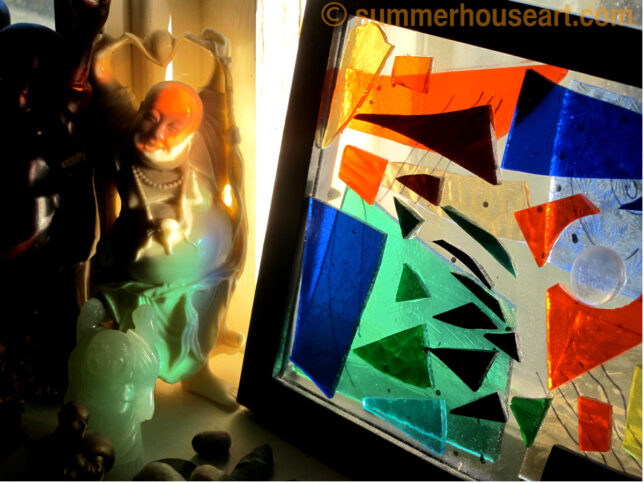 I think I've been in the creative doldrums lately, or maybe I should define it as a state of procrastination instead. Either way, there is sense of listlessness and also a sense that there is too much to do, so, overwhelmed, you put off and keep putting off. I could blame it on the pandemic, I suppose. We are both a couple of high risk people and have been staying home A LOT. It does have an effect. But at the same time, I can't say we haven't been busy, since our attention has been turned to other boring things that just have to be done. We've had to have our greenhouse demolished, which is attached to our home, due to the fact that it was just falling down. And like a ripple effect, we ended up working on the moving of all the stuff stored there and making space for it in our basement or in the garden. So there has been a lot of actual work done in organization and garden work and dealing with construction and builder people, not much has happened creatively. Too tired physically.
Not that there aren't creative plans being made, ideas being considered and mulled over. It's just that everything seems to be taking longer. For instance, I'm planning an overhaul of the website/blog. I want to totally redo our galleries and even add more. And also, I've decided to get onto Instagram. So before I even post, I want to make sure I'm doing it all correctly. Of course, that has it's own procrastinational element, as I suddenly find that I need to follow all sorts of artists that I've discovered on Pinterest. And mostly, the biggest reason for procrastination mentioned earlier, is that there is so much to learn, re-learn even, so many tutorials to watch, or re-watch. So much research to do.
It's like, although there is nothing happening visibly, there is all kinds of action going on behind the scenes. I couldn't decide what to title this post, "Watch this space" or "Still here". All tongue in cheek of course. It will be happening soon. Maybe today's post will set me on a roll. At least when I'm not in the garden with Will on sunny days. So I leave you with a sunny little window vignette of one of my stained glass collages….