Sorry, but I'm taking a break from giving mosaic classes.
Learn How to Make Mosaics with Broken Dishes
Book a morning, afternoon or evening class time.

4 classes over 4 weeks, 2.5 hours each week, for a total of 10 hours of instruction.
Create your own unique mosaic with broken dishes.
You can take the classes by yourself and many do. Or if you have a friend that wants to take the classes with you, that's ok.
Due to space constraints, only 2 adults per class.
Cost $210.00 per person. See details below.
Please check out the FAQ

before

you make your decision.
Email Helen

to arrange classes or if you have any questions!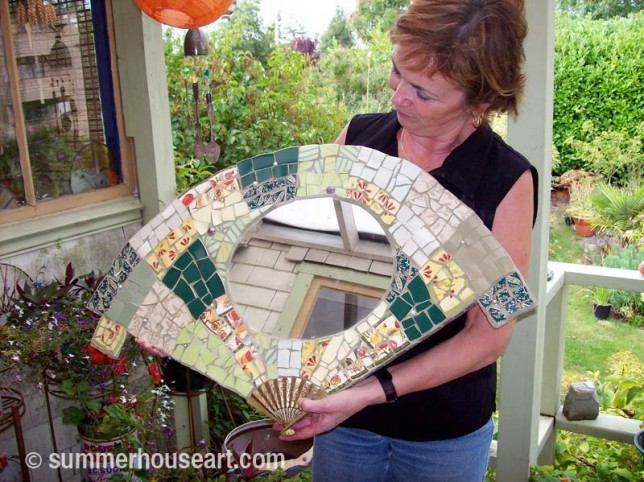 Have you always wanted to learn how to make mosaics with broken dishes or china? Maybe you've been saving broken dishes to use someday in a mosaic? Would you like to have some fun learning a new art form?
Discover your individual style in a fun, inspiring and creative environment… and learn how to make mosaics from broken dishes too! This is an art form that doesn't even require drawing or painting skill, just enthusiasm.
Our broken dish style of mosaic is also known as "Pique Assiette", a French term literally meaning "stolen dishes". So you'll be recycling and upcycling old dishes and bits and pieces from Thrift Stores, into works of art.
Check out a few of the beautiful projects some of our past students have done below. Please note that all projects are for Indoor use only.
This is NOT a packed one day mosaic workshop rushing you through a project where you throw together a design, glue it down and grout all in one flustering, tiring day. In fact, you choose your own individual project, be it an art mirror, vase, lamp base or small furniture piece and work on it in 4 classes over 4 weeks. We supply lots of inspiration and ideas.
Classes are in Helen's little home studio in Victoria. Just enough room for very small mosaic classes of just one or two people. It's great for couples, friends and close relatives too. Or you can take a class on your own, that's just fine too. Our emphasis will be to help you find the source of your own creativity. We believe that everyone has an intuitive artistic sense and we'll help you to find your own individual style.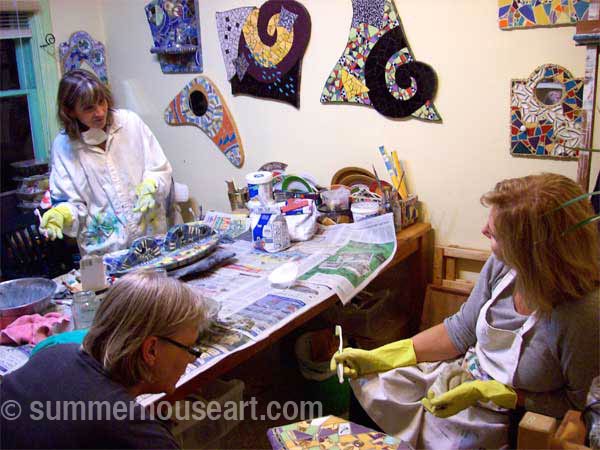 Four mosaic classes filled with fun, delight and insight
1st Class: the Shopping Class. First a quick introduction to all the possibilities that you can create in the creative environment of the artists' home and studio full of art and mosaics. Then a quick "how to" break dishes.
Then off we go Thrift Store Shopping, to look for good stuff to break or include in your mosaic! Shop for all the ingredients for your first mosaic. Learn what to look for, what will work. You'll never look at a dish the same way again. Way too much fun! Every one loves the Shopping Class!
Big plus is that almost everything is recycled and guilt free. And cheap. You'll suddenly see new uses for those old dishes, ornaments and bits and pieces you've been saving at home.
2nd class: Breaking Dishes 101 Who knew breaking dishes could be so much fun? Learn how to use the tools to break dishes. No, not just a hammer. You also learn the art of gluing all those bits and pieces down with plenty of guidance from an artist to help you get the result you want.
Third Class: Studio time Time to finish gluing the bits and pieces you have artfully arranged plus lots of tips and guidance to help you create the project you want.
Last Class: All about grout. You'll be grouting and finishing your piece. Then sit back and celebrate! You will enjoy the glow of accomplishment as you view your finished piece, the results of unleashing your creative side.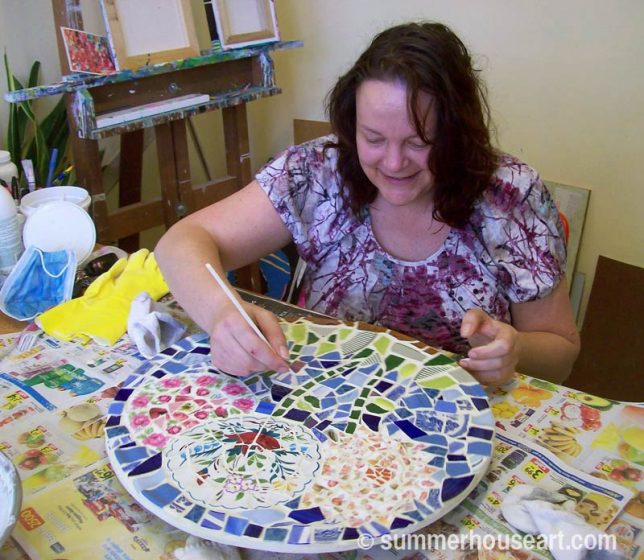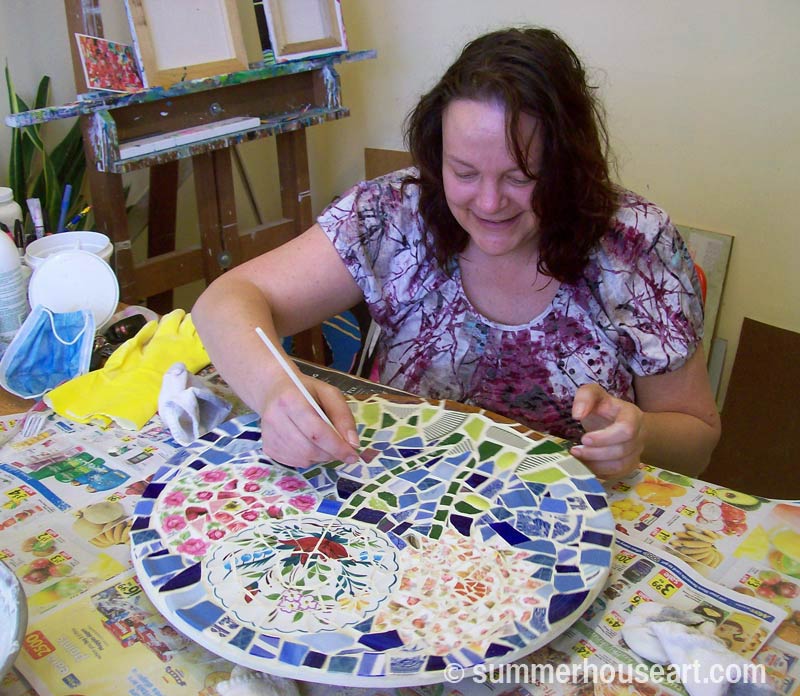 Price and Class Times
2.5 hour classes, 1 class per week for a total of 10 hours of instruction in all.
Classes offered Monday to Friday,
choice of mornings 10am -12:30pm, afternoons 12:30 – 3 or evenings 6:30-9pm

One class per week for 4 weeks.

You can choose a morning , afternoon or evening class on the week day of your choice, according to availability. Let me know which time is best and I'll let you know if it's open.

You can take a class by yourself and many do. Or if you have a friend that wants to take a class with you, that's ok. Due to space constraints, only
2

adults per class.
Cost: $200+ $10 GST = $210.00
per person

. We supply the glue and grout and plywood backing if you need it. Students buy their own dishes on the Shopping Class. You'll learn what to look for and what's usable for mosaics.
Pay by Cash or Cheque or E-transfer. Receipts happily given.
Call for details: (250) 380-6334
Custom mosaic classes for the really ambitious graduates of our classes also available. For larger and more complex projects or consultation for your next projects @ $20 per hour. Grout, glue and materials not supplied, but plenty of guidance and enthusiasm are (call for details).
For a quick look at some of Helen and Will's mosaics
Here's a little taste of some of the work done by students in my classes!
BTW all of these pieces are for inside use only.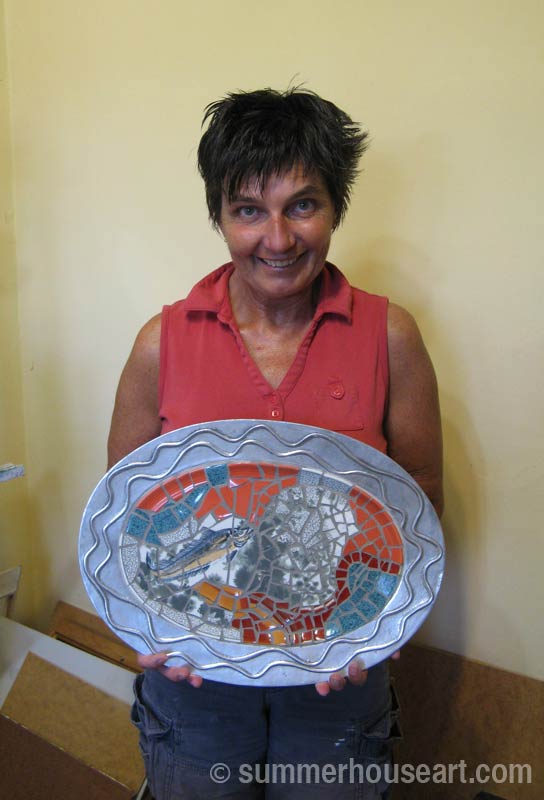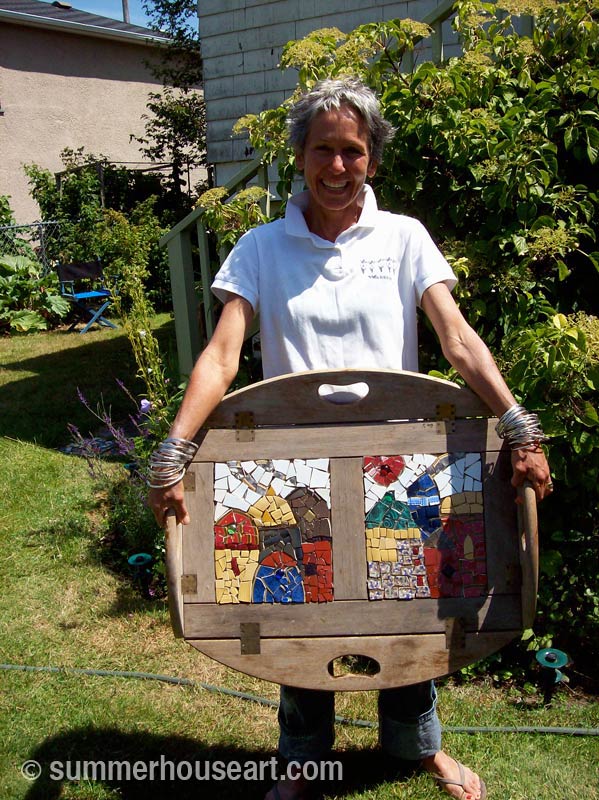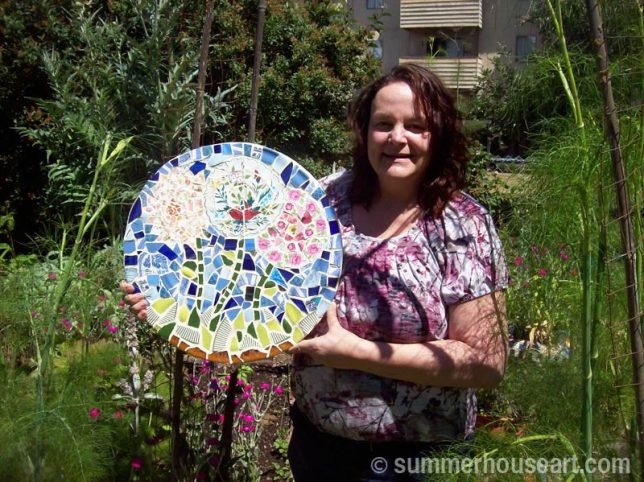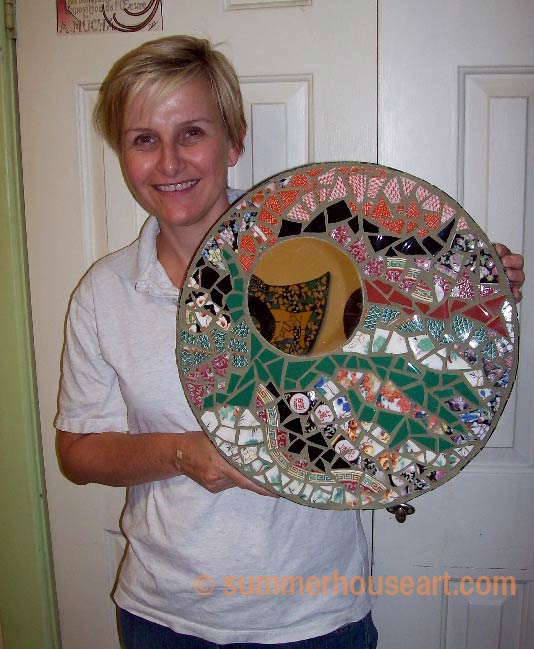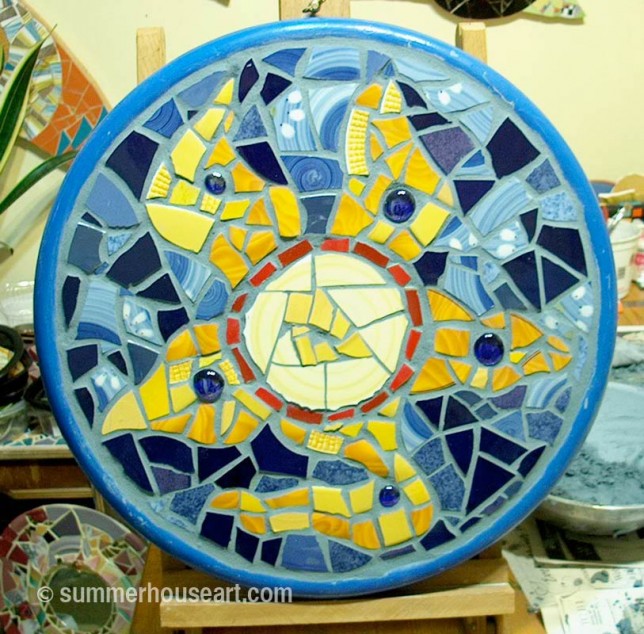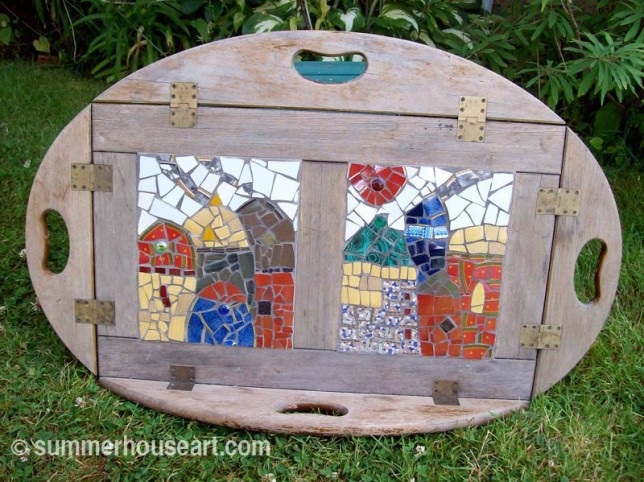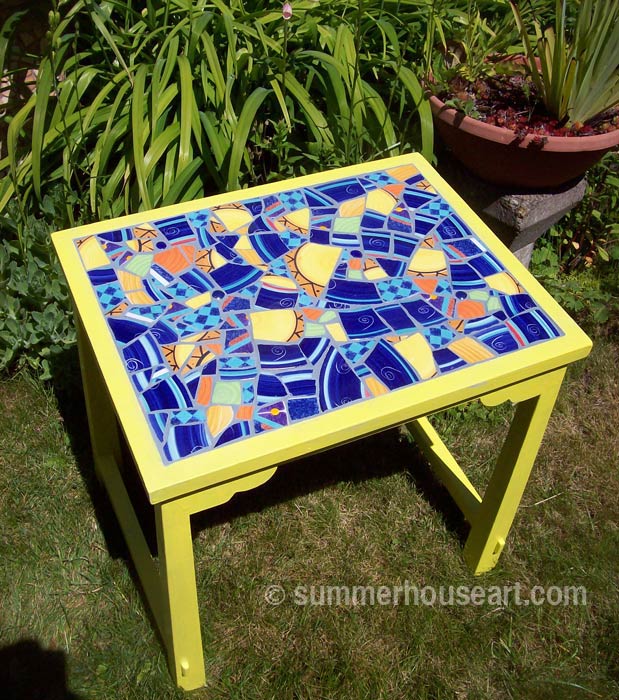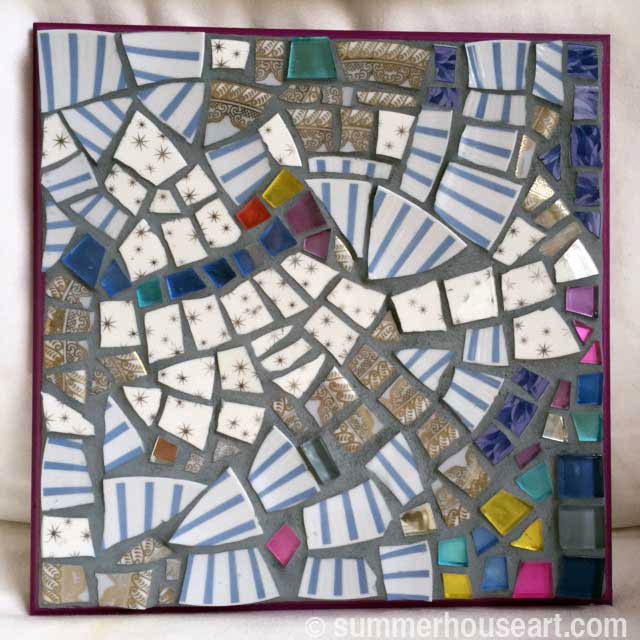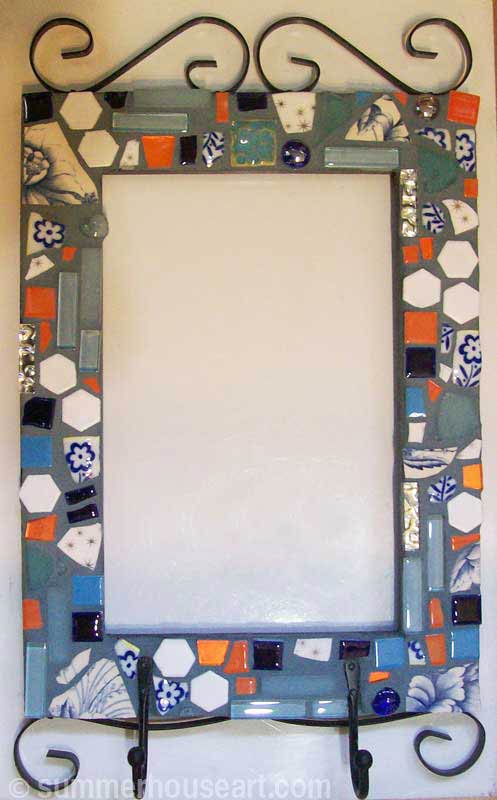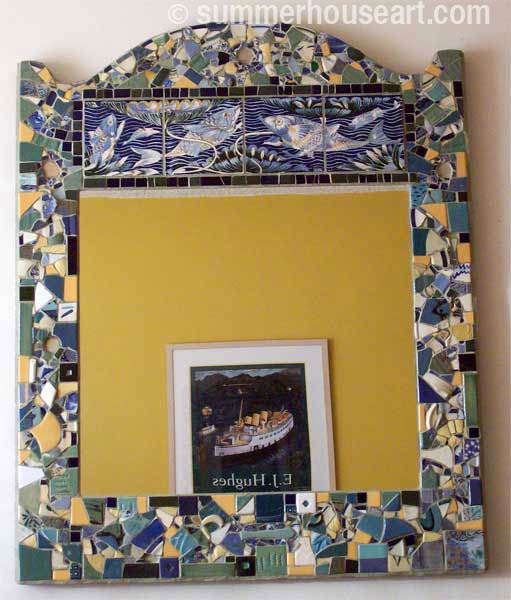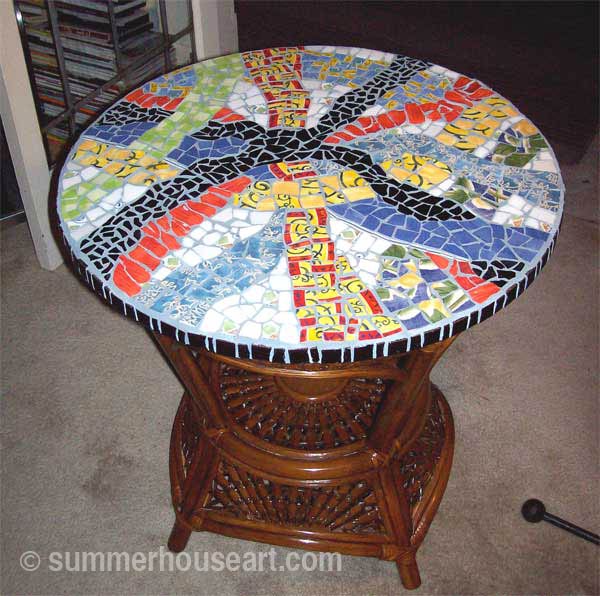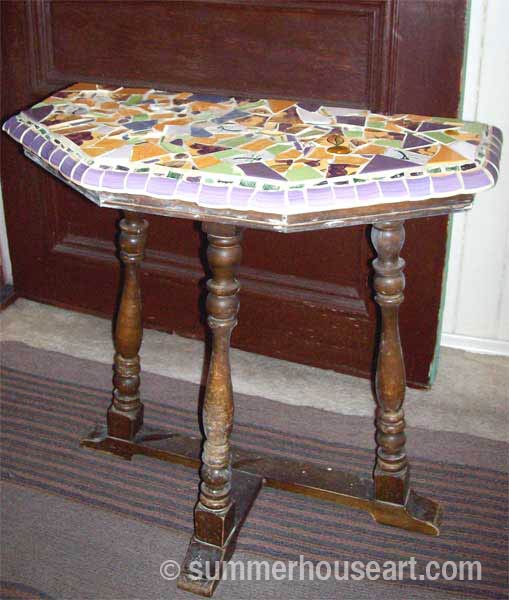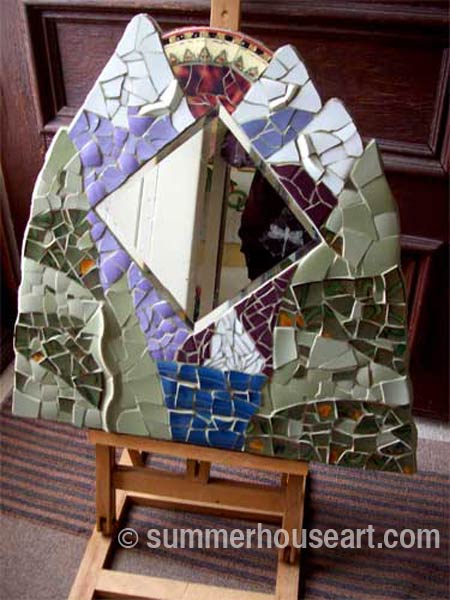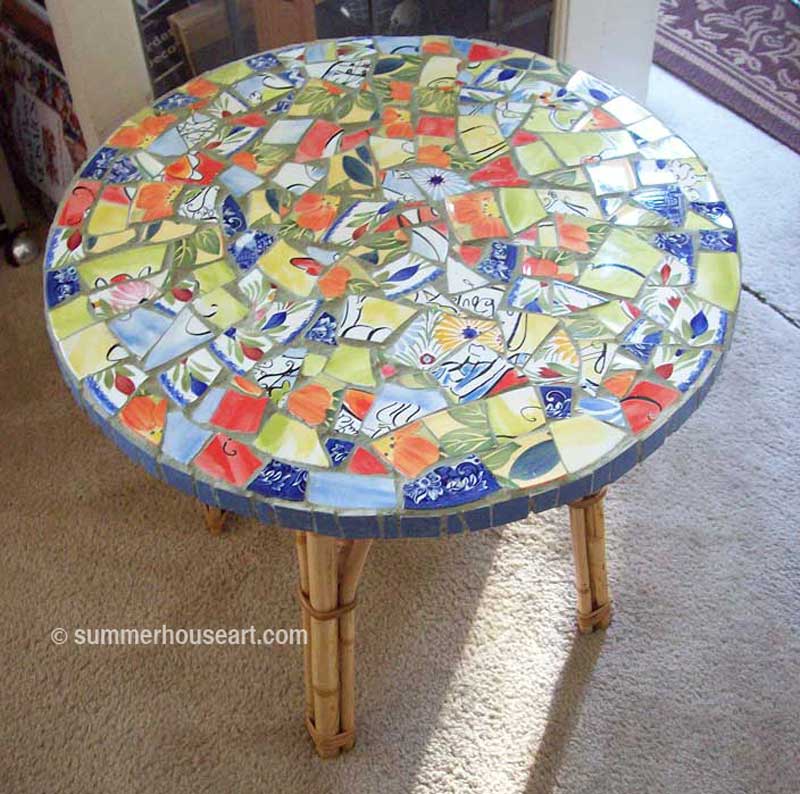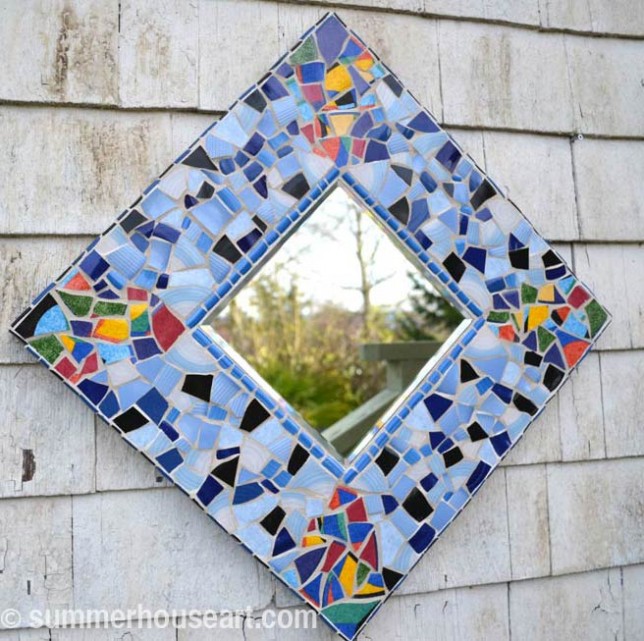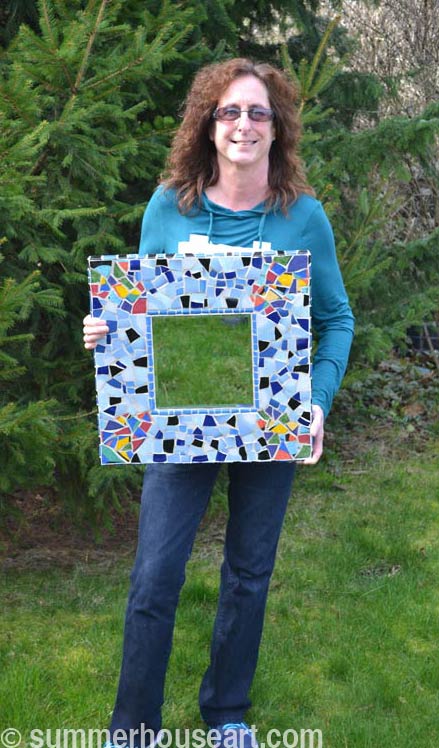 Please note that all the pieces are for INDOOR use only. See FAQ for more information.
Save
Save
Save
Save
Save
Save
Save
Save
Save
Save
Save
Save
Save
Save
Save
Save
Save
Save
Save
Save
Save
Save
Save
Save
Save
Save
Save
Save
Save
Save
Save
Save
Save
Save
Save
Save
Save
Save
Save
Save
Save
Save
Save
Save
Save
Save
Save