I just love having students that just can't wait to start making mosaics. All that enthusiasm just makes the classes all the more fun. And I also don't mind when a student says they have never done anything creative ever before. Because I know that making a mosaic is a great way to discover your creative side. Bonnie fit both of those categories.
The mosaic classes were a gift to herself in a time of lots of personal responsibilities and often stress with elderly family and other things. It was to be a chance to just have some fun and learn something new. I assured her that the meditative aspect of making a mosaic is just what you need when life is stressful.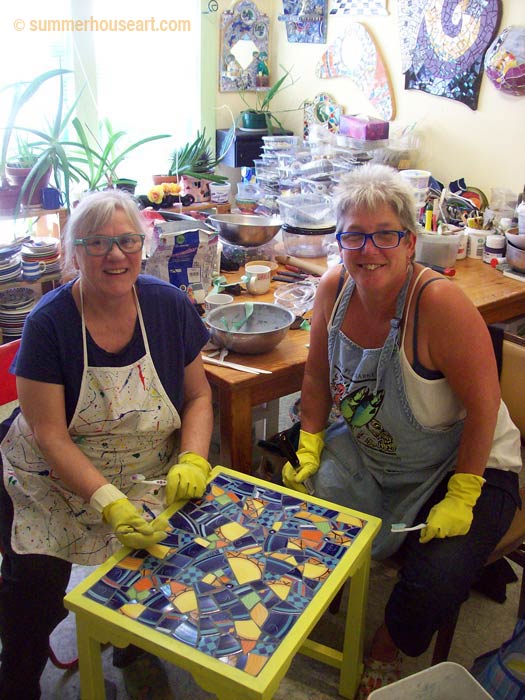 The first class is always me overwhelming the student with all the possibilities of what they can choose to do. The more possibilities I showed her, the more Bonnie just got more excited to start. So off we went shopping and at the Sally Ann Thrift Store, as we like to call it, we found a perfect little table. And, since I always encourage everyone to only buy things that really spark for them, Bonnie found lots of really colorful dishes to break. The next two classes were lots of fun. Bonnie is a really cheerful person and also an excellent student. She picked up quickly on every little bit of instruction I gave, from creating texture and movement, to learning how to cut dishes up and how to make the pieces fit.
The last class is the grouting class. And by that time, Bonnie had made the decision to paint the table bright yellow, (it had been a rather unhappy brown), to play off all the color in the dishes on the table top. I loved her choice.
To make sure her little table looked finished she decided to paint it the week before the grouting. I'm so glad she did! It made all the work of grouting well worth it. And yes that is us using old toothbrushes to clean each of the pieces. That's the beauty of pique assiette, you get to do a lot of recycling.
So here it is! We decided to take its picture out in the garden in the sunshine. Mosaic always looks so wonderful in the sun! And, as for Bonnie being worried about never having done anything creative before? Well, with her enthusiasm and hard work, she had surpassed that goal. She'd created her first piece and it looked good! I know she's discovered her creative side and I'm sure she's a natural at making mosaics. When I emailed her all the photos we took of the classes, I told her again how much we  loved how the table turned out. She wrote right back and said, " I just love the table too. Every time I walk by it I just giggle happily." Can't ask for more than that!