I teach Pique Assiette mosaics, a type of mosaic made with broken dishes,  in my tiny, little studio, a sunny former bedroom in a 1922 house. This little room has a big work table and is full of dishes and supplies for all the art forms I indulge in. It's just the right size for mosaic classes for one or two students, no more. And that's the way I like it, because it allows me to really teach to the needs of each person and it also allows each student to do exactly what they want, or at least have a chance to discover what they want. And such was the case with Irina and her work mate, Jessica.
Jessica knew exactly what she wanted to do from the first class. She had been inspired by an image of a horse, one from a logo of a computer game her husband liked. So we loosely followed that and created a plywood backing shaped as a shield. The shopping class was easy since she'd already decided to look for white and blue dishes. The trick with a piece like this is to create lots of texture and color interest by intuitively and loosely mixing up the shades of white and blue dish shards. It did become rather a big project and she even had to run out to buy more dishes to finish but she did get a sense of how to create a lovely surface. The mosaic took more time to do and required a bit of delay before grouting. But I'd rather students had the extra time to work and finish what they envisioned in an enjoyable manner.
Here she is, looking pretty happy, after the grouting was finally done, with the mosaic on my easel.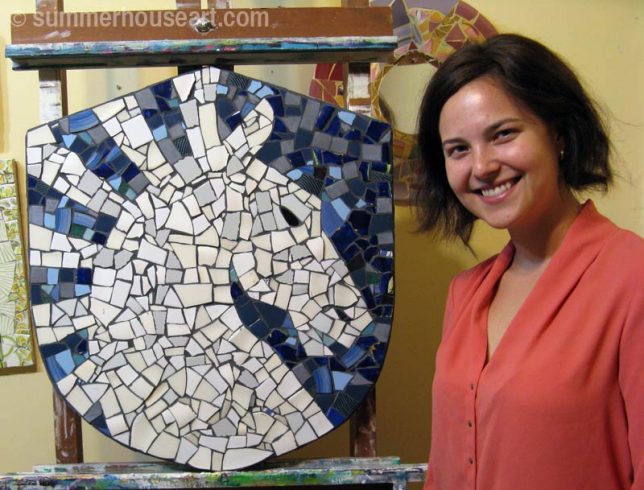 The finished piece has this lovely ancient look and feel, a beautiful roughness that the original logo never had.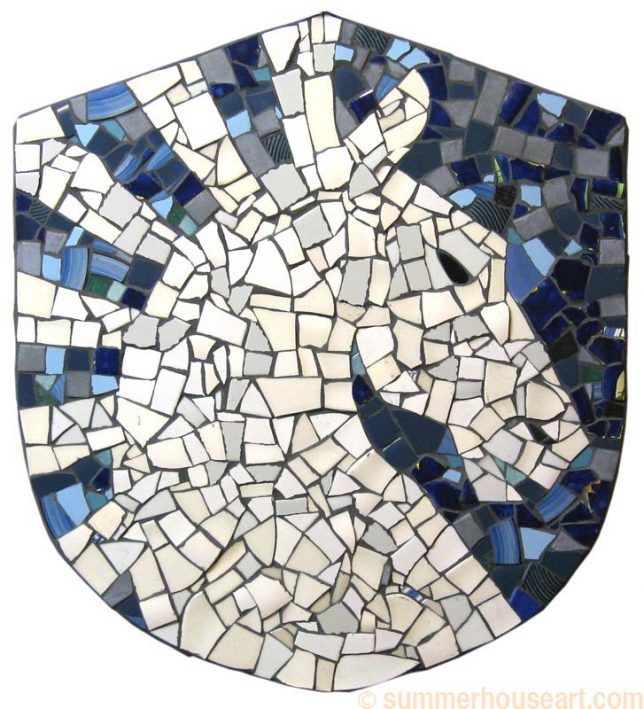 Irina, was, much like most of my students, not quite sure of what she wanted to do. This is where the shopping class often shows the way, when you find some dishes or colors you like. Making a mosaic with broken dishes is much looser and intuitive than the traditional mosaics. Mosaics done with glass tesserae, can be quite tight and often lend themselves to very symmetrical designs. I encouraged Irina to tap into the intuitive flow of the patterns and arrange the pieces until they "felt" right. She was really terrific about trying all sorts of arrangements. But I think, as the crunch came to finish in time to grout, she just finally stopped trying to get it perfect and just let the "flow" happen. And I'm so glad she did!
Here she is working hard cleaning off the grout in the last class, still wondering, would it all work and would she like it.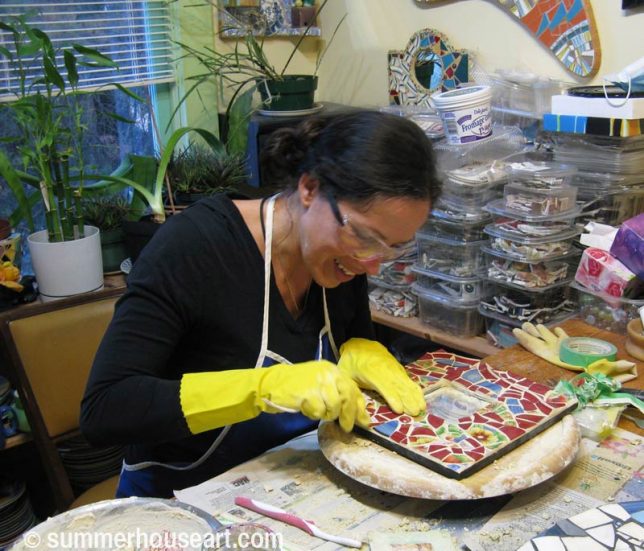 Well, I think she's looking happy with the result, don't you?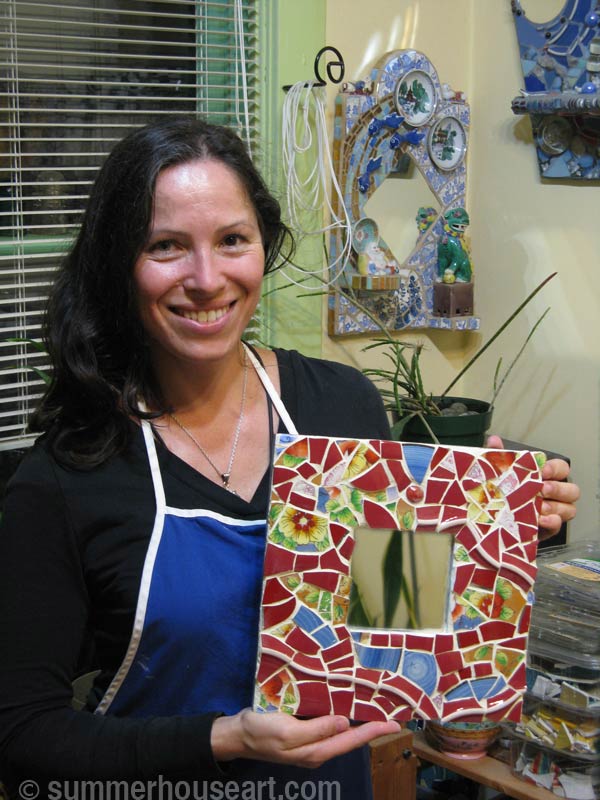 And here it is, a closer look at finished mosaic.  I think she did the most wonderful job, creating a lovely, colorful flow of flowers and colors. It's just a small piece, but it's got a real song to it.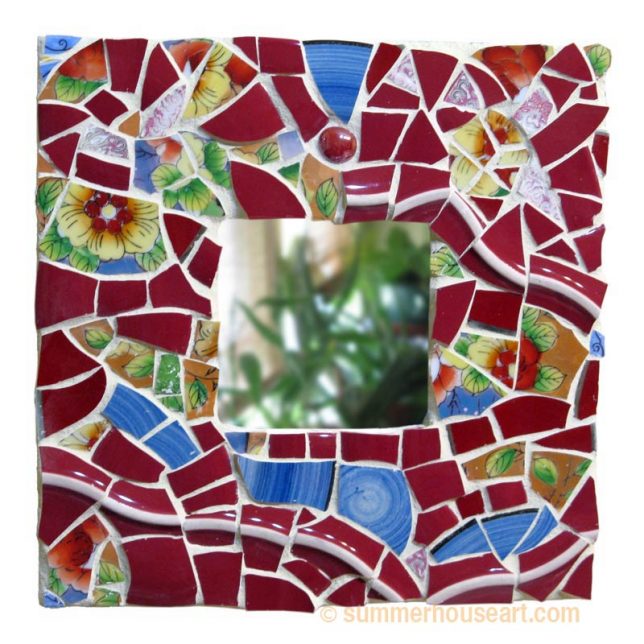 Two students, two very different results, but both learning how to use their intuition and how to be loose with the shards of broken dishes and by doing so, finding the flow in creating. Turned out perfectly I'd say!
(BTW if you'd like to comment, and we do appreciate comments, please just click on the title to bring up the post with a spot for comments at the bottom.)
Save
Save
Save
Save
Save
Save
Save