Our fridge is home to many artsy handmade collage magnets and also to many quotes that I've found assuring, inspiring or thought provoking. I found a rather thought provoking one about time the other day and slapped it up there.
You will never find time for anything. If you want the time you must make it. – Charles Buxton.
Well Charles sounds rather like an overbearing patriarch but I must admit he has a point. Finding Time seems a bit like wishing for it and Making Time seems so much more solid, like a commitment.
This last long weekend Will and I spent a lot of time in the garden. We had designated this weekend for gardening time for probably the last few weeks. Other weekends had been too busy with the craft show or other considerations. And of course there had been other weekends where time just seemed to slip by as we shopped for groceries or other items on our lists. I suppose you could say we made time for the garden this weekend.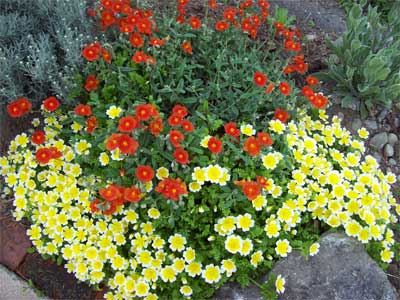 We knew that we needed to spend some solid time in the garden. And this weekend we did manage quite a lot. The shade garden got weeded. The compost was assessed and deemed pretty good, not quite to the "black gold" stage but close enough to give some "fiber" to the soil. We readied part of the garden for squash plants and were planning to finish that up the next day. Then yesterday dawned grey and cool so we took advantage and weeded the front garden. Usually we only work in the front garden in the evening when it's shaded. But a cool cloudy day had to be taken advantage of. At the end of each of our gardening days we weren't good for much more than supper on the couch in front of a good movie. In fact, we were actually surprised that we could even move the next day! But we did, ok a little slowly at first, but pretty soon back to normal.
We found a couple of gifts planted by the birds in our garden. These varigated thistles are growing in the front garden, very antisocial with their pricking leaves but oh so unusual and beautiful. We decided to let them grow, weeds or not.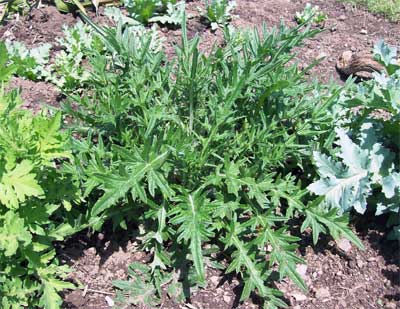 On the other side of the driveway I'm also letting another big thistle keep it's spot. Ok I know it's a thistle but it gets some really wonderful flowers on it at the end of the summer when it's reached gargantuan dimensions. Hey the Scots are keen on them, isn't it their national flower? And as a weed we already know it's tough so will fit in well with the xeriscape theme.
On a previous post I mentioned my intention to have fun everyday. And I realized yesterday as I was breaking up the soil and carefully extracting the weeds and their roots from the dirt and gleefully throwing them into my little green and yellow weed wagon, that I was actually having fun. Seeing the garden all tidied up and weed-free was pretty darn nice too. So in a way I suppose we made time for the garden and for fun at the same time.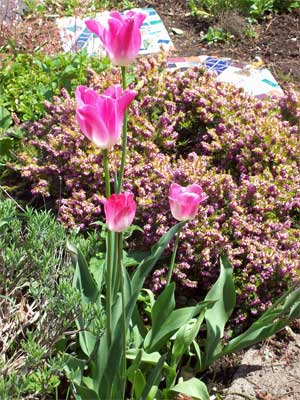 Which brings me back to Charles Buxton of the Make Time philosophy. I am going to try to consciously think of things that are fun everyday as I get up and make time for them. Today, I'll have a choice, either plant up the pots of flowers I've got waiting on the back deck or work on finishing my sculpture at last while listening to some good music. Which will I do, I wonder? Anyway, you have to admit it's nice to have a choice.