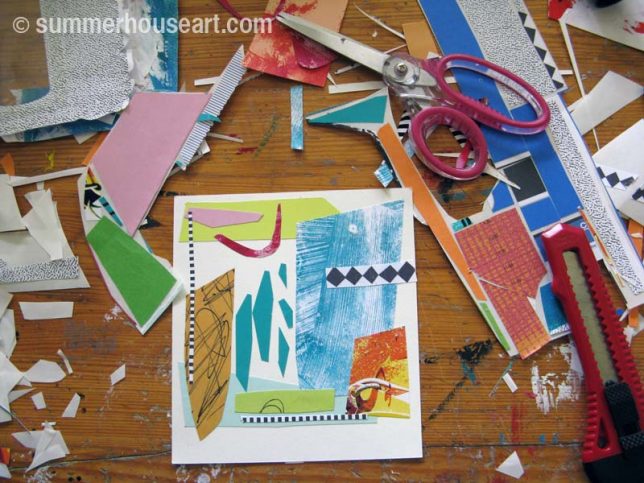 A while ago, in another post on collage, I said that artists aren't hoarders, we're just collectors with a plan. Not all the paper that comes into our home leaves by way of the paper recycling bag. Paper is, after all, for collage artists, a valuable resource. So I use old envelopes to create paint patterns on and even save envelopes with that lovely security pattern on the inside, as a rather tasty texture to use in collage. Anything out of the printer is saved as well for its textural value.
Collage always requires some sort of adhesive. For my collage on painted board, that I posted about earlier, I used matte medium painted on the underside and top of the paper scraps to secure them in place. But I also wanted to create some paper on paper collage too and discovered a lovely invention, double sided adhesive paper! This is basically adhesive between two layers of waxy paper. I found a good source for large sheets of it at my art supply store, much cheaper than the rolled variety.
What you do is peal off one side of the waxy paper and stick down whatever bits and pieces you may want to use on one side of the adhesive and then you can cut out whatever shapes you want. Before applying, you just remove the other waxy paper layer and carefully stick it down where ever. I found it's easier to remove the waxy paper by splitting it with a utility knife, then pealing the paper off. And the scissors I use get totally sticky but I've found a bit of alcohol gets rid of that too.
The finished piece was then scanned into Photoshop and tidied up a bit.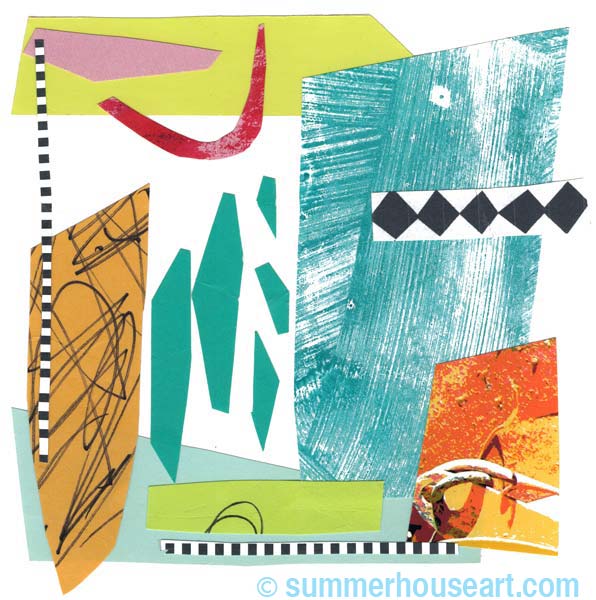 I thought it looked like it might be interesting for our Society 6 shop and applied the design to all sorts of products. I quite liked how it transformed entirely when applied to a back pack. Cool eh? You can also find this design on lots of other products too, from prints to pillows.

Save
Save
Save