I didn't have an idea for this piece to start with. I wasn't thinking about Japan at all. Until I found this beautiful plate at a garage sale. It was an authentic gorgeous plate Hand Made in Japan, printed on the back and had a little chip in the border. The reason it had been sacrificed to the sale table I suppose. The pattern was of chrysanthemums or carnations, I've never been sure. But I think that the former is more of a Japanese favourite. It was a large plate, about 12 inches across. I saw it as a background for something. And I knew it would look really good broken and reassembled in a mosaic.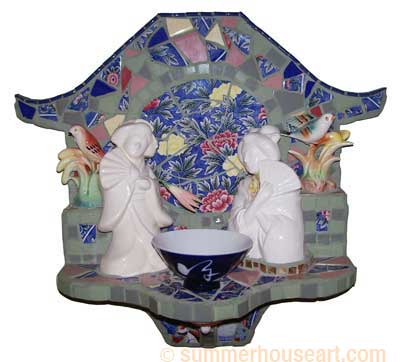 So the plate was the start or maybe it was the finish. Because suddenly I had a use for a few things that I'd collected in my studio and it all came together. The Geishas are actually drink glasses from a Japanese restaurant.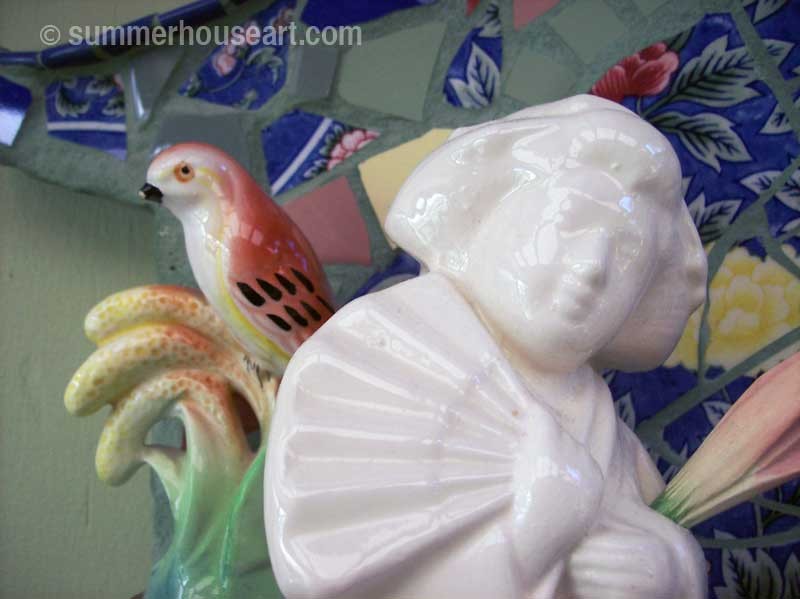 The backs of them are open and there is a little hole in the front of each one to put a straw in so you can sip your drink. These drink glasses come in all types of figures from geishas to samurai warriors to Buddhas, lots of Buddhas. You find them everywhere at garage sales and thrift shops. And I have a collection of them. Ok I have lots of collections but more about that on another blog. So now I had the geishas in front of the plate, on a shelf and I needed something else. The quiet little birds had been gathering dust for ages and their color caught my eye as being perfect with the colors of the plate. And they gave this sort of lyrical touch to the ladies.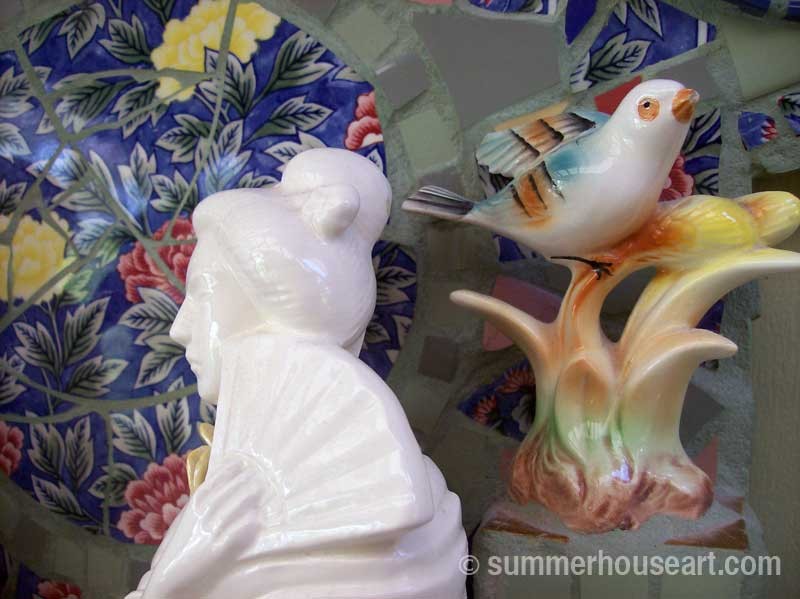 What else? A bowl. A Japanese bowl to float a flower in for my little Japanese shrine.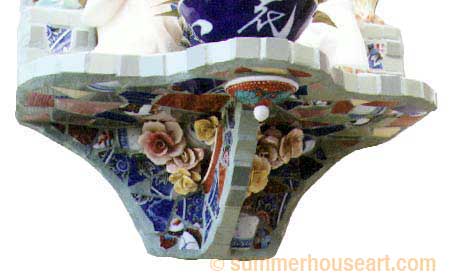 Then there was shape of the background to deal with, and in keeping with the theme, I drew out a pagoda shape for the top of the shrine. Now I only had to come up with something for under the shelf. I also collect those little porcelain floral bouquets. No, not to display, but to take apart very carefully with plyers or a hammer and chisel, and use the flowers on mosaics. They're good even if a bit chipped because you can hide the missing petals in an arrangement easily. So under the shelf there is an arrangement of flowers. They don't necessarily match the plate but who wants to be too matchy-matchy? And the little lid from a broken pot, turned upside down? Well, that became the finishing touch.
I suppose this was a case of inspiration backwards. The plate started the idea and the Japanese shrine came later. The Hawaii shrine started with an idea and the pieces came later. Backwards, forwards. Inspiration works either way if you let it.
Quote for today. Apropos, I think, for today's blog
Minds are like parachutes – they only function when open.
– Thomas Dewar