Next week I'll be starting mosaic classes for a few new students and I know that one of the questions everyone usually has is how to come up with an idea for a piece. So I've decided to do a series of blogs on inspiration.
Well, getting inspiration is really not all that hard. Sometimes you just let it all happen. Often, my problem isn't getting an idea but choosing which idea to work on. I usually have too many ideas. I'm a Pisces and apparently making decisions is tough for those of us in this area of the horoscope. Or, as Jimmy Buffet says  " Indecision may or may not be my problem".
It may be easier to show how inspiration works than explain it. So, as I said in the beginning of this blog, I intend to do a series and will show a few of our mosaic pieces and how they came to be. And hopefully that will say a bit about inspiration.
#1 in the series is my favourite mosaic," Aloha", one of the first mirrored and shelved mosaics I did. What was the inspiration? Well, obviously, Hawaii. We had enjoyed every moment of a vacation in Hawaii. We'd immersed ourselves in every touristy thing and soaked it up. We wore Hawaiian shirts and shorts and carried our camera around our necks.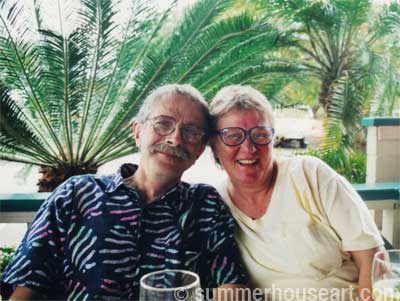 I fell in love with the Hula dance and the music and Will and I both fell in love with Hawaiian shirts. And then of course there were the palm trees and all the tropical flowers, like orchids. Well, nirvana. And did I mention that the first morning on Oahu we went, wait for it…yup, garage sailing. And some of the pieces that went into this pique assiette mosaic came from those Hawaiian garage sales.  Pique Assiette, by the way refers to a type of mosaic done with broken dishes and found objects, which is right up my alley.
Once we got home, I had the idea to make a piece to commemorate our trip, and things just started to happen. Things for the mosaic started to appear on trips to thrift shops.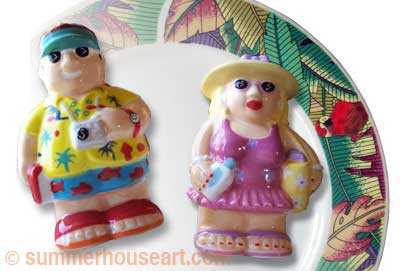 The dishes with the palm trees and parrots, the Hawaiian dashboard dancer ( I LOVE kitsch) , the bananas and the plates and salt and pepper shakers. All of them just appeared in my site lines as if by magic.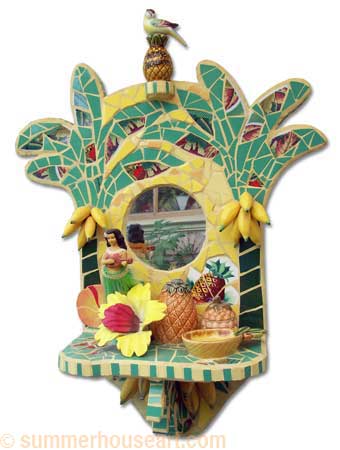 At some point I got the idea to have a shelf to hold all of the Hawaiian goodies. And then I had to create something to put under the shelf. This gave the extra benefit, we realized later, that when you were sitting down you had a whole other dimension to enjoy in the mosaic.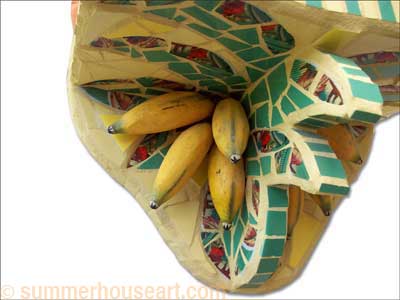 So that's how inspiration works. Get an idea, a germ of an idea and somehow what you need for it will make itself available. And all of those things will, if you let them, arrange themselves until they feel just right to you and viola! There you are with a mosaic project to do.
And another thing, don't let the reality get in the way of artistic inspiration. Ok, I know that bananas don't grow that way on banana trees and that there aren't really any parrots in Hawaii, why I don't know. And that bird that's sitting on the pineapple on the top, well, that just happened and looked good. So go with the flow, relax and let inspiration take it's course.