We love making mosaic stepping stones for our garden. They're fun and easy to do. Well, easy as in low tech. But they do take a bit of work. It's a chance to use some dishes and tile and sometimes other objects to create some color in the garden. Using dishes and other found objects for mosaic is called Pique Assiette. I like the whole process of using dishes and found objects, collecting them, finding them and of course breaking them to create new patterns.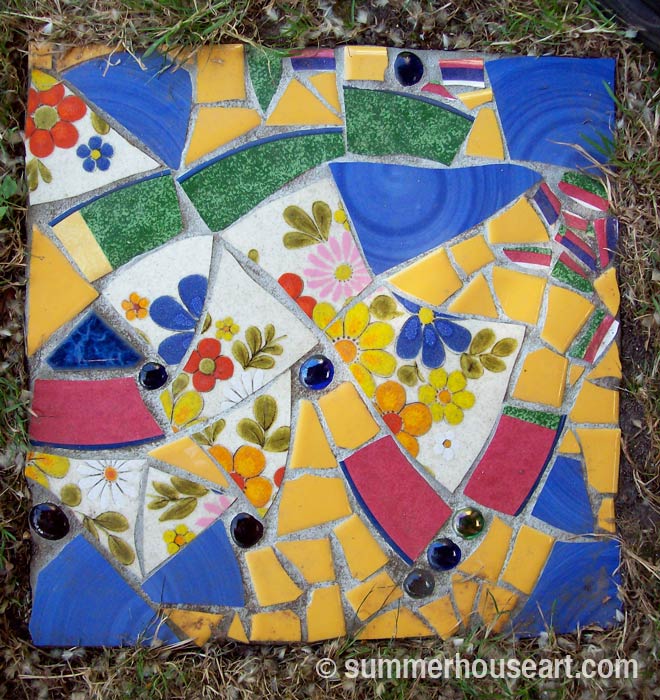 The other day, instead of grouting inside in the studio, I'd set up a work table under the clematis pergola so my afternoon student could grout her mosaic outside in the garden. After she'd finished, very happy with how her piece had worked out, and had gone home with her mosaic creation, we still had the work table set up. I'd done a quick demo of stepping stones for her on a small chunk of broken cement block while she was there. So we had everything ready, and we turned to each other and almost had the same thought at the same time. Hey, lets make another stepping stone.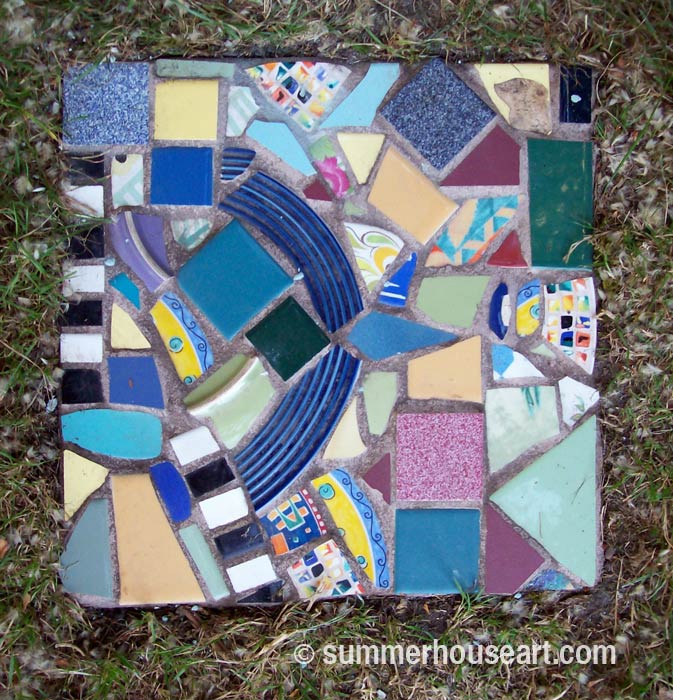 So off we went, into the studio, to gather up some dishes and tiles to use. We mixed up some more mortar and started. Before we knew it was 8 pm and time to stop and have a quick supper. We still hadn't grouted but the stepping stones were done. I got out there this morning and grouted mine. So another stone for the garden.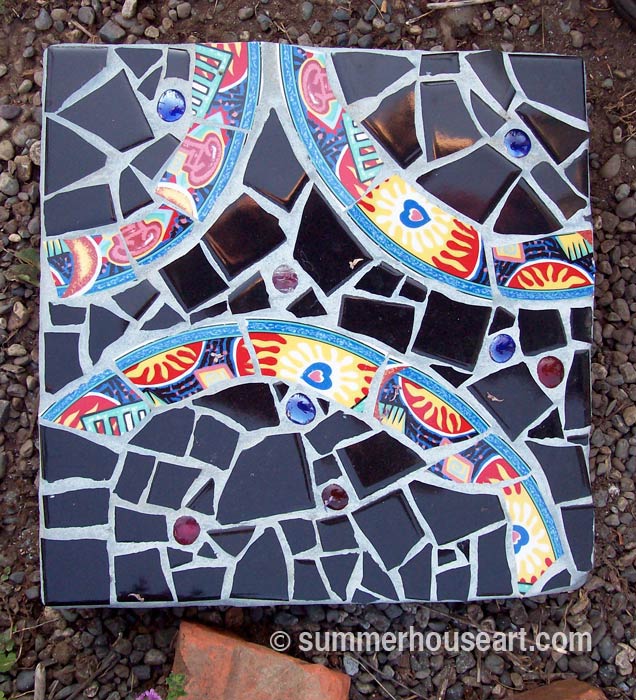 We enjoy the look of these little art pieces. Each one is different and unique. We have some laid into the lawn under the pergola, to create a sort of patio area. Others become entrance art at the gate, or as a way to step through the garden to the car, or as a bottom step from the deck.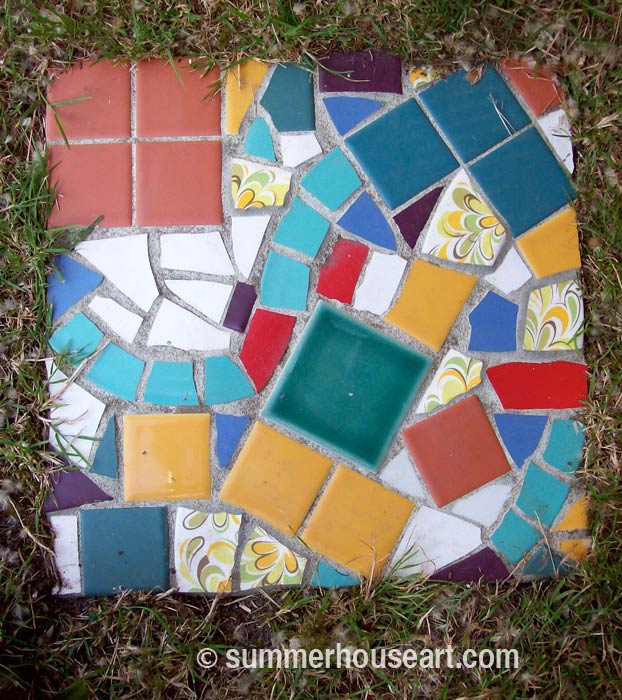 Will and I work totally differently. He likes to create much more minimal abstract compositions. I tend to use dishes with either floral patterns or just basically colorful dishes laid out in an overall sort of crazy quilt manner. We work quickly and without too much thought, counting on our innate sense of composition to work for us. We just relax and enjoy the time.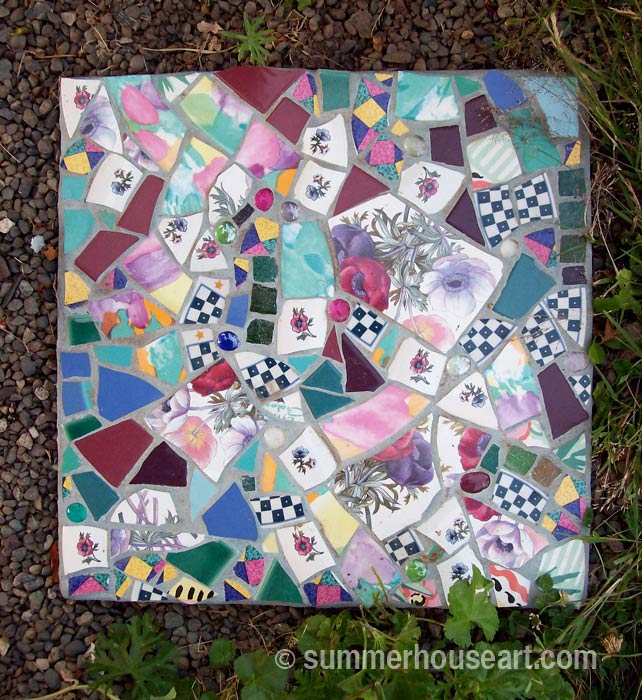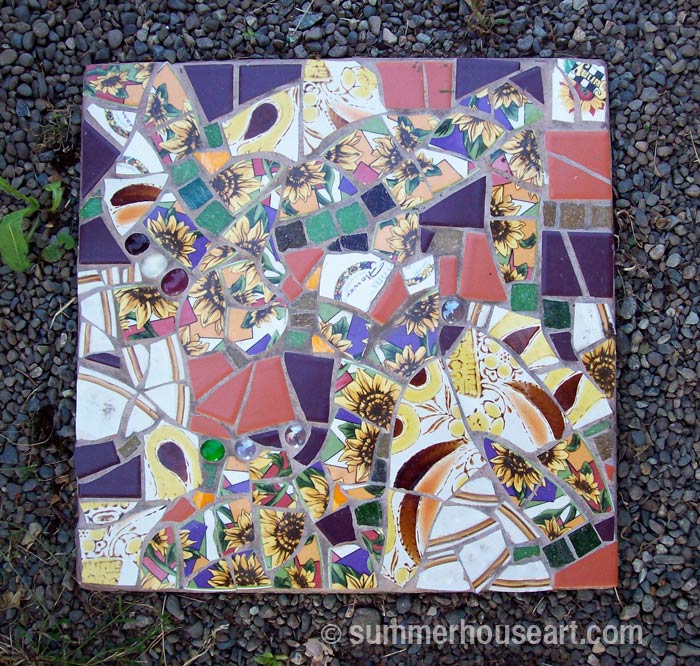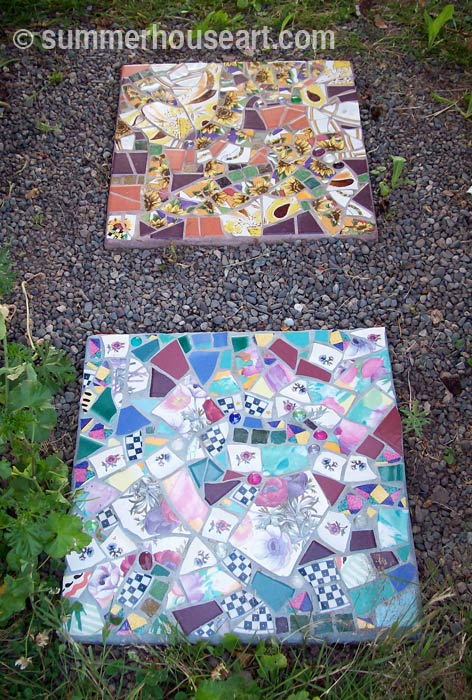 There's something about mosaic sparkling in the sunshine and greenery of the garden that makes you enjoy having it underfoot.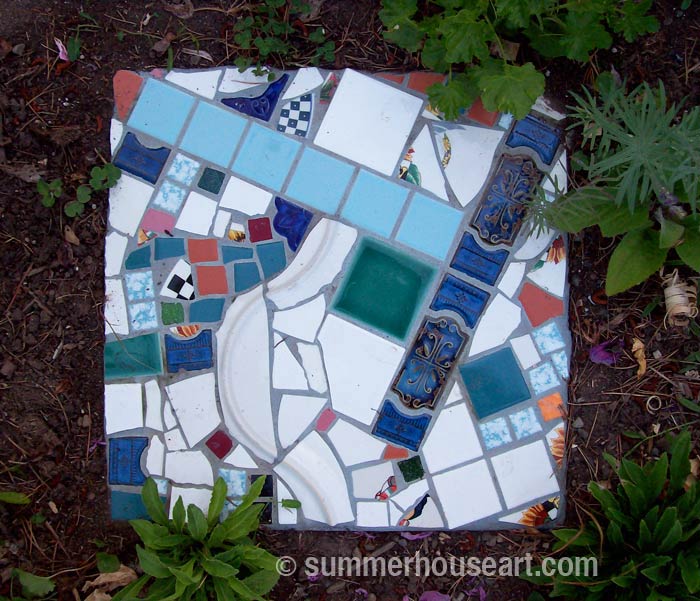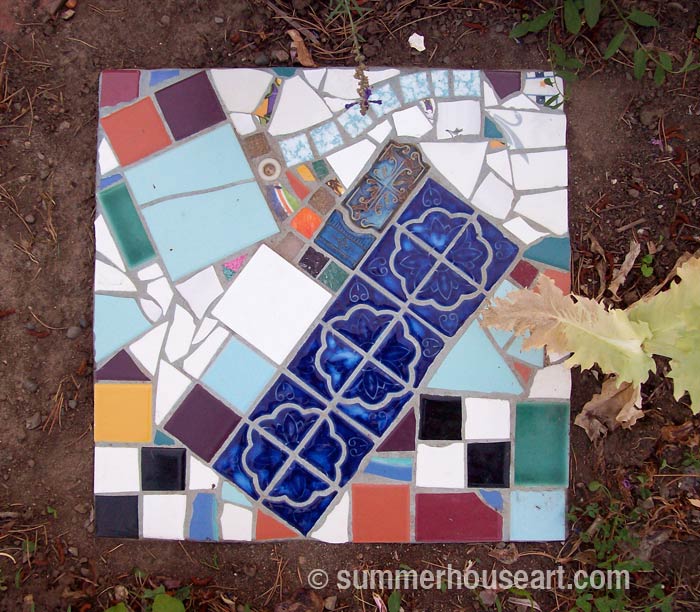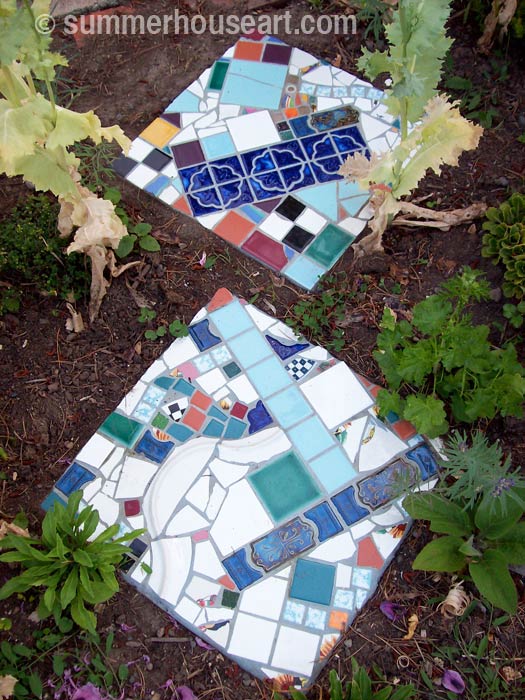 If you are interested in creating some stepping stones for your garden and don't know how, you are in for a treat. My next post is all about how to create mosaic stepping stones. There are lots of ways to do this, but this is my way.
Now you may have noticed that we didn't tell you which of us created all of the stepping stones in this blog. So, which ones do you think are mine and which ones are Will's?
(BTW, if you'd like to make a comment, just click on the title. It'll take you to comments….and we do appreciate comments )
Save