Way back in May I gave you a little glimpse or Installment #1 of the zany little plot of paradise that is our friend Hart's garden. In May, the focus was on the Rhodos with just a little dollop of mosaics. But today, be prepared for a peek at how an artist "decorates" his garden.
Now the three of us have spent years at Art college and I suppose what art college teaches you most is to see possibilities in even the humblest of things. To see beauty in texture and form. To create compositions and focal points, and in Hart's case, to create what I like to call "arrangements". In fact, my nickname for him is the "Lone Arranger".
Take for instance his arrangement of rust in a tucked away spot on one of the many paths in his garden. Here the garden wall is decorated with a collection of muffin tins left to rust, creating a grid like texture that sets off the mosaic bench in iron oxide colors, that even has a suitably colored ceramic fish as part of it's surface.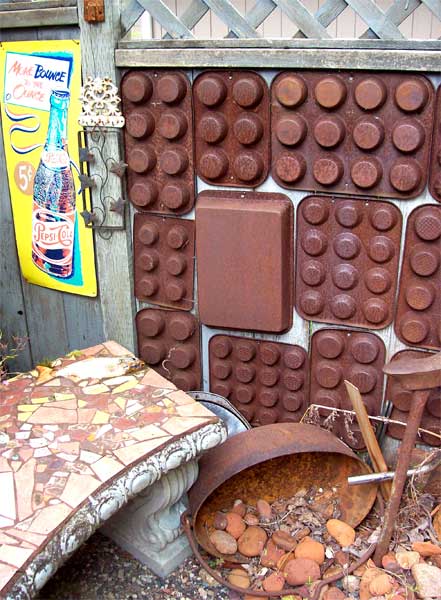 As your eyes take that in you are led to a rusty cowboy figure, a rusting feathered heart ( a garage-sale-find-birthday-gift from us) and a birdhouse decorated with ….. yes that really is a pair of pears.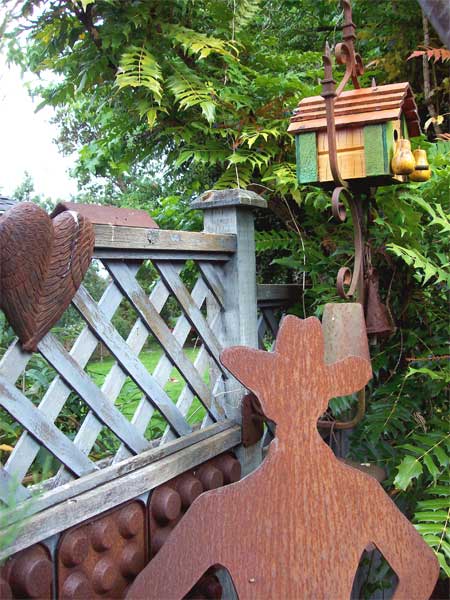 And rounding out this rusty feast for the eyes is a rusting bedstead curling through the greenery. I just love this spot.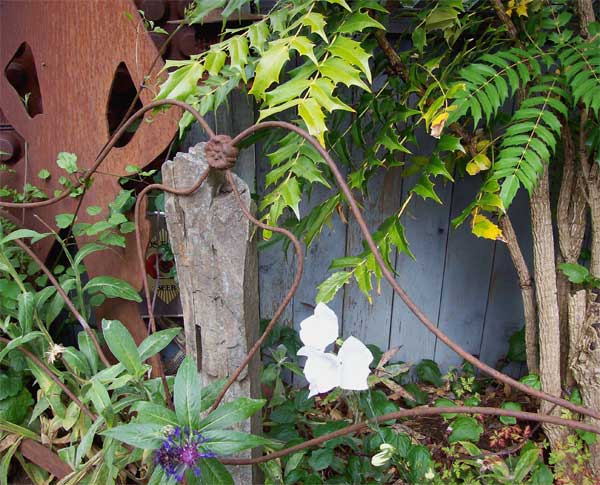 Carrying on with this tour, we come upon Rodin's The Thinker, lost in thought, of course. The Gazing Ball behind him could represent the world, maybe the focus of his thoughts. But note the arrangement, the way the colors of the ferns and Japanese Maple complete the scene Hart has created.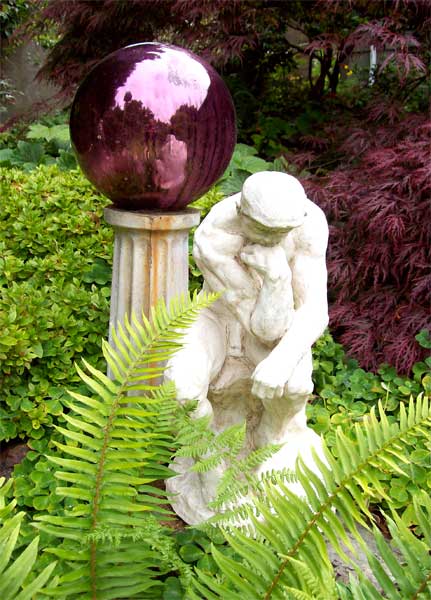 Next, near another wall is the Half Man. I noticed when I was getting the photos ready that I'd managed to inadvertently create the proverbial "fig leaf" with cedar. Funny story here, a neighbour could see this figure from her window and phoned to say it freaked her out first thing in the morning. Hart obligingly moved it for her.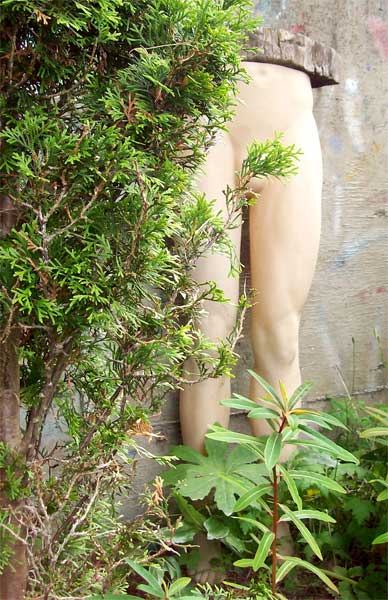 On my way to another part of the garden, Mojo, one of the cats, had to get cozy with my camera. He's very affectionate.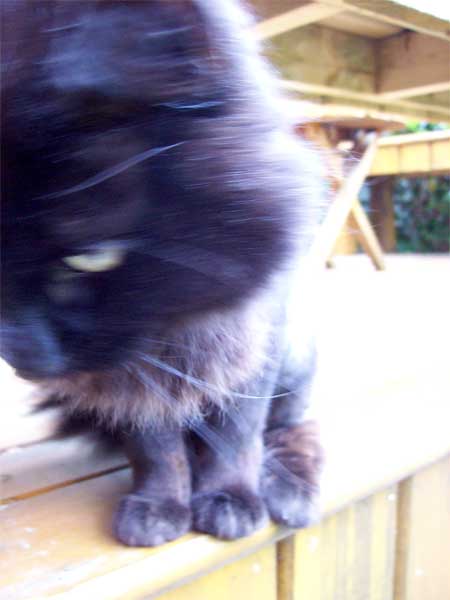 Other people on a pebbled beach see pebbles. Hart sees heart shaped rocks. Here a collection is featured, set off by rust and greenery.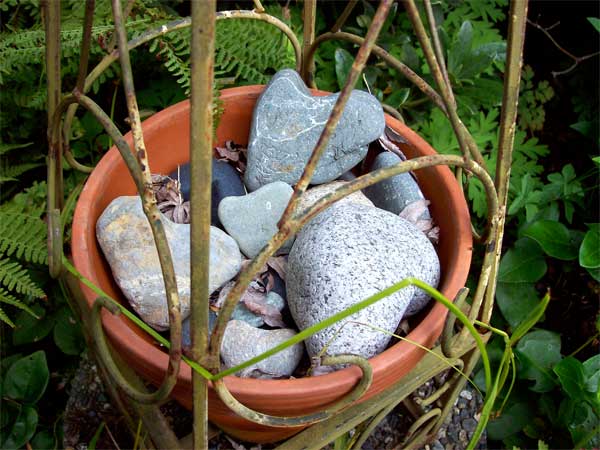 Another mosaic bench set in the front entry to the courtyard, matches the lushness of it's surroundings of ferns.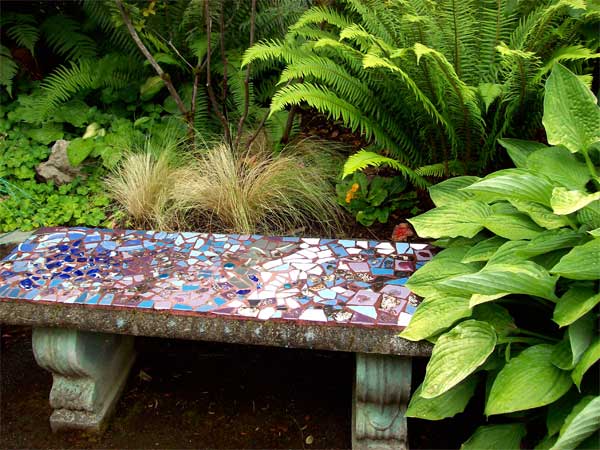 Even a gateway is not left unadorned. Here the little mosaic stepping stones create a counterpoint to the bars of the gate.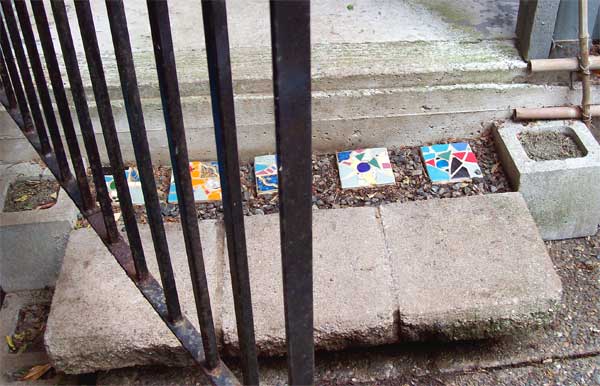 The garden has many gathering spots, places to party or to relax. For this spot the beaded curtains and flags are enticing, pulling you in, to find out what is beyond or behind them.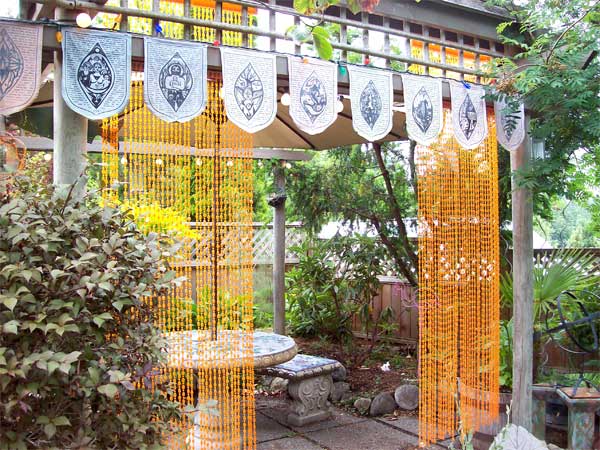 And beyond is another example of recycling and rust. The round mirror, already giving way to nature, garlanded in tacky plastic beads becomes elegant.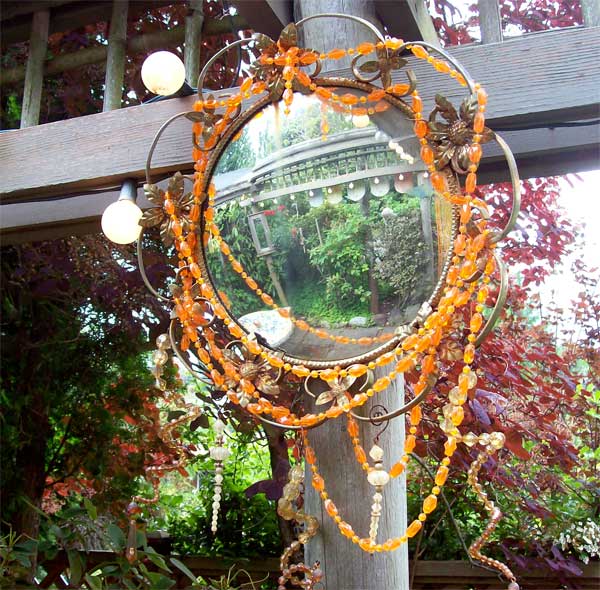 A wooden mirror reflects not only the view but becomes the subject of an arrangement itself.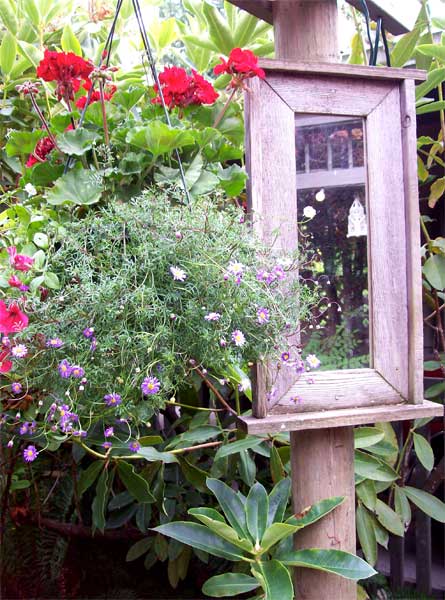 And the pink flamingo? Well, that was another garage sale find of ours, that I painted up and we gave Hart on another birthday. Well, in a garden full of whimsey, I was sure the flamingo would feel right at home.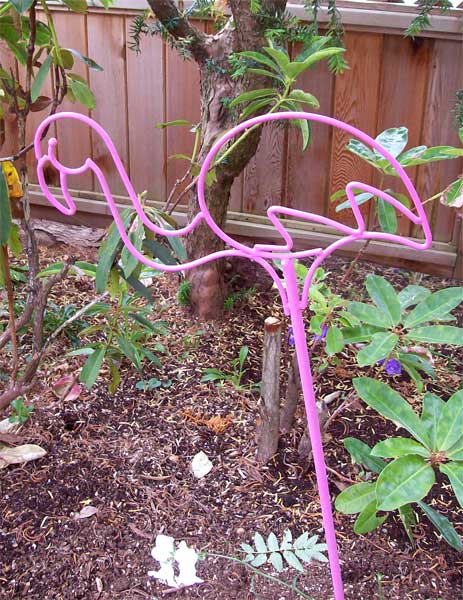 So I hope you've enjoyed Installment # 2 of Hart's garden. I know we never tire of it. There is still more to see, but we'll save that for another day.
(BTW, if you'd like to make a comment, just click on the title.  It'll take you to comments….and we do appreciate comments )
Save
Save