We're sort of lazy gardeners. We follow the no dig, layered methods and don't go in for applications of herbicides, pesticides or unnatural fertilizers. We don't do a big fall clean up either. We just let the garden be at the end of the season, leave the leaves, leave the seeds, don't take down plant growth. We just walk away and leave it all for the birds and squirrels.
And the birds reward us by coming by and eating all the seeds left on flowers and plants, the berries on our shrubs, the seeds in the trees and rooting around for insects in the layers of leaves and whatnot. We keep a set of binoculars at our kitchen window right next to a couple of bird books to identify who flies in for lunch.
The best thing, of course, is watching our bird baths. The two baths are placed just so we can get a good view.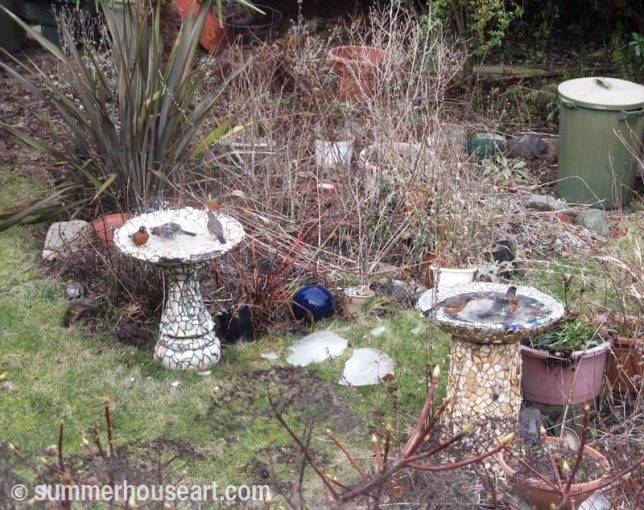 We've had a bit of cold snap here in usually balmy Victoria, and the water in the birdbaths has been frozen. Yesterday the temperature came up and with it a lot of birds in the garden, mostly Robins.
We saw one Robin trying to get drink around the ice in the birdbath and decided to do the birds a favour.
The layer of ice was taken off and the baths cleaned out and refreshed with new water. Within minutes of our return to our kitchen window we were rewarded with a steady stream of birds coming to bath.
First one, with one waiting on the rim…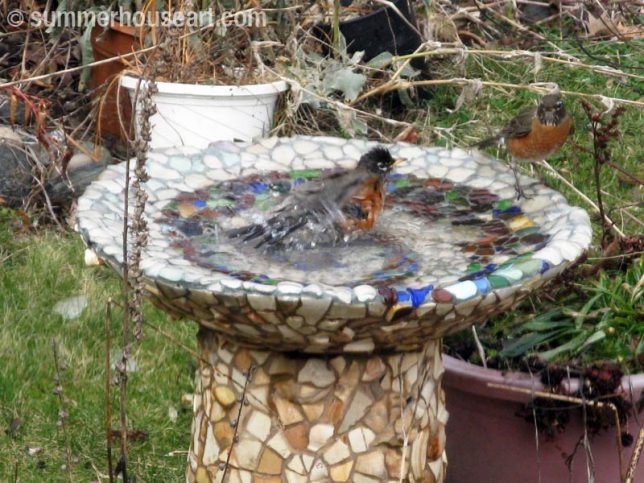 then two,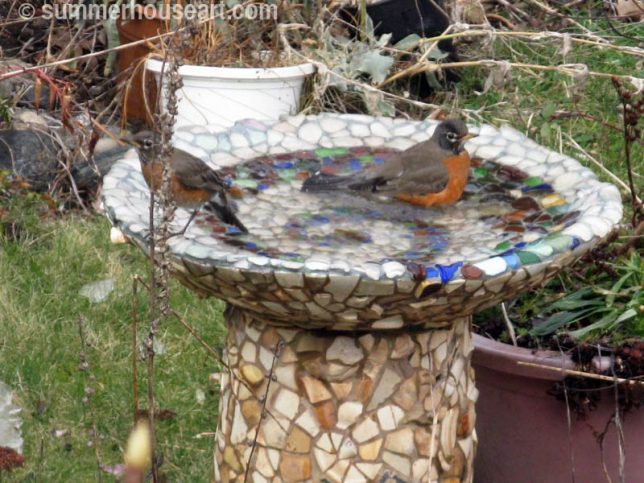 then three Robins ..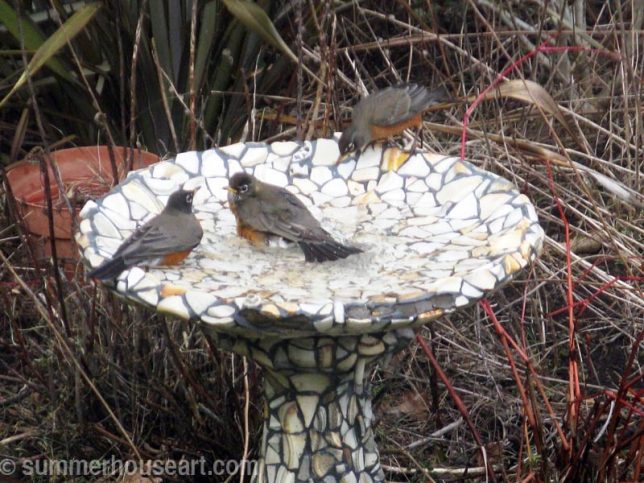 and then two Robins and a Towhee..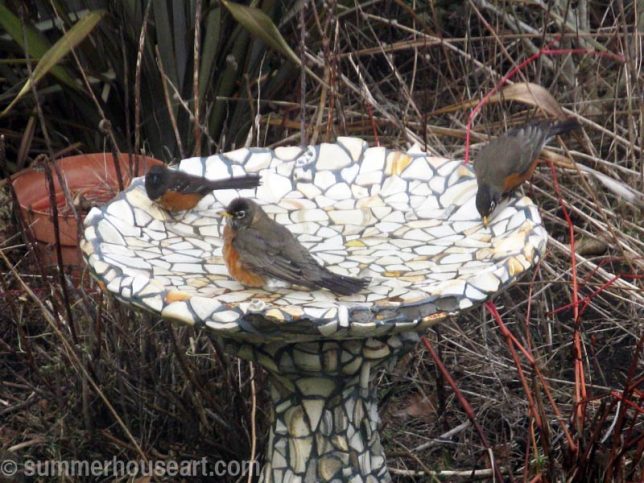 and then the baths were full of rowdy, splashing birds!
We actually had to go out two more times to clean out the baths and refresh the water and each time, within minutes, the baths were filled with splashing and happy birds, who then flew up into the trees to preen and clean their feathers. Thought I'd share our little bit of bird bath delight today. And thanks to Will for creating this little video, he says apologies for the bumpiness and bad resolution.  But hey, you know it's just for fun.  And also big thanks to Kevin McLeod, who seems to make just the right music for us to use.  You can find Kevin's work at incompetech.com

(BTW, if you'd like to make a comment, just click on the title.  It'll take you to comments….and we do appreciate comments )
Save
Save
Save
Save
Save
Save
Save
Save