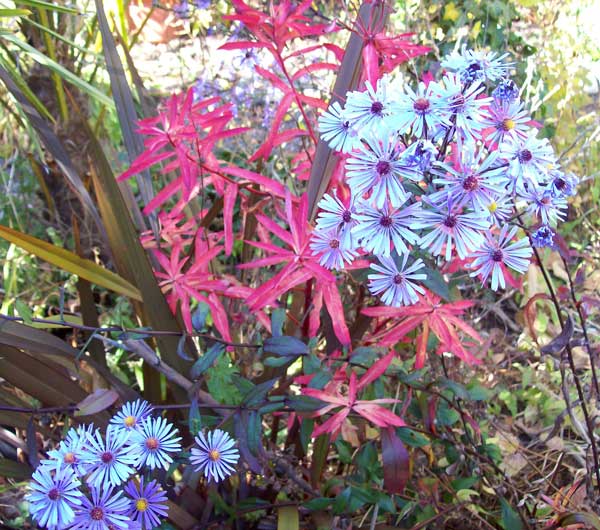 Fall seems to come a bit later here on the island. All the trees haven't quite turned yet, but the annual fall color parade is definitely on its way. This is the time when the leaves and the flowers show off a bit.
Our apple tree is a volunteer, probably started from a stray seed and we still haven't totally decided what type of apple it is. We're guessing Gala. In all the previous years, we've had, at the most, six apples. This year it actually gave us a whole bowl full. They'll make a few tasty apple crisps, I'm sure. And we did leave a few for the birds. The grapes were not quite as abundant so most were left for the birds. I always like to keep something in the garden for them to munch on anyway.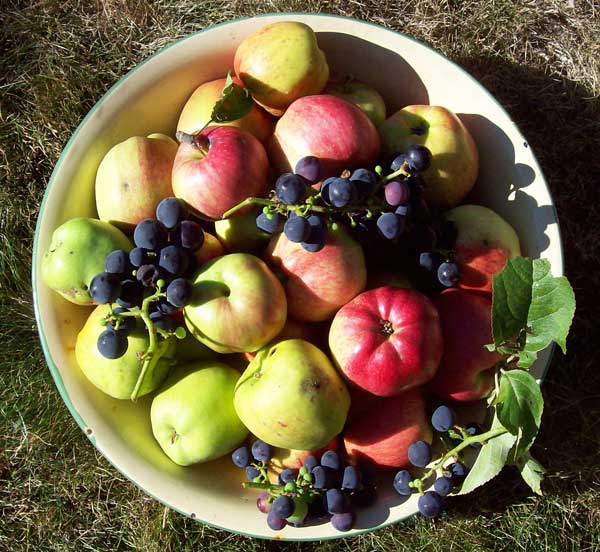 Bill likes the look of Dahlias and this year we added a few to our collection. Now I did mean to keep the names of these handy, but as usual, lost in the piles of stuff that accumulates. And, to be honest, as artists, we don't really care about proper plant names, just lust after the colors and looks. This white beauty with shots of pink is the size of a dinner plate and looks so lush.
Then there is the purple-burgundy making quite a show..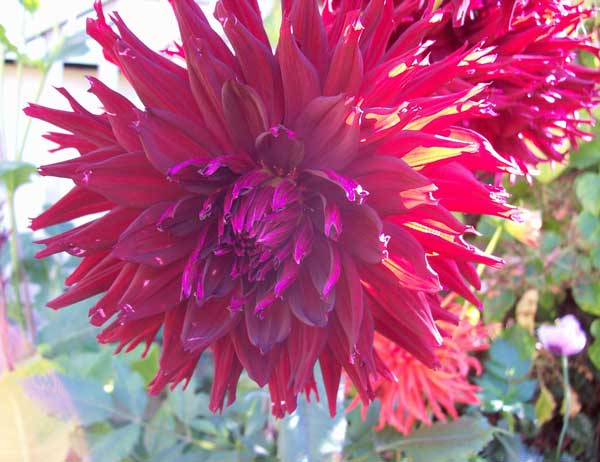 And the reds looking like a fireworks against the green. Love that little late poppy poking up too.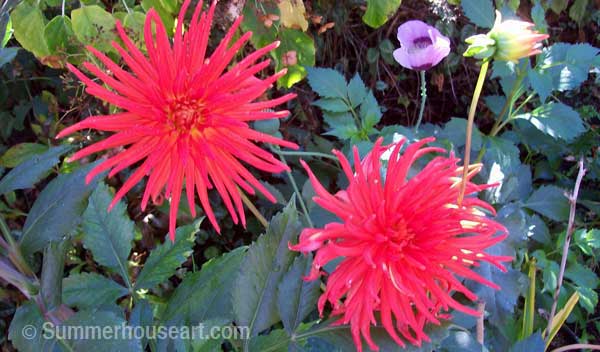 Then this week just as all the Dahlia were at their peek, and after weeks of what was becoming a drought, it absolutely poured down. And the lovely,luscious heads of the Dahlias, heavy with rain, just fell over.
So I brought in a whole bouquet to arrange in a vase and display on my new garage sale find, a lovely indigo batik tablecloth. Looks to me, like they were all meant to be together.