Studies are like sketches or perhaps experiments. I quite like the idea of doing studies, just to see where an idea will lead, curious to see what it will look like when done.
Just working on small 6 inch by 6 inch pieces of wood as a base for the mosaic studies, I went through my many many containers of dish bits and put together a small set of colors and textures that appealed to me. The first piece was made using bits of dishes that I'd cut into only rectangular or squarish bits. The pieces aren't exact or tidy rectangles or squares like you'd get with normal mosaics, but the uneven, variances that you get when cutting up dishes which I think adds to the surface interest.
I arranged them in an intuitive order, balancing the colors and textures as I went.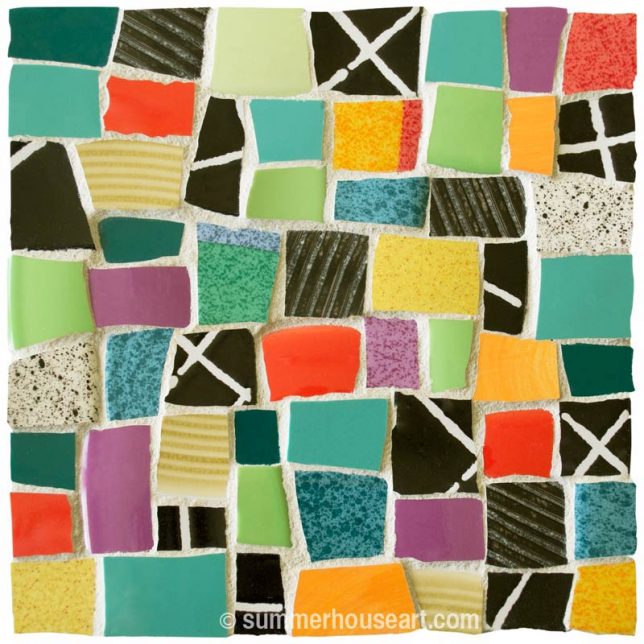 Then, looking at my work table, I realized I had quite a few triangular pieces scattered about and decided that, as my next study, I would use only triangular bits of the same dishes. An entirely different composition but still fun to look at.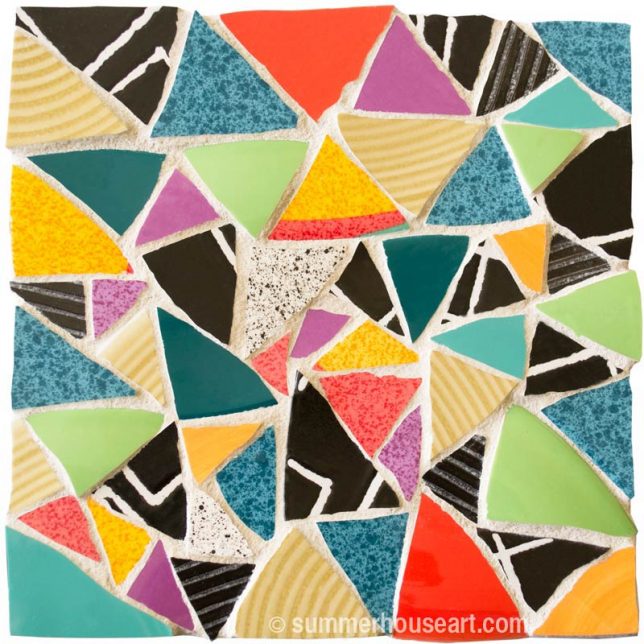 Looking at them now, I'm quite enjoying them and seeing many possibilities as well. We've become interested in surface design in the last few years and Will and I have been having a bit of fun teaching ourselves how to make repeat patterns. And we've also been applying our work to all sorts of other products from prints to pillows on our various online Print on Demand shops like Society 6 and Red Bubble. Looking at these studies, I can see some fabric design ideas, prints and other possibilities. It's a whole new avenue to explore. Watch this space to see what we make with these…..much more to come.
(BTW, if you'd like to make a comment, just click on the title.  It'll take you to comments….and we do appreciate comments )
Save
Save