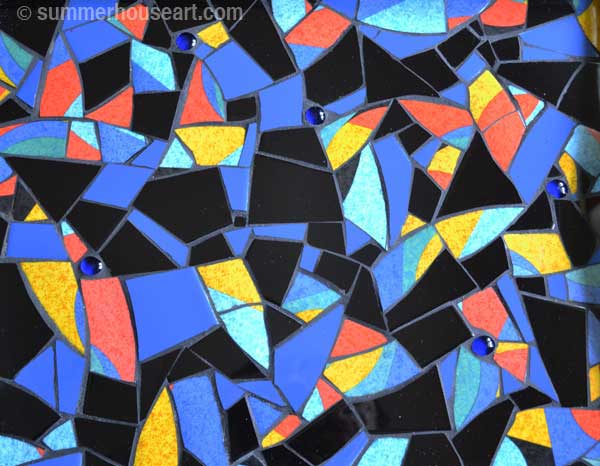 There's something about trays. They're easy to find in thrift shops, the ones I like the best are the light weight wooden ones with handles. They're just the thing for a quick study in mosaic, offering a chance to try out colors or patterns or a new idea. And when finished, they're so useful. A great way to take hot casserole dishes to parties or haul out your teapot and cups to the patio.
Of course while in thrift shops I'm always trolling for interesting dishes, too.  Once I started making Pique Assiette mosaics I never looked at dishes the same way again. I tend to wonder how they will look broken up. I look for a variety of colors, texture and pattern. Sometimes I get really lucky and find a stack of dishes that has it all. And if I've got the money, I snap them all up, because when you're shopping thrifts and garage sales you can't always come back for more later.
These plates with their lovely colors and textures were one of those lucky finds. I knew I'd always like the patterns and colors and would be able to use them for more than one project. And I knew they'd have wonderful "broken" possibilities.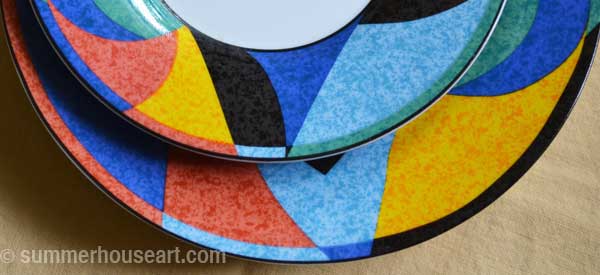 I could have done the whole tray in just the dishes but I chose to add more blocks of solid color using ordinary tiles in a lovely dark blue and a black. I like abstraction in mosaic, just fitting in pieces where they fit, creating a bit of a balance of colors. It's a fun, intuitive way to work, with a surprise composition at the end.