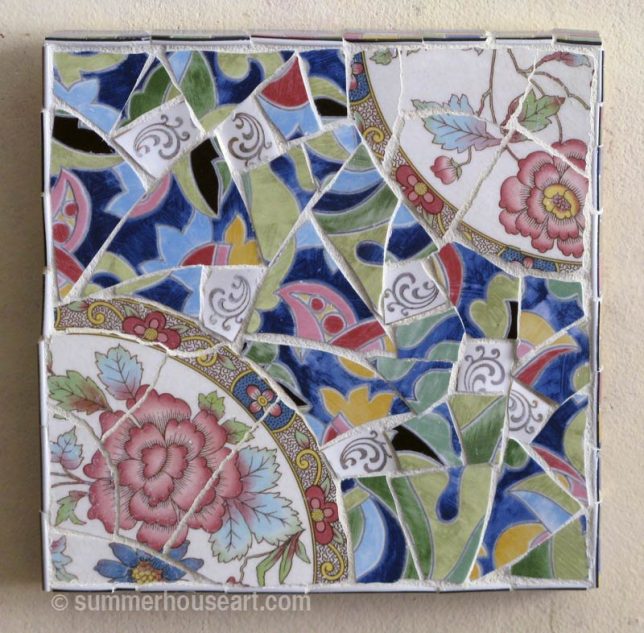 Lately all you hear is declutter, declutter, throw out, lighten your load, etc, ad nauseam. Recently, I even saw a book that claimed your health would improve by throwing things out. It's the latest trend.
Well, I happen to be one of those people who hardly ever throws things away. You may think you are throwing something out but it has to go somewhere, like the garbage dump, if it can't be recycled. As they say, there really is no "away". We do, however, recycle a lot. In fact, we hardly ever have any garbage for the garbage people to pick up.
I make Pique Assiette mosaics, which means, creating mosaic surfaces from broken dishes. So, essentially, I've been making art from all those dishes that others got rid of. I suppose I really should be thankful for all those people who donated all that "clutter" to thrift stores.
Over the years of making mosaics, I've accumulated quite a lot of leftover bits and pieces that didn't make it into the latest mosaic. It's not clutter. It's all sorted by color and pattern and stored in recycled salad containers. As I say, there is a lot of it. I just can't throw it all out. I always have a feeling that someday I might need a certain color or pattern. Of course, whenever I can, my students benefit from my stash of broken bits should they need some color or maybe a floral pattern to augment their pieces.
Which brings me to this latest little mosaic at the top of the post. Looking at all my lovely stash of bits and pieces, I've decided to start creating small mosaics. This one is just 6 inches by 6 inches. For the time being I'm planning to make little studies, putting together all those small and precious bits I've been saving. It'll be a nice change from the larger projects I've done before. Who knows where it will end? Or how many I'll make or if maybe I'll have a show of small mosaics somewhere or maybe post them on our Etsy shop.
This little mosaic, with it's floral design, will be a gift for a niece's wedding. Something small and I hope, precious, that she can enjoy in her new home.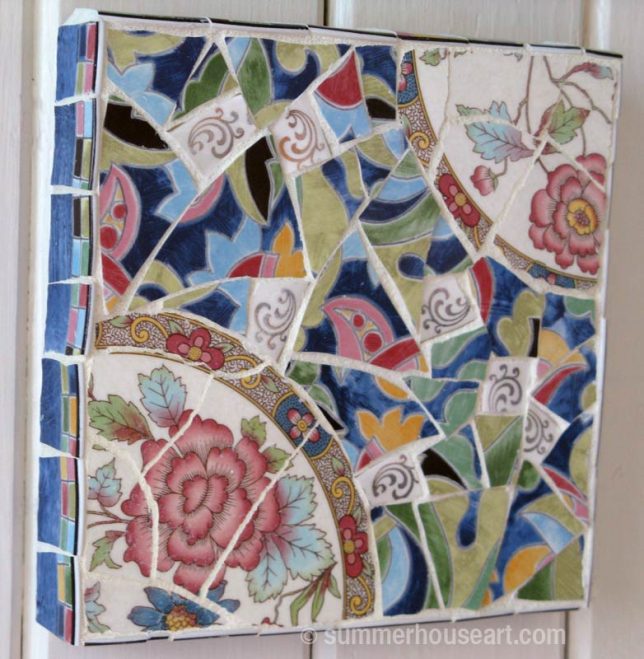 (BTW if you'd like to comment, and we do appreciate comments, please just click on the title to bring up the post with a spot for comments at the bottom.)
Save