Making a Pique Assiette mosaic can actually be a meditative pursuit.  Pique Assiette Mosaics are a type of mosaic made with dishes and found objects.  Part of the fun with this is wandering  through my huge collection of dishes to find pattern and colors that work together. The time spent cutting pieces of dishes or tiles, the slow work in arrangement of those pieces is a quiet and focused time.
Past inspiration entries have been about an idea that started a piece, as in the Hawaii shrine or a certain dish that inspired a shrine as in the Geisha Ladies Japanese Shrine. The composition was planned, the drawing made, the goal in mind, more or less. Now I'd like to show a much more abstract way of approaching mosaic. Strangely enough it is the easiest to do, the hardest thing to explain and also the hardest to teach. A photo or two might explain it better.
All artwork has a composition. Good composition has a balance to it. Not that everything should be symmetrical, but that colors and pattern are visually weighted  to make the piece have  balance, as in not top-heavy, or with too much happening on one side, without the balance of a larger area opposite to give an equal weight. I think it's something we all do intuitively.
Sometimes I just want to create a surface, a surface that has no real narrative to it, in that the surface is not a picture of anything. It doesn't tell a story, the pieces don't make up a recognizable object like a bird or tree. It's just a surface. I like to think of it as abstract.
Sometimes I feel like doing a nice relaxing mosaic. I just want to play with color, texture and pattern and let the mosaic happen.
The two mirror frames I'm showing today were done just for the fun of creating an abstract surface.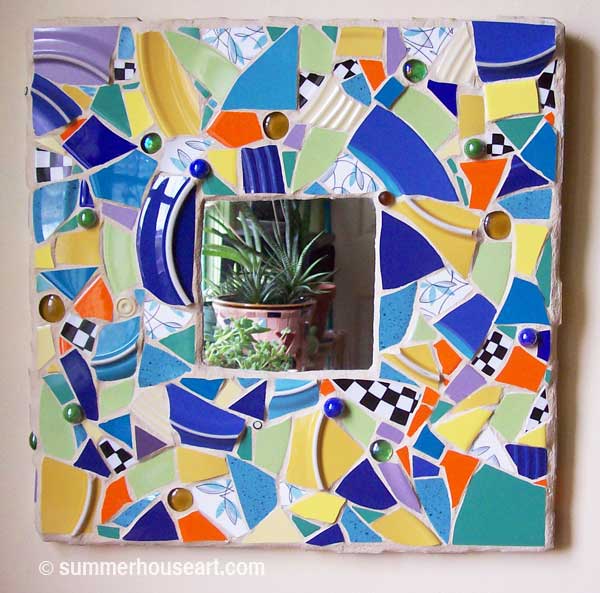 To start I choose the basic shape. These were square, because I just happen to like the square format. The mirror is set just a little deeper at the bottom, to give a visual lift to it. But I have sometimes thought it would be interesting to have each side equal because then there would be no up or down designated and the mirror could be turned to enjoy a new view of the design.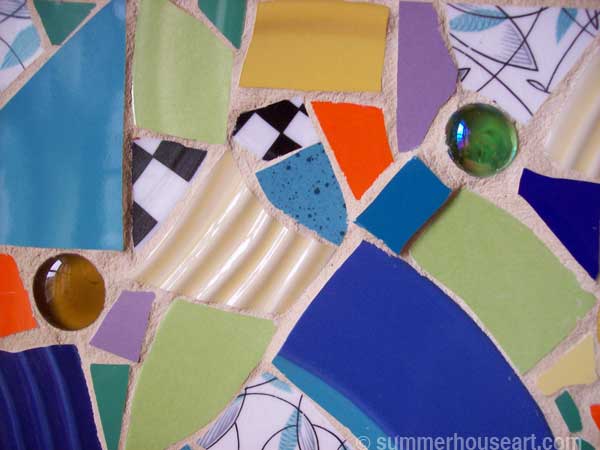 Next, I chose the colors and other elements. Maybe I'll have only one plate with a pattern on it that I love. So I choose that and then choose other colors and textures to compliment it or set it off, riffling through my collection of dishes for just the right ones. The first mirror frame above, has a plate from the 50's on it, a delicate turquoise and black pattern of leaves and lines shown in the photo above. I only had one of these plates so could only use it sparingly. The broken pieces of that one plate are placed throughout the design, a little bit here and there, spread out over the surface.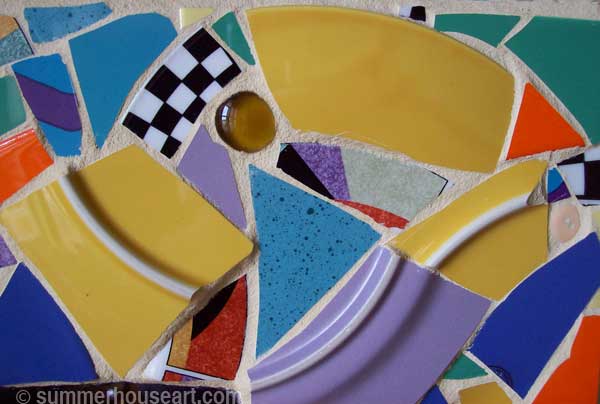 And all the other space? Well, that's were intuitive composition comes in. That's where letting the mosaic flow on it's own comes in. I just start. Putting down a piece in the corner, whatever fits, and keep going from there. If a piece fits naturally next to that, in another color, it goes next to it. The curves above give a sense of movement.
It's like fitting a puzzle together. Your eye scans the broken pieces for fit, for a color, a texture and if it fits, in it goes, glued down and on to the next one. You step back now and then and sense, rather than see the balance in the composition. You know intuitively that you need a bolder color over in this area to balance the pattern across from it. It's hard to explain, but much easier to do if you let your instinctive color response go to work.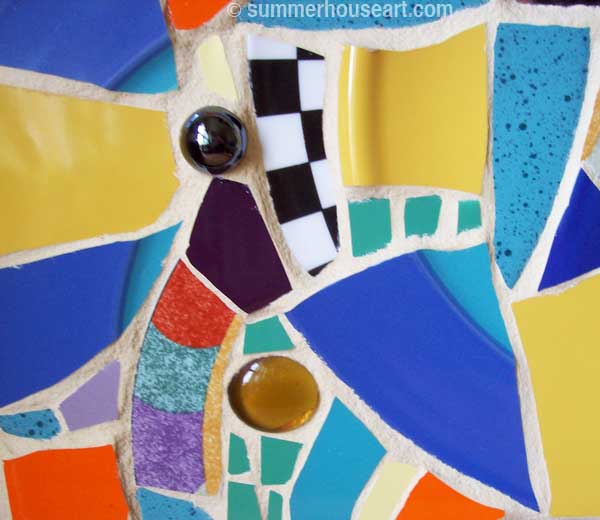 And yes there are a few "rules" to make the composition more interesting for the "eye", such as varying the size of the pieces, as in the close up shown above.
The mosaic, with the help of my mediative, intuitive senses and vision, just creates itself. And at the end, what do I have? If I trust myself, and let things happen, very often a piece with movement, that encourages my eyes to roam the surface directed by a curve of color which leads it to another color or texture that leads it to another area and somehow you end up with a surface that your eye loves to skate over,over and over. Eye-candy I like to call it.
Why is it so hard to teach? Most people are not used to just letting go and allowing intuition to take over. That's the crux of it I think. But once you do and let it happen the focus on arranging and searching for the next piece is meditative and quite relaxing. And once you've done it once, maybe just a little bit addictive.