Christmas Day is here, and I did, after all, get a lot of baking done. Thanks to my good friend Scarlette who came over and gave me a massage which really made my bursitis bearable. As I told her, she "saved my Bakin". Hah, hah. I know I know but I couldn't resist.  Scarlette has lots of very relaxed and happy clients.  You can find her at GLO Massage and Esthetics.
I didn't get any of the Santa's up, all 110 of them. But you can see them if you look at at last years 25 posts, the 25 Days of Santa ornaments.  That's the Tropical Santas at the top of the post.
Last year, Bill and I went out Christmas Day and walked on the Gorge and saw all the Christmas Dogs. Everyone had their dogs decked out in Xmas gear and were so cute.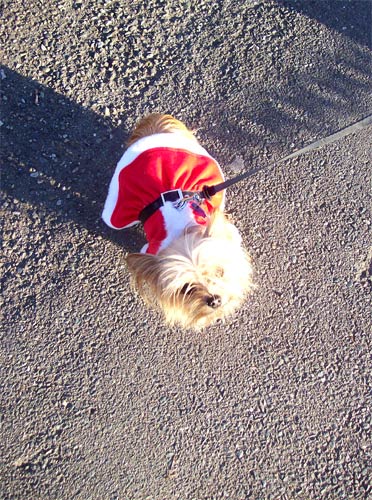 But this year we got to dog sit Scarlette's puppies for the morning, Rosie the Cairn terrier sort of, I think, not sure ( I like to call her Rosita) and Molly the chihuahua. They're very sweet and have to sniff everything on the way, so walking is very slow. Plus they both tend to go completely unhinged at the sight of any other dogs. People OK, other dogs not so much..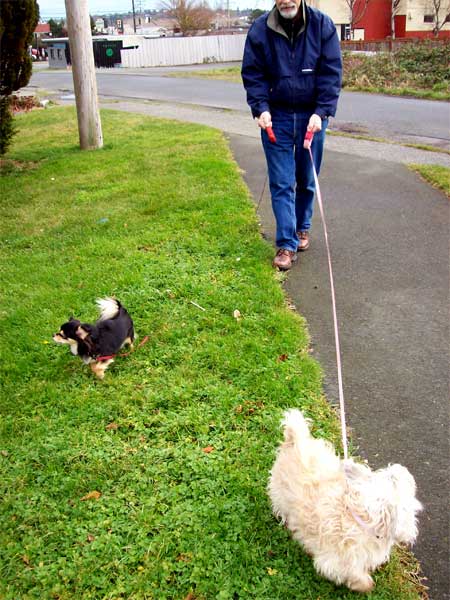 So due to rather a lot of people out walking their dogs too, we decided to retreat and on the block close to home what should we find but a trio of chickens in someone's front yard.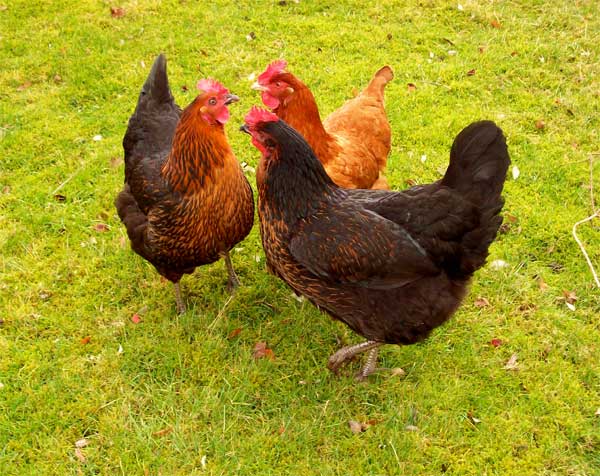 After a bit of investigation we found the owner of the chickens, Lauralee. Turns out they all have names, the ginger colored one is Nugget and the other two are Lucy and Ethel. They all went running to Lauralee when she called them, wandering girls that they were. And it also turns out that Lauralee has a blog too, called Speedwoodworks, all about her chickens and her renovations of her very lovely little house. You'll have to have a boo, it's really good and you can see Ethel, Lucy and Nugget when they were but little chicks just a short while ago in May.  Lauralee very kindly gave me a fresh egg to take home,  thanks muchly.  I can't help but think that I would never have expected to go out for a walk on Christmas day, meet chickens and get a very fresh egg to take home.  But there it is.
Now, I must get back to cooking for Christmas, but I do hope you have a Merry Merry Joyful day. I know I am.