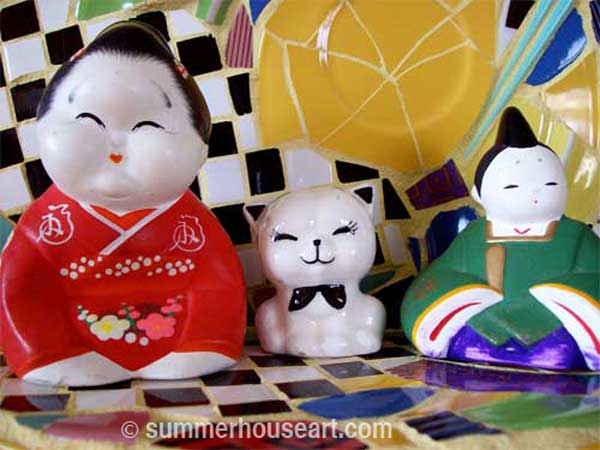 I just realized that I haven't carried on with my "inspiration series" for a while and thought of this odd little mosaic to post about today. I call them "The Happy Trio" and they never fail to give me a smile.
I often get my inspiration in a serendipitous manner. Now did you know that the word "serendipity" was coined by Horace Walpole as "the gift of making delightful discoveries by pure accident" in his fairy tale, "The Three Princes of Serendip"? We have adopted it as our motto for years.
My delightful discoveries were the two Japanese figure ornaments that I found in a Thrift shop one day. They were so unique and such good work that I wondered how someone could have given them away. I still wish I knew who the original designer was but there were no tags or identification as is often the case with ornaments. Will found the little cat in the middle, also a Thrift find, and gave it to me, as a present. And right away I knew just where the little cat must be…..
I set the three of them together and wondered how to create a mosaic home for them. The circular back was maybe inspired by the Japanese flag, really I don't know. It just came to me. I always love the look of checkerboard and somehow it felt right to use that and a modern design behind them.
And the chopsticks? My son, Dave, had given them to me. He was watching me one day, as I was putting the pieces on the back and suggested using them. I'm so glad he did. I think it makes the piece.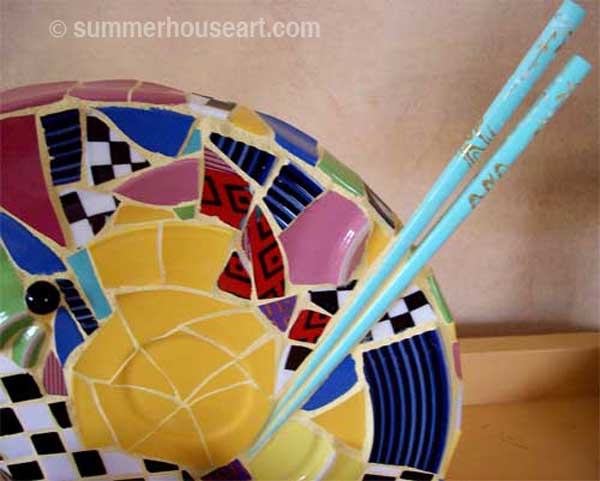 So now I present the finished mosaic. Here are the Happy Trio, posing graciously and quite happily under the Bonsai tree.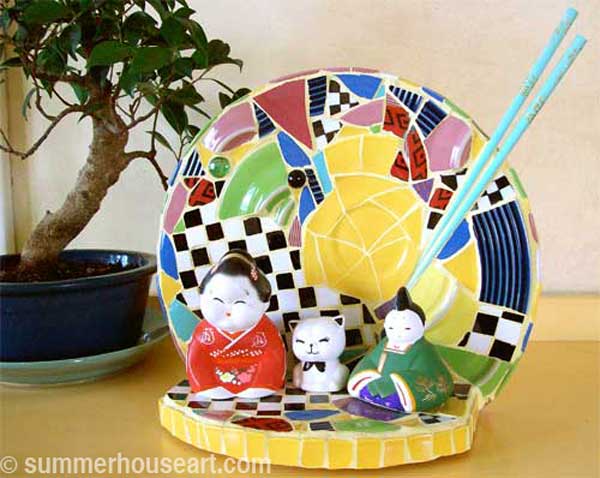 Serendipity
The gift of being able to make delightful discoveries by pure accident.
(Coined by Horace Walpole after the "Three Princes of Serendip", a fairy tale).