I think I'm one of those artists who flit about, like a butterfly or maybe a magpie, attracted to the next color or shape. I try things, I meander from one thing to the next. I get inspired by a shape…. or color.
And such was the case with this short series I created in 2009. This piece is the first of four in the series. And then abruptly ended.
What happened? Was it just that my eye had been attracted to something else or was it that I'd worked it through and was ready to move on? Whatever, I think I fully intended to do more and create a much bigger series. And so I haven't posted them before. I thought at some point I would get back to it. But no, never happened, so today I've decided to post Spiral #1.

I was playing with shapes, like the wedge of yellow and the spiral. . I must admit that I am a sucker for spirals. Love spirals, still do. Originally, it had been a little sketch on paper with shapes floating about and I'm sure it was Will who suggested that the whole base of the piece could be cut out in a shape as well.
It is not created with the usual mosaic materials of smalti but with dishes and a few ordinary tiles. I had very little of certain plates, precious bits and stuck them down carefully. And they became the little floating pillows, or that is how I think of those shapes. I liked creating a whole new texture by setting down the design of the dish in a whole new deconstructed way.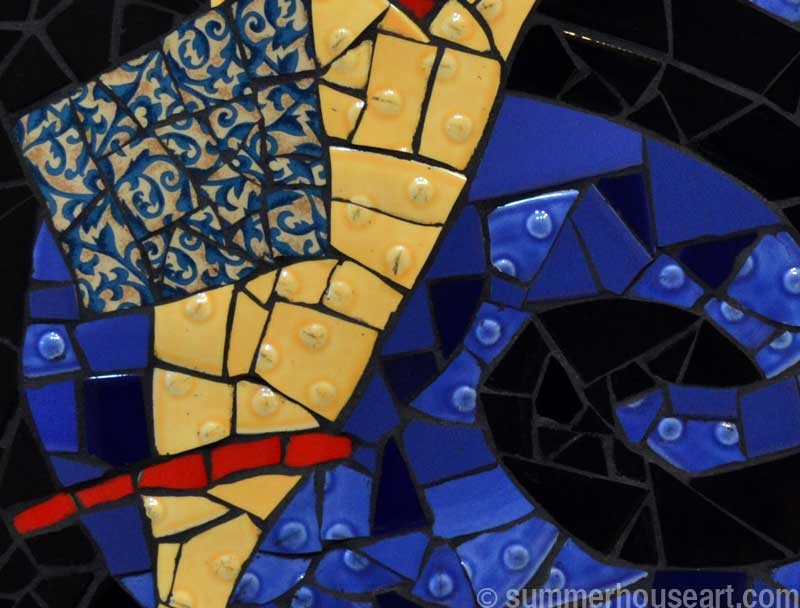 And what to title it? How about something descriptive, like "Yellow Wedge on Blue, Floating"