One day this summer, on a whim, Will suddenly built this driftwood chair. It's not exactly sit-able so I think of it as being more of a sculpture. I've put off posting it because he keeps adding to it. But for now, it appears to be done… at least until he finds something new for embellishment.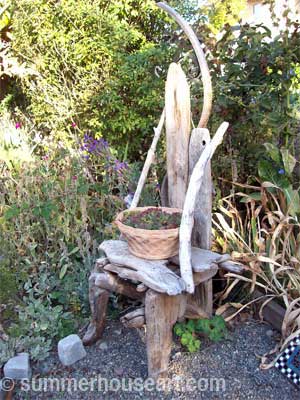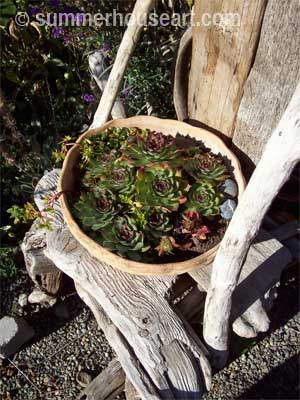 The seat creates a nice spot for my little dish of Hen and Chicks.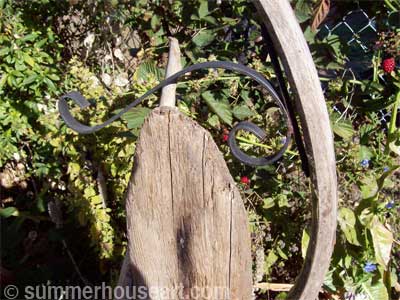 Right now we are trying to decide if his latest embellishment, a spiral hanger attached to the back, should be painted something colorful. I'd like that since it would relate to the mosaic chimney in the herb garden.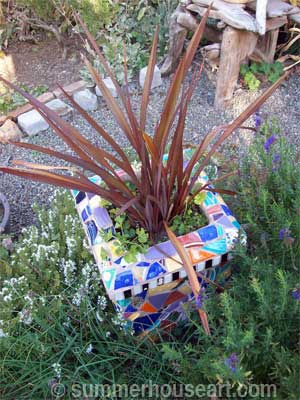 More color, I always say.
We have these bits of found art all over our garden that, to us, add a great sense of whimsy to the place.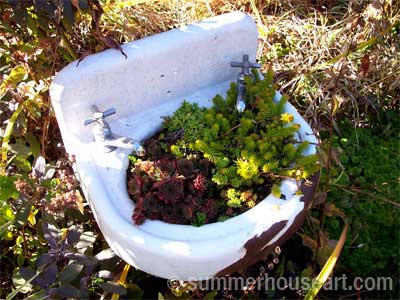 We found the old basin at a demo site years ago, and it's nicely weathered. It's a great place to grow succulents and we love it. So do the succulents.
One day, while out walking, Will found this rock tangled up in a piece of rusty wire and it hung on the wall for a long time before we found the perfect circle of rusty wire from an old pot, to pull the whole thing together.
The chime came together last year, oddly enough just before our wedding anniversary. The silver goblet found that day at a garage sale, where else, celebrated some other couples long ago anniversary.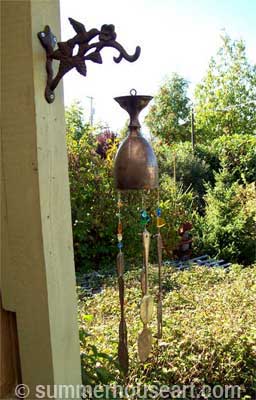 Will put the whole thing together that day as a special gift for me. Friends and relatives have loved it too and he's made quite a few now from bits and pieces. Seems we're always looking for good old silverware for another one.
Some of these serendipitous sculptures never really get finished. Will just keeps adding to them.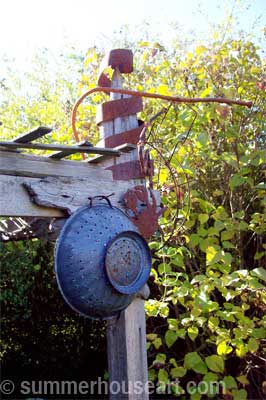 I like to call this one his bird playground and one day he added this rusty colander to it. Just the right addition.