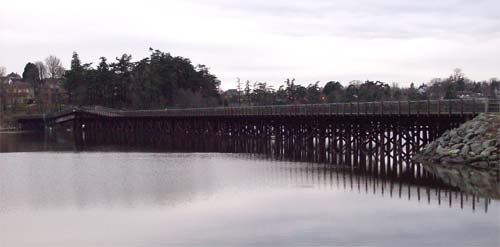 Yesterday it finally stopped raining. We'd been cooped up in the house working away on the computer together. Suddenly tired of work, we poked our heads up and realized that we could really use a nice walk… without an umbrella.
Usually we either walk different routes around our own neighbourhood or we jump in the car and make our way to the Gorge Walkway. But today, we had to pick up a special cat food or suffer the consequences of a ticked off kitty. And that led to our realizing that we hadn't walked the Selkirk Trestle for ages and only once before, at that. So since we were close and traffic was easier if we turned that way anyway…. off we went.
If you live in Victoria you'll know the Selkirk Trestle which is part of the Galloping Goose Trail. It used to be a railway trestle and is now used exclusively for walkers and bike riders. There is something special about walking on this boardwalk, made of wide wooden planks. It invites you to slow down and look around. The feel of smooth weathered wood under your feet is so good, wish I could come up with the perfect description.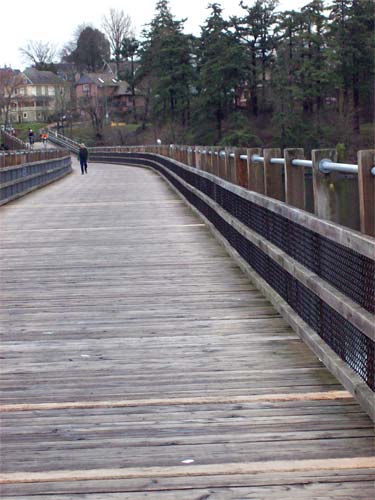 Seagulls perched on a post are a ubiquitous bit of tourist kitsch in Victoria. There are racks and racks of seagulls glued to posts in the tourist shops on Government Street . But to me seagulls are such handsome birds that I just had to take some photos. Don't you love how they seem to pose majestically for the photo?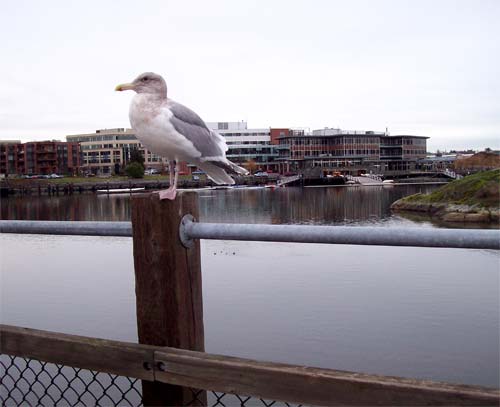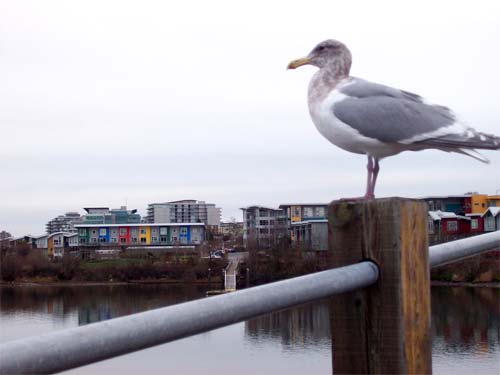 We carried on to the end of the bridge and followed the rather muddy path to the park. And we cannot resist seeing what is around a bend, can you?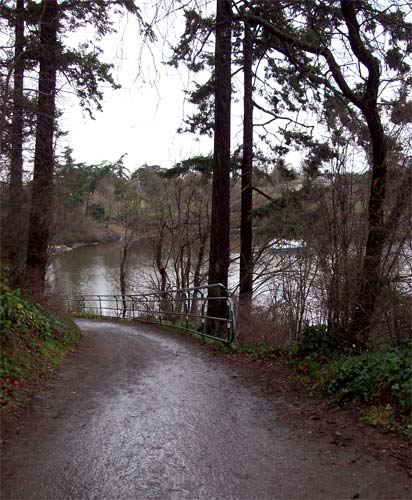 Seeing this little houseboat anchored on the Gorge, we couldn't help imagining living in it, all cozy and bobbing up and down with the tides.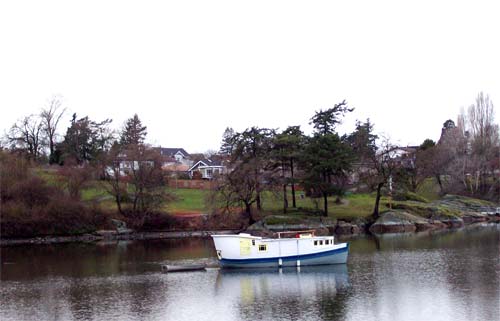 Further on in the park, which was full of all sorts of birds feasting on berries, we found this little grotto. Now doesn't the reflection of the rocks in the water make it look as though they are round and floating on the water?  Oh maybe, it's just me.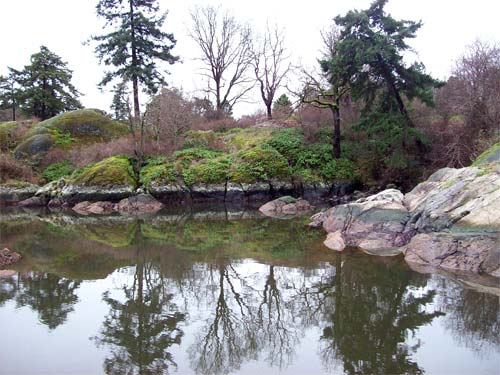 Then it was time to go back home again. We took our time, walking slowly, not really wanting to go home and work. But the walk had cheered us and given us a meditative space. I wanted to catch some good shots of the structure of the trestle. I love the look and pattern of all those big posts sunk into the inlet.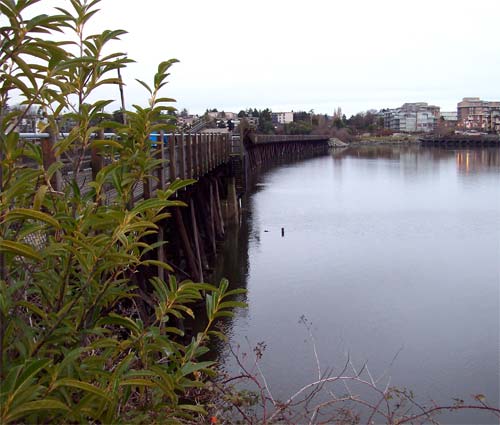 We moved here from sunny Alberta and many Albertans and also many many native Victorians moan about gray days, preferring instead sunny blue skies. I decided long ago to accept this place as it is, and enjoy it, gray skies and rainy days especially. And it's easy to do…. I love nothing more than the smell of a wet day, the smell of wet cedar and ocean cannot be beat. And gray skies? Oddly, I will not tolerate gray as color in my artwork hardly ever, but gray skies never ever really bother me.