The Buddha shrine is slowly coming along. I haven't had much time to work on it in the last little while but I did manage to get the base that the Buddha is resting on covered in gold tile. I did say it's a slow art, didn't I?
The gold tile is from a stash of Italian tile that I picked up at a garage sale years ago. There is very little of it left and I do what I can to stretch it out. A sneaky way to do that is to cut the tile up into smaller pieces. Luckily the brick pattern I chose perfectly fit the space.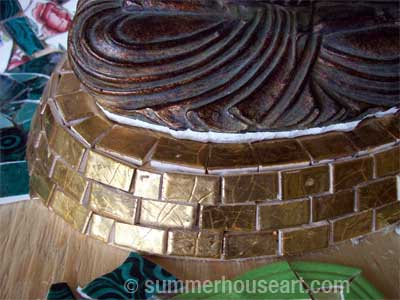 The top of the base where the Buddha sits meditating was filled in with tile while the statue was in place. Much the best way to ensure that by grouting time the space where he will be glued down is exactly right. Right now you can see the broken raw edge of the Buddha statue around the bottom, but trust me, when I grout this, it will all look great and be hidden. I'm considering a sort of verdigris color of grout.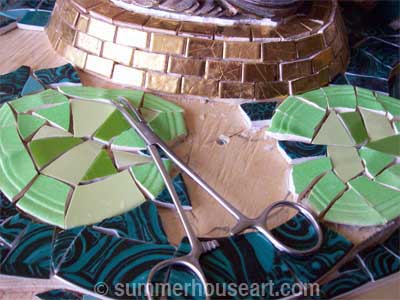 I've been doing some of what I call "fine fitting" to make all the little spots left on the back fit well. One of my students this summer, a nurse, left me a pair of forceps and I must admit they've come in very handy when fitting tiny bits of mosaic in tight spaces.
I always tell my students to grab all they can if they see a plate that they know they love and will use. Why oh why didn't I follow my own advice? I'd seen two of these plates a few weeks back in a thrift shop but had the idea that I had much more of it than I actually did and didn't buy them. Last weekend I hit as many thrift shops as I could, but no luck. Ah well, I'll keep looking but I may have to come up with another solution for the raw edge around the pond.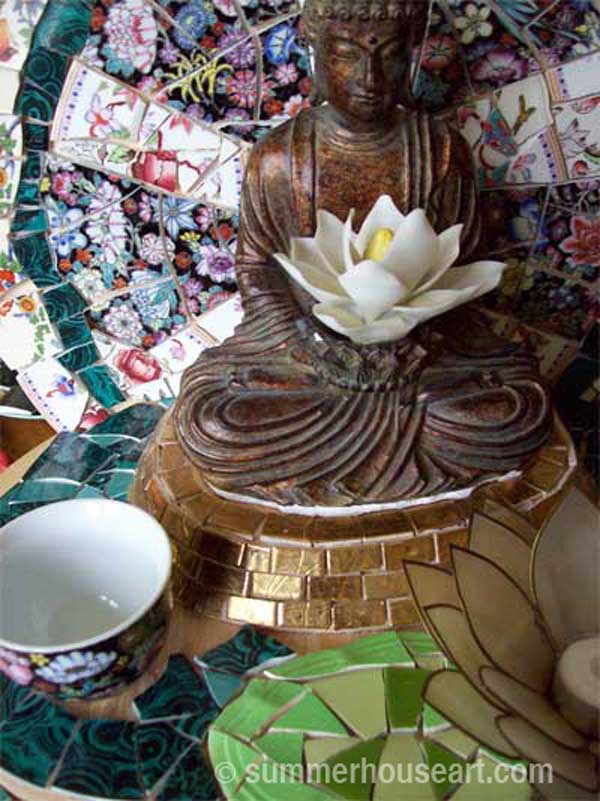 All in all, though, I'm quite pleased with how it's progressing. At the moment my next decision is whether or not to mosaic the back of the stand behind the statue. Will it find a home against a wall? Will the back be seen when it's all done? On the other hand, it does give it a finished look. Oh, more decisions. But I may find just the right plates and that will make the decision easier. I'd still love to find some sort of feet to put under the stand. Wish me luck.
Click for Buddha Shrine Part 4  The Search for Serenity