Today, a bit of magic happened. I was out walking, with my little digital camera in my bag, getting some exercise. I'm sorely in need of exercise and walking is my favorite.
I like to take photos of whatever catches my eye as I walk. Today it was a little grouping of daffodils and polyanthus in a front yard. As I was bent down framing the shot I heard someone singing in Italian. I looked up and on the roof were three roofers, one, the singer, a young man in a hoody and baseball cap was singing in the most beautiful tenor in Italian, as he handed the tiles to the other fellow who was nailing tiles down. I stood and listened until he finished the song. It was beautiful! I applauded when he was done and he bowed to me from the roof and said "Thank you".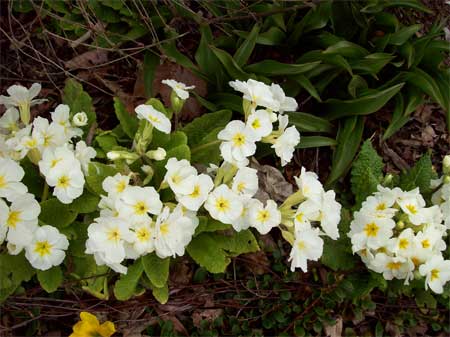 I walked on and thought how wonderful, what a gift I had been given on my walk.
As I continued further around the corner from the roofers, I found, all nicely stacked, a group of long twigs, cuttings from someone's pruning. Perfect for making obelisks to hold the garden plantings we are planning. We have little room left and we want to grow things like melon and squash and have decided to grow up instead of letting them sprawl all over the lawn this year. I had just thought of needing some good supports and here they were, stacked and ready for recycling pickup by the municipality. Free for the taking!
So now that I am home again, with my cup of Typhoo tea, I need a bit more Italian music so I'm listening to Andrea Bocelli, a lucky CD find at a garage sale last summer. Italian is such a wonderful language, musical already. I wish now I'd said "Bella, bella" to the singing roofer.
I feel lucky today and rich. I'm rich with all the things I find on my wanderings and our summers garage sailing. The digital camera was a $20 find, actually the second one we found at garage sales. I love digital cameras! No longer bound by running out of film or the cost of developing, I am now free to take photos of whatever I fancy. I now have a photo journal of walks. I like the idea of recycling and finding everything I could possibly need at a fraction of the price and very often free. The world is an abundant place I tell everyone, as long as you don't mind second hand.
And now, accompanied by Adrea Bocelli, I am about to start a new sculpture. I've been inspired by plant life and especially grape leaves. I'm planning an architectural detail that I will sculpt and then have my son Eric cast it in cast stone. And today, thanks to the singing roofer, I'm feeling lucky and inspired and abundant!