Every year we look for Christmas cards but rarely find exactly what we like. We've also looked at e-cards. Not that there isn't some wonderful artwork out there. But this year we wanted to do something unique to us. And we want to be green about it all too. So what to do?
I used to look for Christmas cards at Thrift stores. Believe it or not they do exist there and you can buy a real selection that way instead of a box of all the same card. It's a good idea, you're recycling but takes a lot of time.
Bill and I happen to really like to create collages from old magazines. This is what I call fun with Glue sticks and Scissors. Why not create collage Christmas cards? Some will become paper cards and all the images will be used for e-cards too.
This year I just happened to have found in my reorganization of old mags and papers saved for collaging, quite a few Christmas editions of decor mags. Voila, lots of relevant stuff to create our own Christmas cards. And I also kept some of that glossy junk mail that comes to our mailbox to use as more collage fodder. If you've saved old Christmas cards you may want to look at them with a new eye, as fodder for Xmas collage.
So with the table strewn with mags and busy cutting out colors and textures we soon had more than enough to start with. The idea is to look through all the mags cutting out bits with an eye to color and texture not necessarily literal depiction's of trees, santas etc. We try to go for the "feel" of Christmas. And with a sense of abstraction as well. And this is what we came up with…… a few abstract art cards in the Christmas theme
Deck the Halls with lots of color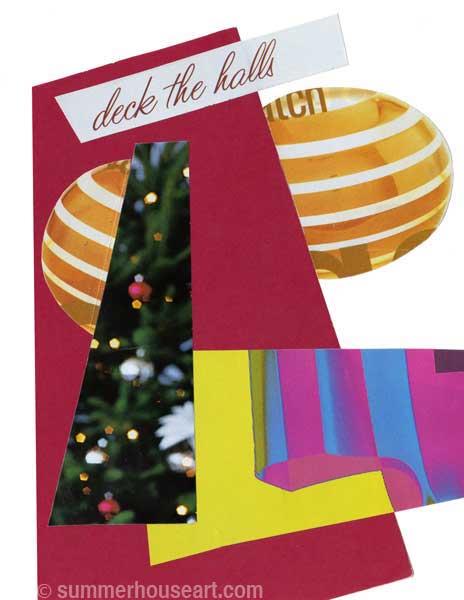 An abstract take on Rudolf?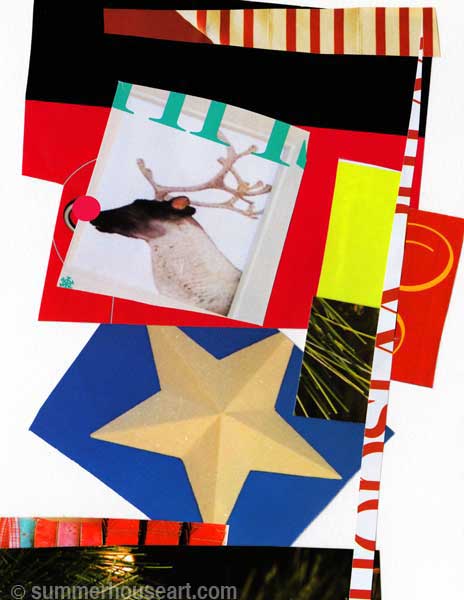 A psychedelic take on Giving Joy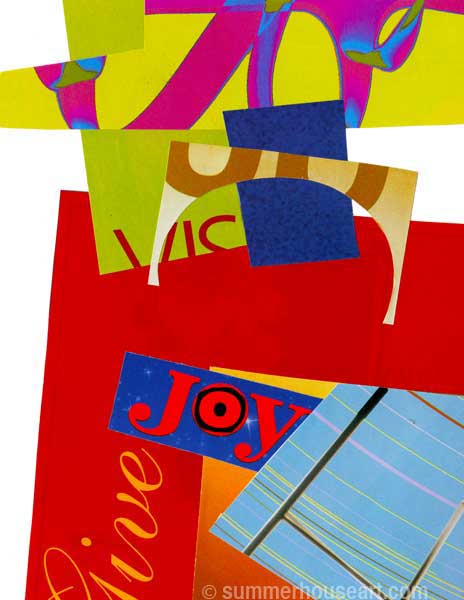 Sometimes you only need one word….Merry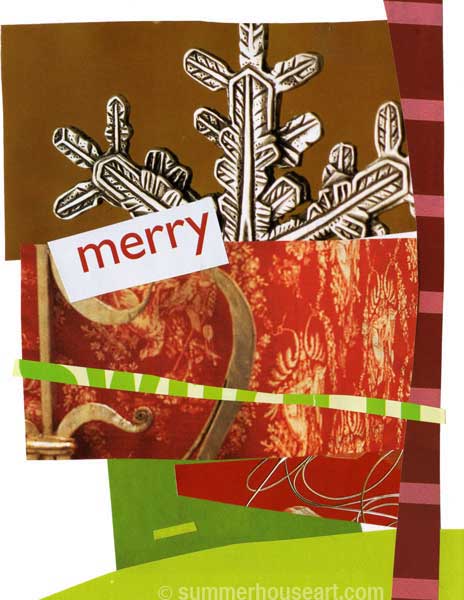 Another collage using almost the same elements, the snowflake and the colors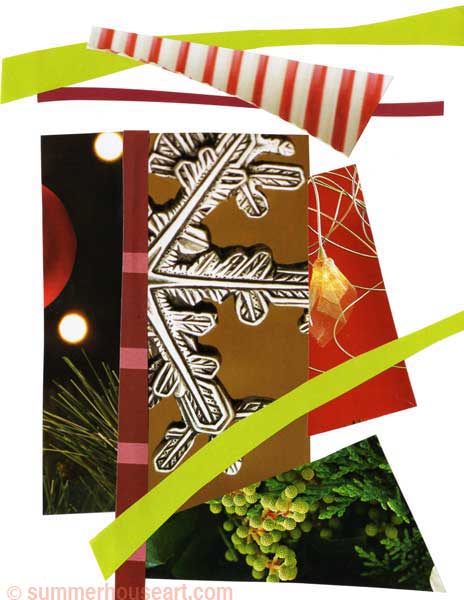 Another idea we had last year was to create our own e-card in Photoshop. So in a way, just another collage but of a favourite Santa ornament and some decor arranged into a jolly looking card. Now you may not be a fan of e-cards. They are hard to display for one. But we think of the paper and resources saved too. I also like to take the time to send a little personal message to everyone with each email.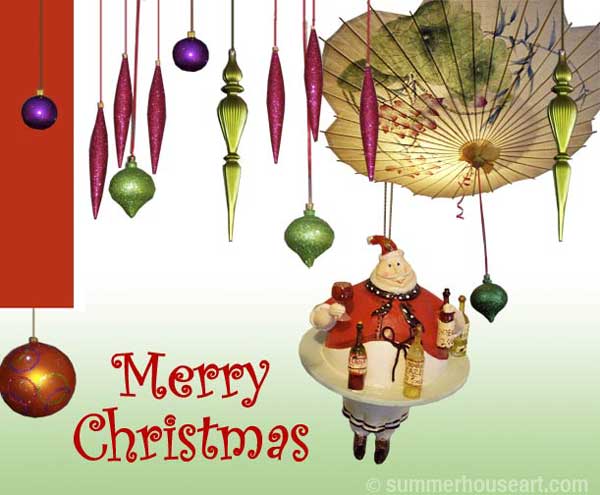 Ok some people on our list still get the real card. We just happened to have a lot of old stock greeting cards from a former business and we just scan our images into the printer and create a new image and tape that onto old cards. You can do the same by just taping an image onto card stock cut to fit any envelopes you have. So there you are, a DIY way to create your own unique take on the Christmas card. Have fun. We did.
Oh, here's a little bonus thought, in case you didn't get your cards bought and sent in time.  Why not create something great with some family photos and collage and create an e-card you can send out at the last minute? Cheating? maybe, but why not? It's still personal, you get a chance to be creative and send something unique to your friends and rellies.