We used to have the whole Santa collection on the sideboard in the living room.  Then as you may have guessed, the collection grew and grew until it didn't fit anymore and had to be moved to the front door entry way. Of course that meant we had to move quite a few elephant ornaments out once a year but it was all worth it.
Now suddenly I had a whole new space to play with. So the first year I decided to do just a little angel ornament display. Just a few white angels, I thought, and then that idea just went completely berserk and the next thing I knew I was in my studio, fishing out anything that was white. The display became a sort of an over-the-top, (just the way I like it) crazy,  exuberant display that had angels, Buddhas, geese, geisha ornaments,white swans, white grapes and even quite a few white rabbits! All of it recycled finds for my mosaics.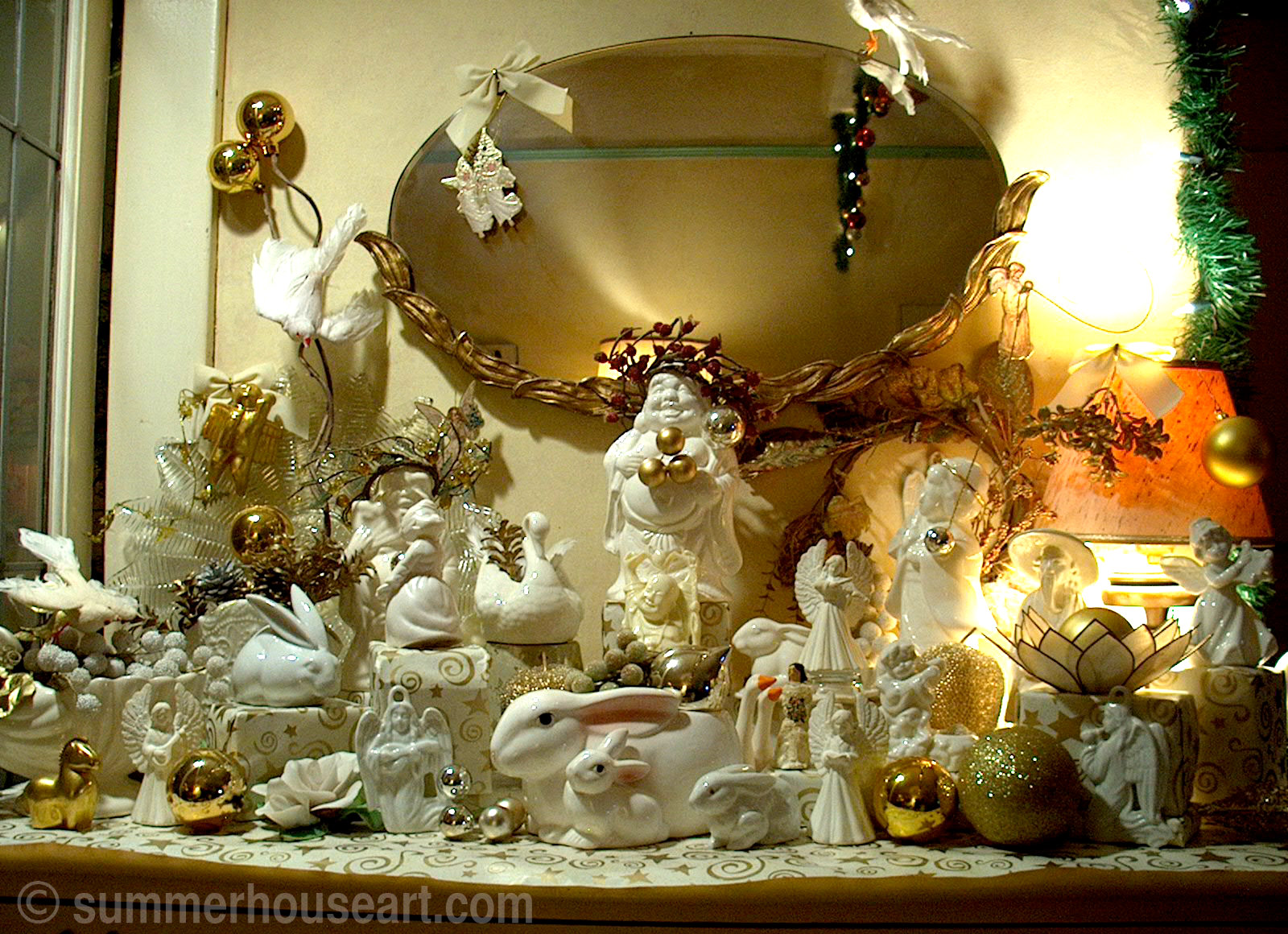 It was great! Friends came over and carried on with the outrageous creation and we added gold accents, the antique gold framed mirror, white doves and even a glass tray in the background in the shape of a snowflake ( a great 25 cent garage sale find by the way ) and golden Christmas globe ornaments.
This year I decided to use all the sparkly fruit I collected at thrift stores and garage sales a few years ago when I did the entire tree in sparkly fruits. I'd spent the whole summer before collecting it all and had a whole box full of every kind of glitter encrusted fruit from grapes and apples to pomegranates. Kind of obvious I've got Christmas on the brain way before December eh?
Last week Will and I went out to our favourite stroll, The Gorge Walkway, and collected lots of evergreen windfall.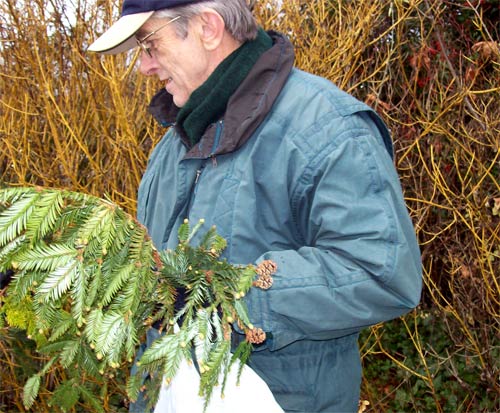 This was all saved in buckets in the back porch until we had time. Then yesterday, the start was made. Will created the beautiful lush and lavish wreath integrating all the fruit and evergreens. Of course I couldn't resist putting in my two bits worth here and there.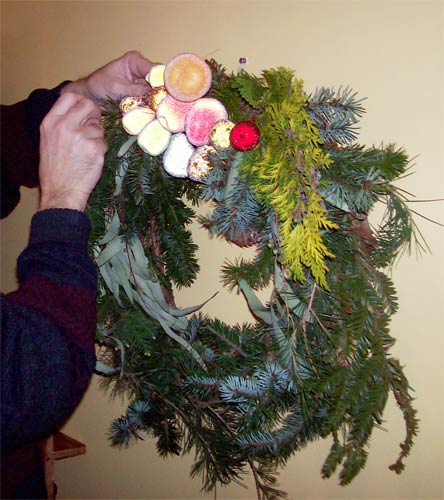 And I created the extravagant display on the top of the sideboard. It was supposed to have candles in repurposed globes from a junk find chandelier but that just didn't work and finally we settled on the two matching lamps shown here.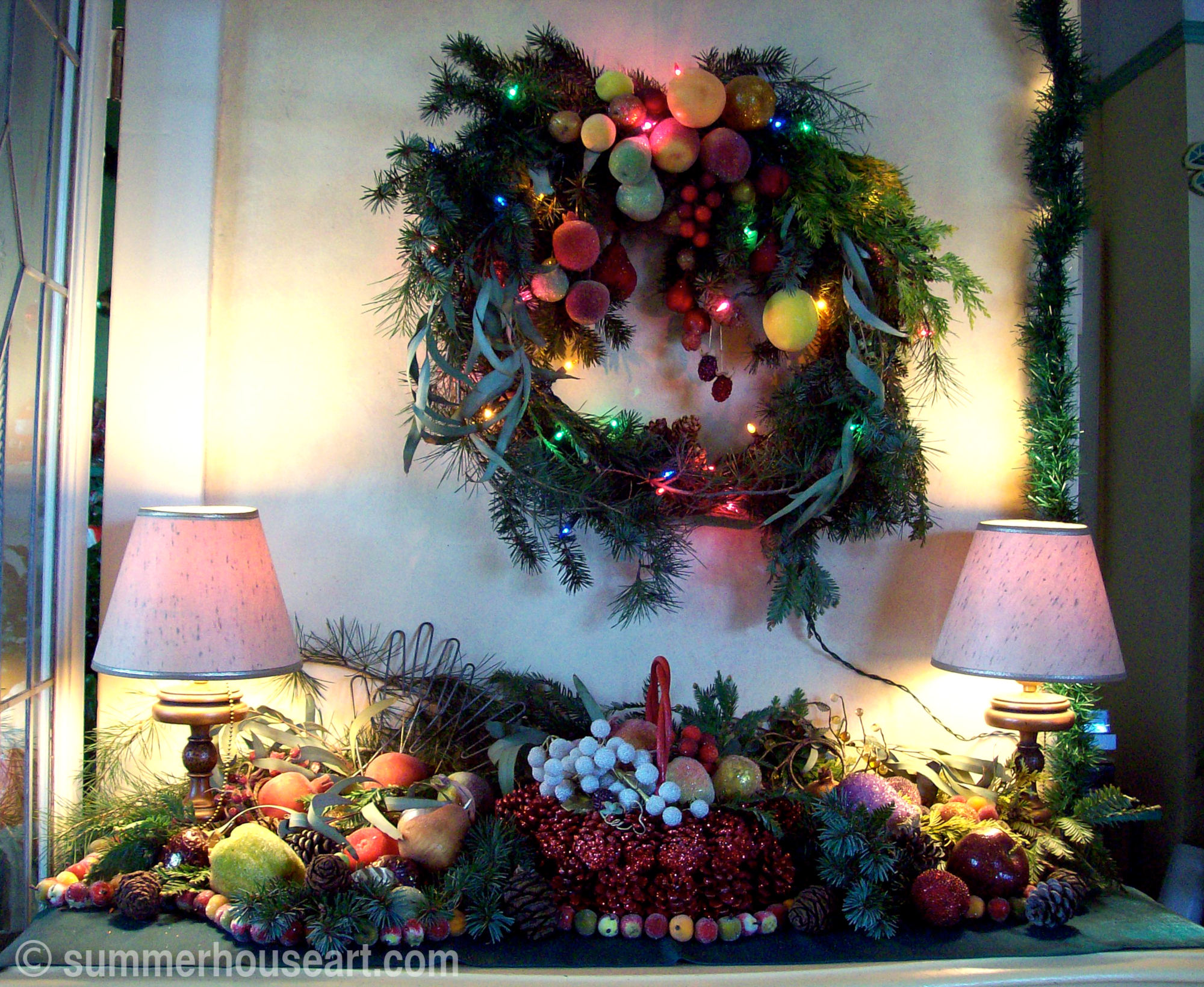 It's a bit more traditional looking than I would usually have done, but if you look carefully you'll see the old glove stretchers poking up on the left. To me these displays are all about a exuberant sense of Abundance. Well, you must admit both displays are definitely a feast for the eyes!