Last year, for my birthday, Eric gave me a Bonsai tree, a really cute little Ficus. Growing Bonsai was something entirely new for me. Everything about growing a Bonsai is quite contrary to my experience with houseplants.  My aim with houseplants is to get them to grow as large as possible, have lots of leaves, and live in ever larger pots.
Bonsai, on the other hand, are meant to live in small pots, get pruned a lot and stay small. Hmm. I have problems pruning bushes and trees outside. I've lived most of my life in Alberta, where you stand back and cheer if things grow and you hardly ever have to, in my opinion, prune. Now here I had a plant that you actually had to not only prune stems but also roots! I have to admit that to me it seemed cruel and nasty, unnatural, sort of like foot binding. But having one of my own, has made me start to appreciate the "art of Bonsai". That is creating the look of a large tree in a small pot, a vignette so to speak, of a larger natural beauty.
But the time came when I realized that Bonsai or not this little plant needed a bigger pot or needed to have it's roots pruned. My way of doing anything new is to look up everything at the library. So off we went and back we came with lots of books on Bonsai, care of and growing, pruning, training, etc.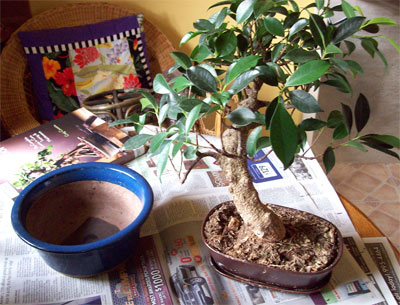 Now this poor little plant was so root bound that my method of checking to see if it was watered enough was just to pick up the plant, roots and all, out of the pot and check.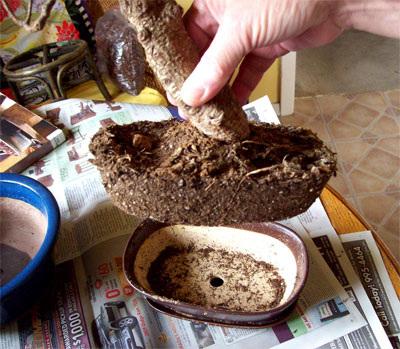 Between the three of us, Eric, Will and I, it was decided after much studying of various books, that rather than attempting to prune roots, that it would be better to move it into a larger bonsai pot. Luckily, as garage sailors, we had a little supply of recycled bonsai pots. After a bit of consideration, one was chosen.
Eric, took on the task of loosening the old dirt from the roots with a little bamboo skewer, amidst worried remarks from me admonishing him not to tear the roots or hurt the poor thing. Eventually it was ready to re-pot.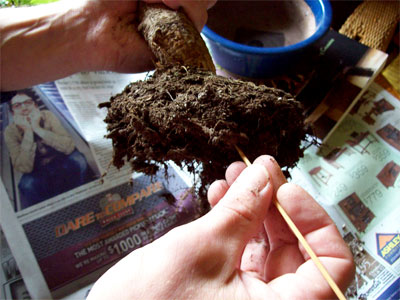 Eric also trimmed the roots from a little lower root that would become a root feature near the bottom of the trunk. Following instructions from our many books, the scissors had been sterilized with alcohol.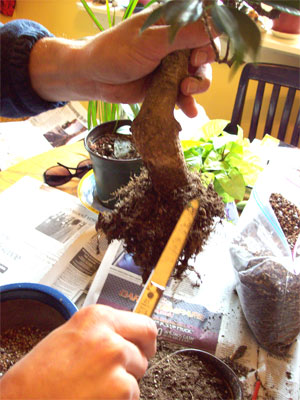 At the Glendale Garden Show, on one of my many jaunts around the other exhibitors, I'd picked up a bag of Bonsai mix at a Bonsai Garden Exhibit. This was basically a mixture of bark mulch, turface (still don't know what that is), sand, gravel, grit, vermiculite and perlite. To this I added a bit of regular bagged houseplant dirt. This was added carefully around our little plant in the new pot.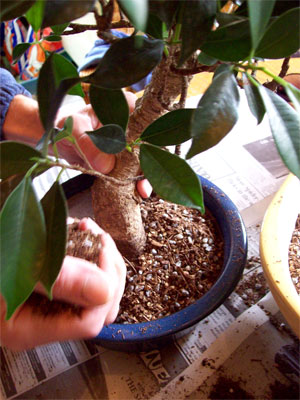 Then our little plant was watered and the new dirt gently tamped down around it. It has, for the last few weeks, resided happily in it's new pot on the sideboard in the living room. I'm happy to report that it survived the move to the new pot very well.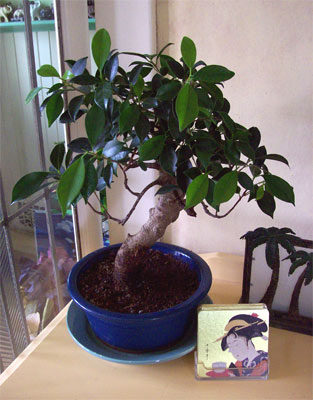 New leaves are coming and only one leaf was lost. And doesn't it look very very Japanese with it's display of Japanese coasters, also a garage sale find, set prettily but minimally, of course, in front?