I'd painted a rug on our deck when we first moved in. But one day, due to some rotting of old plywood part of the deck had to be replaced. Now the deck been repaired and repainted and it looked wrong. Just a flat color and there was nothing to hold the area together visually. Obviously, we needed to paint on a new rug! So today I'm going to have a post all about how to paint a rug on a deck floor, or at least how I painted one…
The deck was already clear of furniture and plants so we had a clean slate. What colors? Well that was easy. As color inspiration, I just chose all my favourite colors at the time. The beauty of that is that they always go together. Everyone gravitates to certain colors naturally, and we tend to buy our clothes and accessorize our lives in these colors. Don't fight it, just go with the flow and you will find you have a pallet of colors without having to think too hard. My colors have changed a bit since then and if I'd done the rug today I might have chosen deep purple, lime green, turquoise, majenta and touches of red and orange. Hmm, maybe I should change those colors. Oh don't tempt me!
A very simple design was quickly sketched out on paper and off we went. I drew out the design in pencil and then outlined it all in black paint. By the way, the whole rug is done in acrylic paint, just the paint we get from the art supply store, which we, as painters, had on hand. It dries very quickly (about 20 minutes on a sunny day) and we took lots of tea breaks between colors. Artist acrylic paint stands up very well to sun and weather and in fact this rug has been on the deck for more than 5 or 6 years and it's stood up better than the deck paint from the paint store!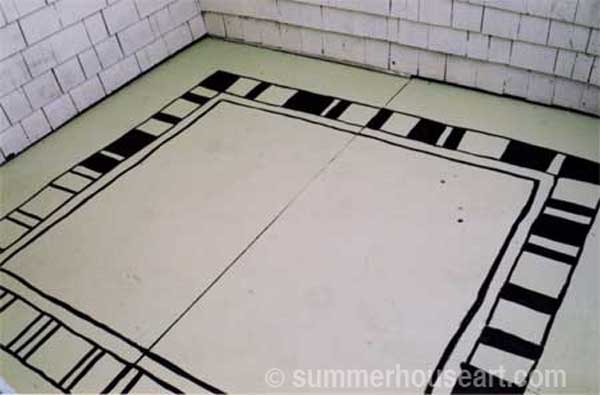 The black outline was done freehand in paint because I wanted a loose and energized feel to it. First the border was done and then I added leaves in a very simple design and squares that punctuated the overall space in a free handed way. Each square held my fave motif, the spiral.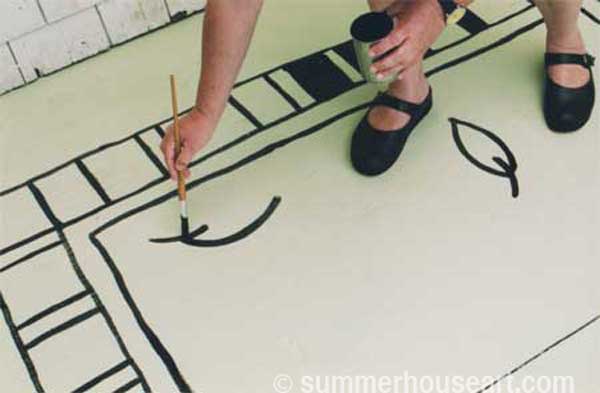 Just go with some design element you like. Maybe it's paisley or maybe flowers, whatever. Just take that element and toss it all over the surface. I kept it very loose and didn't worry too much about being symmetrical. I don't really like things that are too balanced.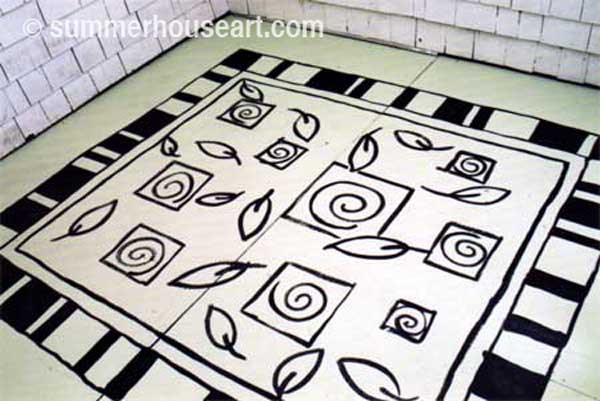 From there I started with the central color, a deep purple-blue, leaving the leaves and squares free of color to be applied later.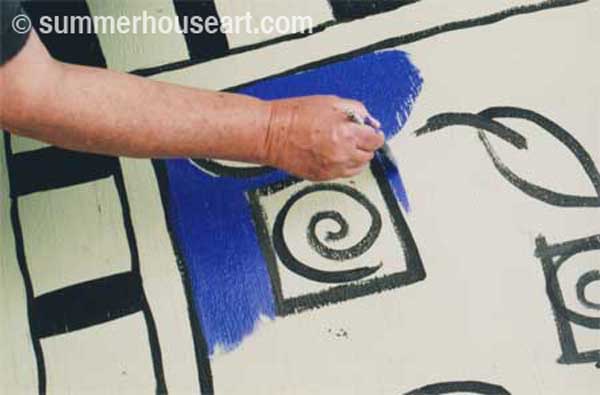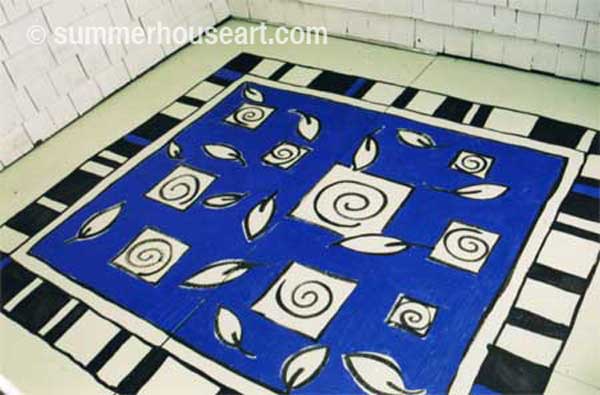 Then the leaves were filled with one shade of green. I would later add a touch of another shade of green to give them more depth.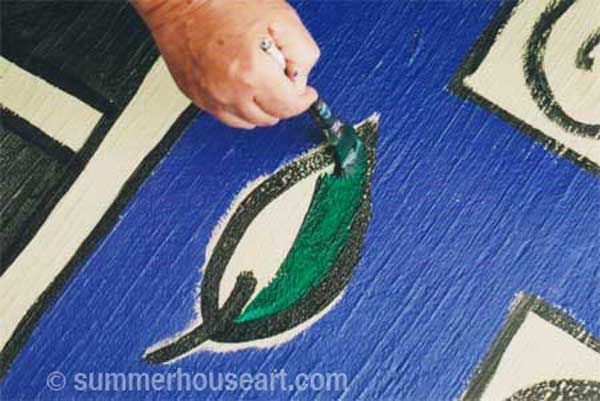 Then each spiral color was mixed and I filled in the squares around the black spiral without worrying too much about being even.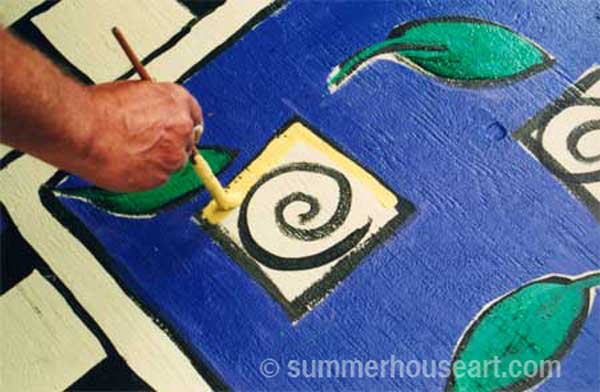 Whatever was left of that color was added to the spaces in the border.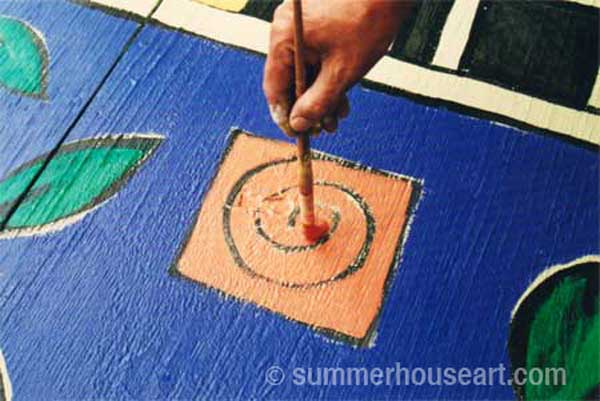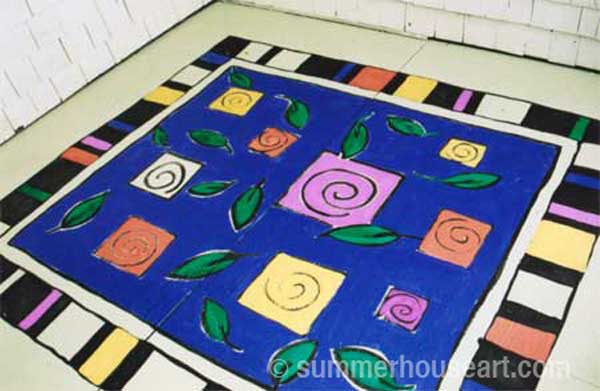 I added a light green to the dark green leaves to give them a bit of a pop.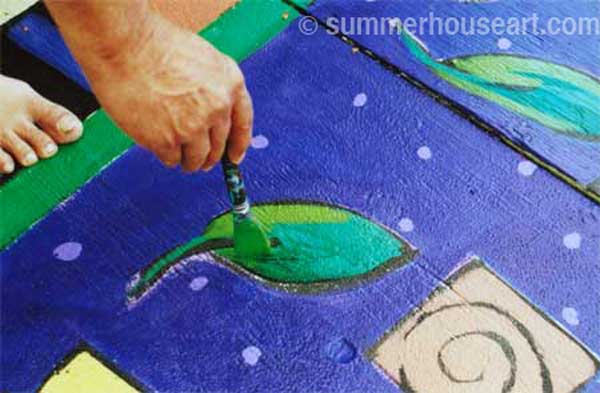 Then it almost seemed done. But the blue needed something to keep it from visually sinking, something to bring the design right up at the surface. Ah, dots! Little mauve dots were randomly added to the surface. This made the whole area become more animated.
Still something missing? I'd almost forgotten. A rug needs tassels. The tassels were first painted on in black and then a thin line of mauve was added to give them a rounded look.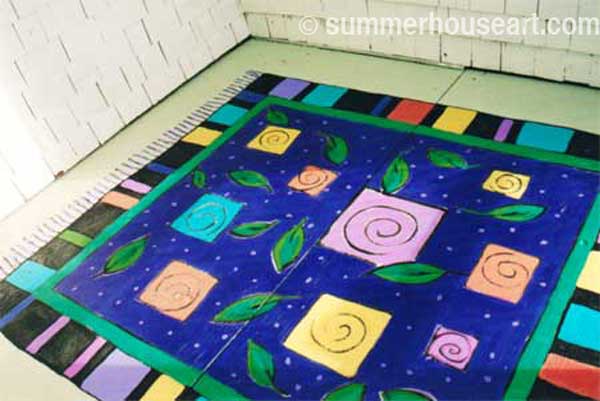 Tah dah! The whole rug was a hit. After leaving it overnight to allow the paint to cure, all the plants were moved back as well as the chairs and table. We've enjoyed it for years now.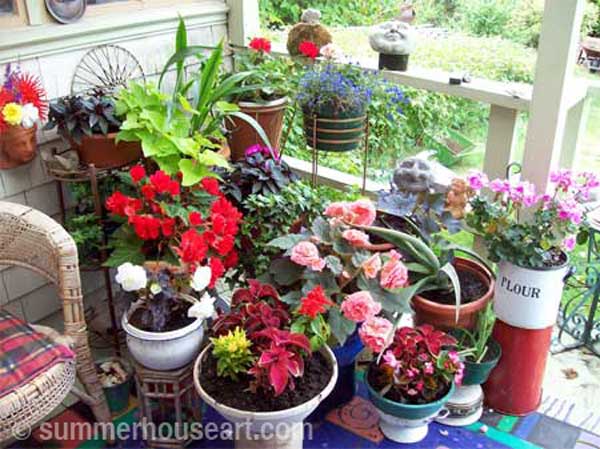 Every spring, even though this is a covered deck, after all the winter storms, it's covered with dirt and leaves. I just wash it off, sometimes even using a scrub brush, and hose it down. It's become very nicely worn looking. And if I want, I may even one day change the colors just for fun. So as you can see, pretty easy and fun. And I don't have to worry about corners of the rug rolling up and tripping myself!
Please feel free to leave comments or questions. I'd love to hear from you.