One of the things I enjoy doing every summer, besides working in the garden, or garage sailing is teaching mosaics. This summer was no exception. I love mosaics, especially pique assiette which is making mosaics with broken dishes and found bits and pieces. And along with that, I really enjoy getting students hooked on mosaics too. So every summer I take a few people through the journey of not knowing much about mosaic or their own innate talent, to going home, four weeks later, with a beautiful finished piece all of their own design and inspiration. Can't have more fun than that.
Now usually, because I have a very small studio, I only teach one or two and in a pinch, three students at a time.  At the end of the summer, when everyone is now curious about what other students have done, I usually have a party/show of work. But this year it was not to be. I got hit with a flu bug at the end of the summer and along with that and other reasons the party just didn't happen. So instead I've decided to post everyone's work on the blog today. Sort of a mini show. The party would have been more fun, with lots of cookies and iced tea, but hopefully this will be ok too. There will be a couple of students that won't be included this time, because they haven't been able to finish their pieces yet. But for now I'd like to present my Summer of 2009 students.
Rahni is, like us, a real recycler.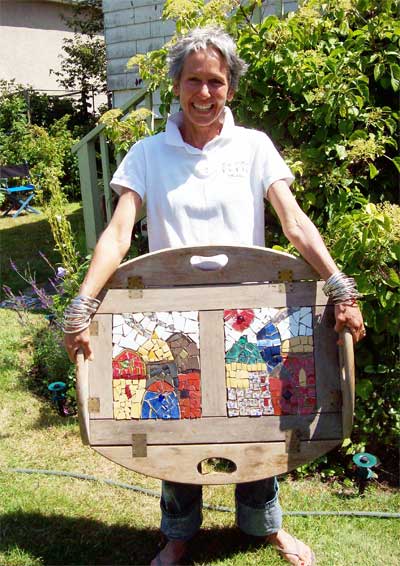 Her piece has as it's base part of an abandoned table that she found. She loved the color of the wood which was weathered and gray and quite wonderful. Now the only rule I have is that when we shop in the first class, the Shopping Class, everyone's favourite, that you can only buy dishes you actually like. And in no time Rahni had found dishes that were absolutely perfect with her weathered table.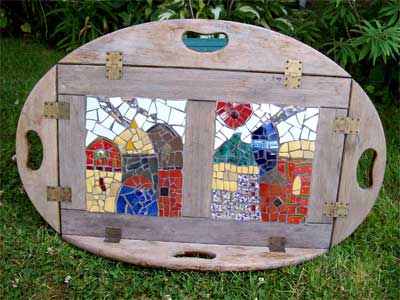 From there, with her very strong sense of color and style, it was a wonderful journey for her to the finished piece, a striking and beautiful cityscape made completely from broken dishes.
Everyone who takes my class is encouraged to create their own project. Sometimes, it's not clear what to make till the shopping class, when suddenly the dishes you find and the objects that you want to mosaic all come together. So it was for my next students, close friends, Jane and Lisa who were a hoot to work with.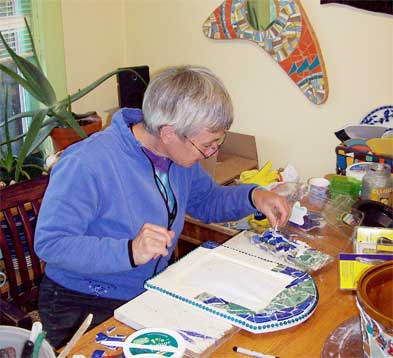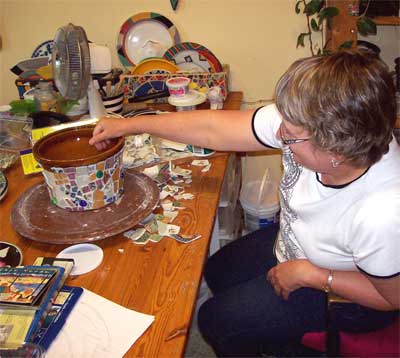 These two had me laughing constantly. Jane found the perfect mirror frame and Lisa a pot. Both worked in an entirely different manner.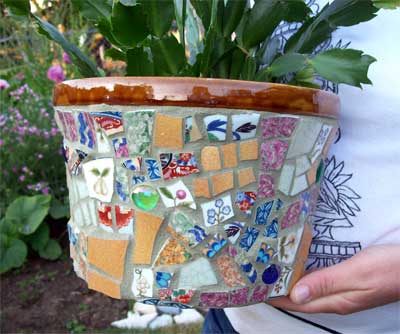 Lisa, who had done quilting, zoomed through the dish breaking and worked intuitively, creating a lovely "crazy quilt" of texture and color on her pot.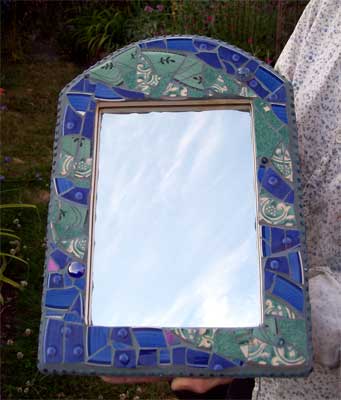 Jane, on the other hand, worked in a more deliberate manner and carefully, cutting the dishes into quite small pieces, created a beautiful watery flow of color diagonally across the frame. Their different ways of working were a constant source of fun to them. And you must admit the pot and mirror frame are gorgeous!
Jude came to my class excited that she was finally going to do mosaic. She'd been inspired by a trip to Italy and maybe that was why I found that the dishes she chose just had a bit of a Tuscanny feel to them.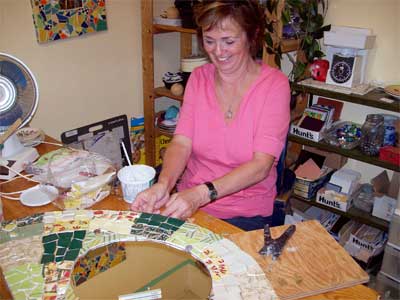 Together we came up with the Fan design as the base for her mosaic. One little problem was in finishing the corner where all the pattern converges. But serendipitously, she found a little brass fan that just finished that corner perfectly! The result was this almost antique looking piece, striking with it's blend of earthy tones.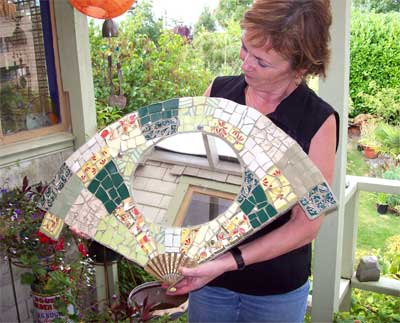 Now, hopefully, Jude, who I think is going to continue with this new art form, has created a new place to work. I don't think her husband is going to allow her to keep using his pool table as a work area…
My last three students, were Susan, who'd done a bit of mosaic back in Australia, and her friend Kathryn who had brought along her mom Glenna, both new to mosaic.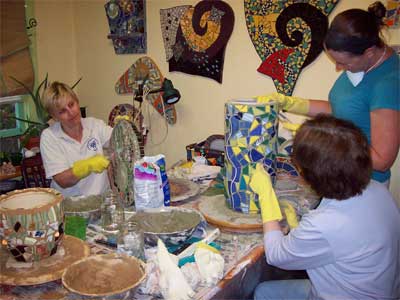 I always encourage everyone to decide on their own project. Susan had sort of decided on a mirror, Kathryn wasn't sure and Glenna kind of liked the idea of an umbrella stand. Off we went shopping at the Thrift store that evening and Glenna actually found an umbrella stand! Now that was lucky! Kathryn decided to use a pot she found with just the right shape.
Some students need more help, encouragement and direction than others. Susan, was not one of those. She preferred to quietly work on her own.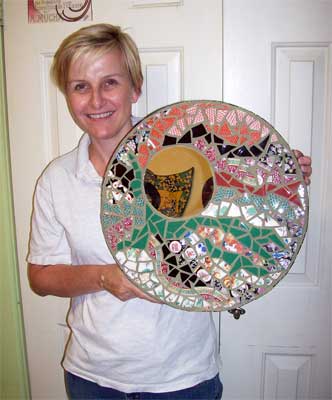 And delightfully came up with a wonderfully flowing design composed of oriental dishes. Quite fabulous.
Kathryn got right into breaking dishes and soon got the knack of intuitively placing all the different designs to create a great overall texture and pattern. She loved the suggestion of creating a new effect around the top of the pot with linear lines from plate edges.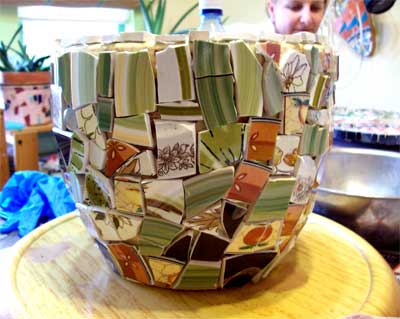 The pot  was transformed into something quite beautiful!
Glenna had the biggest project and thank goodness was a hard worker. She had been so sure that it would be a complete disaster that I even worried a bit that she would give up before it was done. But in the end, with just a bit of direction and some renewed faith in her choice of color and pattern, the stand was a complete success.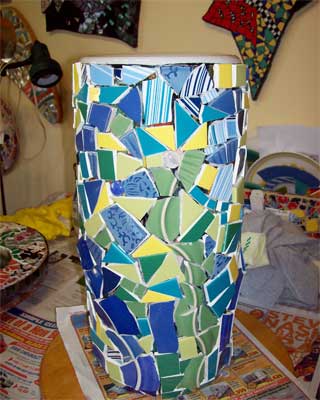 A beautiful mixture of greens and blues and yellows that totally transformed the stand into a work of art.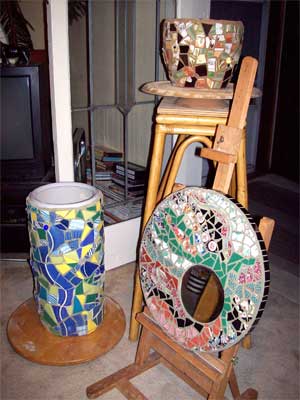 At the end of the last class, we all sat back and surveyed their finished and grouted mosaics from the couch.  All had to agree that they had done a wonderful job!
All in all, the summer was a success, I think, for everyone. Everyone had fun. Each had a wonderful piece to add to their homes and for sure, as they all told me, none would ever look at a dish or plate the same way again. From now one they would all look at a dish and wonder how it would look…..broken.