Actually, I created this mosaic a few years ago. Another one of those shrines that come together almost serendipitously. I had an idea of creating a mosaic with cats and to that end I'd been collecting all sorts of cat ornaments. And although there are quite a few on this particular piece, there are still an awful lot left over that are still waiting for homes on a mosaic or at least a shelf or windowsill. I do sometimes bring them out to the kitchen windowsill to sit among the African violets. But I wander from the point…
Ok I had a amassed a huge collection of thrift shop cats, since I tend to have a soft spot for cats. And I was looking for some sort of a background to set them against but nothing had came to mind. Then one summer day, Bill and I came upon a garage sale that had a lovely collection of rosy bone china saucers. As I remember it, the cups were missing so the saucers were going cheap. And they were absolutely full of bloom and color, you could almost smell the scent of roses coming off them. I snapped them up. I'd suddenly had a vision of my cats with all these roses!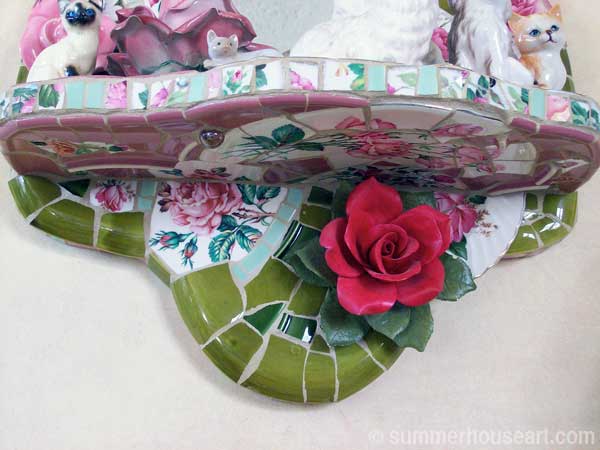 Almost as soon as I decided on the theme, I found at another sale soon after or it could have been the same day, quite a collection of rose ornaments with these deep purple roses as well.
I put together a bit of a unique color scheme. Not so pastel, with that dark green around the rim and those dark almost black roses. And now I also had the place for some really outrageous rose ornaments as well. I decided to go over the top!
And it must have been too, because when I had a big display of my mosaics at the local municipal hall, I got written up in the local community paper. And what did the writer wonder about? Well, as I remember, she wrote that although she loved all the mosaics I'd made, she thought the whole Cats and Roses shrine was a bit too sweet and she hoped I was being facetious when I made it.
All I can say is that she did get the gist of it. It was meant to be Over the Top. But I like the combination of Cats and Roses, they have an affinity. Both so beautiful but with sharp bits like claws and thorns. So maybe not so sweet after all? Who cares? It's not meant to be serious.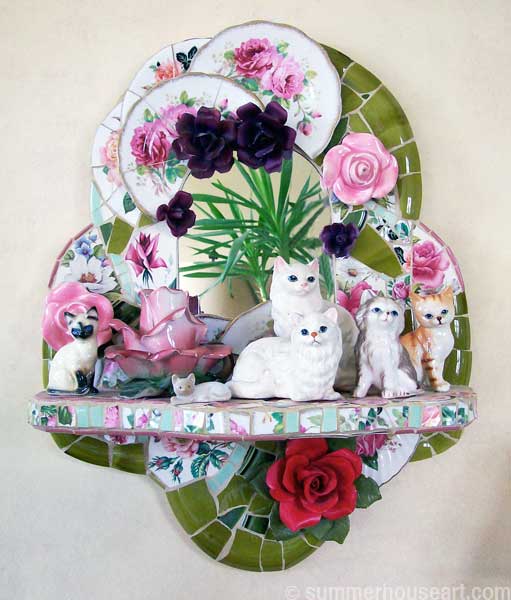 But it's over the top Kitsch too. And I love kitsch. I once heard of a garden that was full of things that were over the top kitsch like flamingos, vintage signs and the oddest things for embellishment. What I loved most, though, was the unapologetic sign in the garden that said to please tell the gardener if anything "tasteful" was found and he would make sure to remove it right away. Love it. Hope you enjoy my little Over the top take on Cats and Roses.