I do tend to get some expectations regarding the classes and questions. In order to avoid disappointment in what the classes are all about, I thought I'd come up with a few FAQs. If you have any other questions, please leave a comment or contact me here and I will try to answer and add it to the FAQ. Hope this helps.

Q. I want to make a mosaic picture using glass tiles, ceramic tiles or smalti. Do you teach that?
A. No, sorry, I don't teach making mosaics with glass or ceramic tesserae, as it is an entirely different type of mosaic and has rules of its own. What I do teach is a type of mosaic called Pique Assiette which is made from broken dishes. It is generally a much less controllable and more free form type of mosaic. The photo here is of my mosaic made entirely from broken dishes.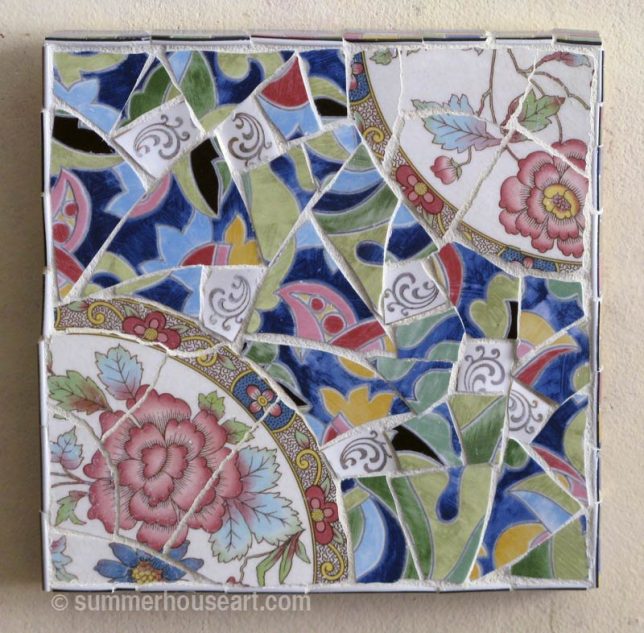 Q. I want to make a project for outdoors. Will the class teach that?
A. No, sorry, ALL projects made in class are for INDOOR use only.
Making mosaics for outdoors has quite different requirements. Pieces have to be able to withstand outdoor temperatures and more importantly, withstand freeze and thaw. This is what generally breaks mosaic pieces, the ice pressure on tile or dishes popping off the pieces or causing the glaze to pop off. Also outdoor mosaics have to be entirely waterproof, so substrates are different. Adhesives for indoors do not work outdoors and you must use mortar instead.
Mortar sets quickly, is cement, therefore caustic and is very sticky and hard to work with. Much easier if you already know what you are doing before taking on the challenges of mortar.
Q. Can I take what I learn in this class and apply it at home later, on my own, to making mosaic for outdoors?
A. Yes, absolutely. Once you learn about the basics of cutting dishes and design, you should be able to apply that to outdoor Pique Assiette mosaic. But, there are big differences. Check out my blog post on making stepping stones, coming up later in this answer. 
You will have to know how to find dishes that are not porous so that they can stand the freeze /thaw problem and you will have to use an adhesive that is best for outdoors, like mortar. Plus the substrate has to be something that can take the weather, like cement which is actually the only kind of outdoor mosaic that I make myself.
The photo shows a birdbath we made with Beach pottery covering an old cement birdbath.  Check out the blog post regarding it here and see the youtube video at the end.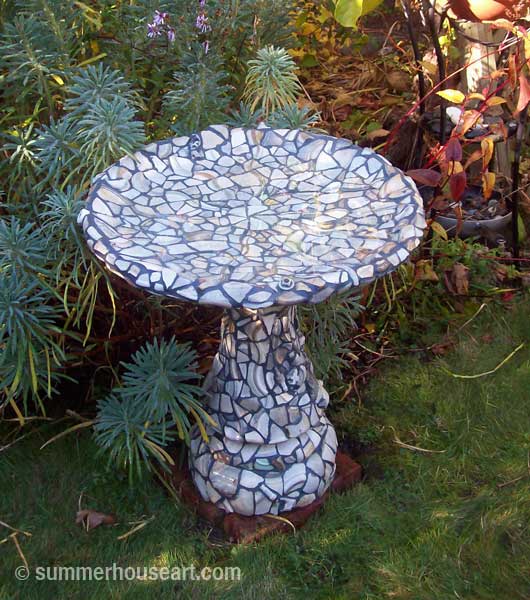 Once you learn about the basics you can create outdoor pieces like birdbaths, and stepping stones on cement in your own garden. These things are just too heavy to haul back and forth to classes.
When my partner and I make pieces for our garden, like birdbaths or stepping stones, we set up a work table outside and work on it over a few weeks in the summer. That way we  can take our time and keep the mess outside.
One of my most popular blog posts is Making Pique Assiette Stepping Stones, Helen's Way with Step by step instructions that you can use after learning all the basics of cutting dishes and fitting in the INDOOR mosaic class.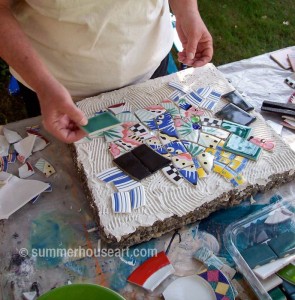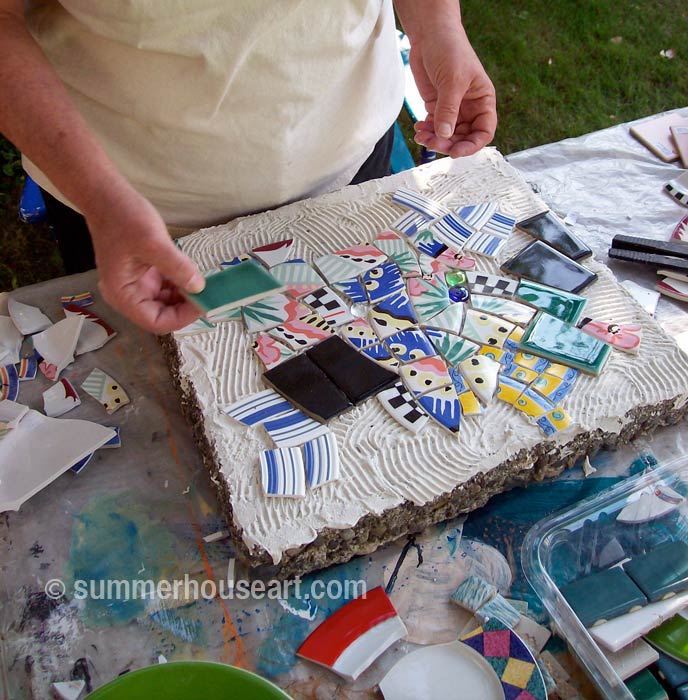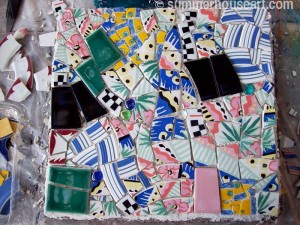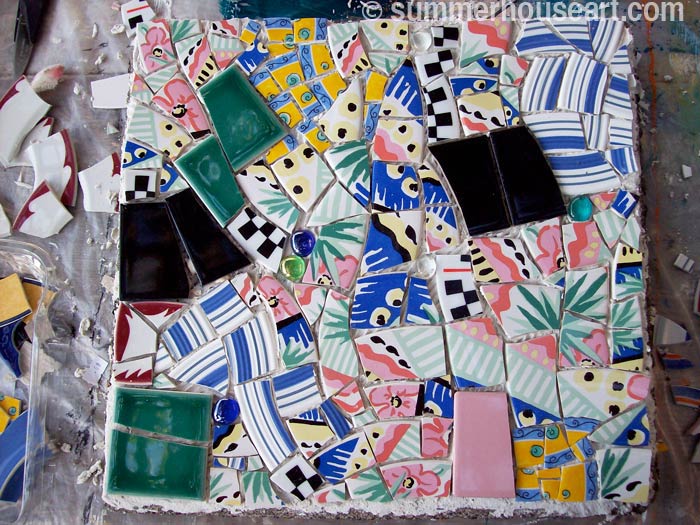 Q. Will I work on the project only in class time?
A. No, count on "Homework". Actually, mosaic does take quite a lot of time to do. Lots of cutting and fitting. It tends to picky and tedious, I think of it as meditative. But it is tiring and should be done in shorter bursts. You will need to take your project home with you on the 2nd and 3rd weeks and work on it there between classes. It's really good to have a space to work in at home.
The last class or 4th class is the grouting class and the piece should be glued down for at least 24 hours before grouting to make sure the adhesive is totally set.
Q. Do you teach children?
A. No sorry. I only teach adults over the age of 18. Mosaic has some dangers like shards and glues. Sometimes you may cut yourself ( yes, I do provide bandages, lol ) I insist on Safety glasses which are needed when cutting up dishes and rubber gloves which are needed for grouting. These are usually only available in adult sizes. I personally feel mosaic is more suited to adults, as it requires some patience and does take time.

Q. Do you accept credit cards?
A. No, sorry, but I do accept cheques or cash.
Save
Save
Save
Save
Save
Save
Save
Save
Save
Save
Save
Save
Save
Save
Save