Hi I'm Helen Bushell  and along with Will Bushell, my partner, we make up the artists of Summerhouse Art.  As the official blogger for Summer House Art blog I'd like to tell you a bit about us.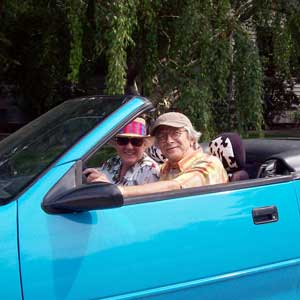 We're both graduates of the Alberta College of Art and Design in Calgary, both majoring in Painting.  Will went on to take a year of Post Graduate studies at the University of Alberta as well.  We made the move to our favorite holiday destination, Victoria, years ago and love it here. And although we both still paint, we also explore and work in other mediums as well.
The fact that we're a couple of artists who happen to recycle, has had a way of working into our art forms.  We create mosaics from old dishes and ornaments, collages from found objects and ephemera, and lately have even taken to creating some art furniture too with found furniture . Most of all, we believe that the world is an abundant place…as long as you like second hand.
And we do like second hand!  Spring, summer and fall will find us happily spending our Saturdays garage sailing.  And all year we're in the Thrift shops.
We also enjoy beach combing and have started to create jewelry from beach glass and pottery and driftwood we find.  You can find that on our Etsy shop FoundMadeArt.
We hope you have some time to browse all that we have to offer.
We love teaching mosaics and have enjoyed passing on the fun of recycling to many student over the years.
I have set up a gallery of mosaic posts as well with links to posts about them.  A general Mosaic gallery is also available.
And please check out our work on some online shops, like, Red Bubble,  Society 6 and Zazzle.
Will also features more of his thoughts and work in fine art and photography on his blogs:  Marks on Marks,  Image on Image.
He has work featured on Saatchi as well, where you can purchase originals and prints.
Serendipity is our motto.
Serendipity
The gift of being able to make delightful discoveries by pure accident.
Coined by Horace Walpole after the "Three Princes of Serendip"
Save
Save
Save
Save
Save